A super saturated wine, the 2003 Tamiz Ribera del Duero Tinto recalls in appearance the "black wines" of Cahors from southwest France, but as the Berenstain Bears and all perspicacious adults soon come to realize "appearances are deceiving." Indeed, the Tamiz is as dark and foreboding in color as any red wine, but here the comparison of the 2003 Tamiz Tinto to Cahors and other deep, brooding tannic monsters abruptly ends. The scents of fresh black cherry, cola, and plum seep from the nose of the Tamiz. And in the mouth, the Tamiz displays no hard dry tannins, only fleshy fruit and ripe round flavors. This is a beautiful example of a well-made Ribera del Duero Tinto. A product of a very ripe vintage that is aged just eight months in American oak, instead of the customary two and three year stints the region's Crianza and Reserva wines see, the 2003 Tamiz Tinto embodies supreme balance, charm, and freshness to accompany its long lush flavor profile. Certainly, considerable aeration improves this wine, but it shows almost as well after only ten or fifteen minutes in the glass, so as you like it. A minute or two on AccelaBreathe works wonders. For more information on this exciting new wine tool, click on www.accelabreathe.com. We suggest you serve the Tamiz Ribera del Duero Tinto at cool room temperature (64°-68° F) for optimal enjoyment.
Given the voluptuous nature of the 2003 Tamiz Ribera del Duero Tinto, a wide variety of gustatory delights awaits both the serious gourmet and the ordinary gourmand alike. Whether you prefer butter and herb roasted chicken, country cassoulet, or an epicurean creation, the 2003 Tamiz is ready to accompany just about any meat or poultry dish with aplomb, including game birds. Quail and pheasant offer especially pleasing partners. We also suggest the Tamiz Tinto with turkey and all the trimmings; we have found that it pairs particularly well with the dark meat of the turkey and the more savory parts of a meal, like stuffing for instance. In addition, we strongly suggest that you not overlook traditional Mediterranean favorites, even typical Italian specialties like lasagna. In fact, almost any food with which you would consider serving Châteauneuf-du-Pape or similar hedonistic style of Rhône wine works quite well with the 2003 Tamiz Ribera del Duero Tinto. Enjoy!
Teofilo Reyes is the most respected enologist in the Ribera del Duero, and Tamiz is the fruit of Reyes' own six-acre property along with the very best grapes from a select group of neighboring growers. This small family vineyard lies in the western part of the Ribera del Duero appellation from whence the region's most illustrious wines flow: most notably the legendary Vega Sicilia, Pesquera, and Alion. What makes this part of the Ribera del Duero so special is its high elevation (over 2,500 feet) and unique chalky, limestone topsoil over a bedrock of hard schist – not exactly the best soil for growing wheat, but about as good as it gets for Spain's illustrious Tinto Fino, Ribera del Duero's local version of Tempranillo. Reyes has a long and impressive résumé of winemaking in the Ribera del Duero. Born in nearby Burgos, Toefilo Reyes's 50-year career spans the entire revival and subsequent meteoric rise of the Ribera del Duero from its days as the lowly breadbasket of Castile to one of Spain's most important red wine producing regions. Today, no single Spanish appellation fashions as many compelling wines as the Ribera del Duero, and a great deal of the region's transformation and viticultural success can be attributed directly to Reyes. He is responsible for creating Protos, the local cooperative's most successful venture, which won great critical acclaim in the 1970's. Even more impressive, it was Reyes who created the modern day classic Pesquera, with the backing of Alejandro Fernandez. A truly sensational wine, Pesquera almost single handedly transformed the Ribera del Duero and planted the region firmly in the 20th century. Bodegas Teofilo Reyes was launched in 1994 after Reyes' association with Alejandro Fernandez came abruptly to a halt. Neither Reyes nor his family was ready to squander his oenological talent, so they launched their own winery. It immediately became a critical and commercial success. Quantities remain tiny by virtually all commercial standards and world demand for Reyes' wines far outstrips supply, so we are fortunate to be able to enjoy this estate's delightful Tamiz Tinto, a blend of 98% Tinto Fino (Temranillo) and 2%Albillo (another local variety). Plans are underway to expand this exceptional property, so hopefully we have not seen the last of this exciting winery.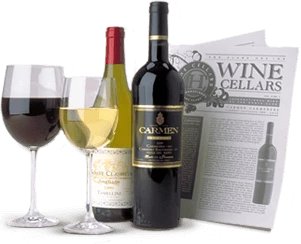 Enjoy Limited Production Estate
Bottled Wines
Discover limited production estate bottled wines such as Vergenoegd's internationally
acclaimed 2005 Cabernet Sauvignon, imported exclusively for our members.
DISCOVER OUR FOUR CLUBS