The 2012 Príncipe de Viana Barrica Chardonnay gives ample testimony to Navarra's ability to produce fresh, beautiful white wine. As an opening act, this barrel fermented Chardonnay offers up a pretty bouquet reminiscent of orchard fruits and fresh baked bread. Its charming aroma follows through on the palate with a draught of soft apple and apricot flavors that thankfully are not overpowered by the wine's three month hiatus in oak barrels. Príncipe de Viana's 2012 Chardonnay also knows how to make a graceful, but unobtrusive exit, as it finishes with a pleasant crispness that leaves the mouth clean and quite refreshed. We enjoyed this youthful well-made Chardonnay moderately chilled (40°-°45 F), though a case could be made for serving it ice cold or even at a more ambient temperature.
Príncipe de Viana's 2012 Barrica Chardonnay offers great companionship to a variety of fish, fowl, pasta, and cheese dishes. When served with a first course, we suggest traditional Spanish tapas, but this easy to drink Chardonnay shines with heartier fare, too. Smoked Trout with a mild horseradish and dill sauce; Shrimp and Grits; Artichoke and Crab Encrusted Salmon served with haricots verts; and Maryland Style Crab Cakes prepared with an herb and saffron suffusion are just a few tasty main courses to pair with the Príncipe de Viana Chardonnay. Crispy Fried Chicken with a Honey Dijon Glaze as well as Vegetable and Feta Stuffed Acorn Squash make us want to open another bottle of this wine, too. Baked Brie with toasted almonds, and most soft and semi-soft cheeses paired with crisp mountain grown apples or pears also provide tasty, easy accompaniments. Enjoy!
It never ceases to amaze us how wineries come into being and what motivates the people behind the wines we enjoy. In addition, we have over the years found plenty of oenological treasures in relatively obscure wine regions and from theretofore undiscovered wineries and wines makers, yet it's still remarkable just how much good wine flows from places not exactly on the tip of everyone's tongue. One such recent discovery hails from one of Spain's lesser known (at least in the US) and least understood viticultural regions. It is Bodegas Príncipe de Viana from the ancient province of Navarra.
Bodegas Príncipe de Viana was founded in 1983 as a special project of Caja Rural de Navarra, an agricultural lending institution created to provide financial assistance to the region's farmers and promote sustainable development of Navarra's essential farming sector. In testimony to the importance of agricultural products to the economy of Navarra, Bodegas Príncipe de Viana takes its name from an historic Navarran title of Spanish royal succession dating to 1423.
In its thirty years of existence, Príncipe de Viana has acquired nearly 1200 acres throughout the region, to which approximately one thousand acres of estate vineyards have been planted on chalky, stone-strewn plateaus that lay at the confluence of the Aragón and Ebro Rivers. As is the case with most Navarran producers, red wine grapes, both traditional Spanish grape varieties as well as an assortment of classic French varietals, dominate the viticultural scene at Príncipe de Viana. However, excellent Chardonnay is crafted here as well. Garnacha, Graciano, Tempranillo, Chardonnay, Cabernet Sauvignon and Merlot all make their appearance at Príncipe de Viana, and happily find their way into a myriad of wines.
Navarra is an ancient province of Spain as well as one of Spain's more prolific Denominacións de Origen (DO) for wine. It lies just south of the Pyrenees Mountains in north-central Spain. Once an independent kingdom with strong ties to neighboring France, Navarra claims to be the ancestral home of France's Bourbon kings (from 1589 until 1792 and the French Revolution, and intermittantly until 1830). From the Middle Ages until the late 19th century and the advent of the phylloxera plague, Navarra was perhaps Spain's most important wine producing region: it supplied the legions of pilgrims who plied the El Camino de Santiago (The Way of St. James) and the bustling city of Pamplona, known more today for the raucous Festival of San Fermin and the running of the bulls through its streets each summer than as a respite for weary pilgrims.
Since the 1980s, viticulture has staged a tremendous comeback in Navarra. Traditional Spanish grape varieties (Tempranillo, Garnacha, Garnacha Blanca, Graciano, Mazuelo, and Viura) predominate but are typically buttressed by French varietals (Cabernet Sauvignon, Chardonnay, and Merlot). Although red wine still reigns supreme in Navarra, at least in terms of quantity, Navarra now fashions a growing number of fine white wines as well. And the quality of both the red and white wines flowing from Navarra has increased dramatically over the last three decades, thanks at least in part to estates such as Príncipe de Viana.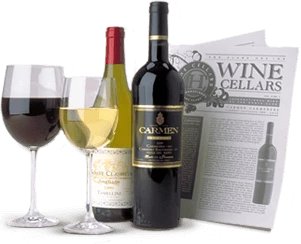 Enjoy Limited Production Estate
Bottled Wines
Discover limited production estate bottled wines such as Vergenoegd's internationally
acclaimed 2005 Cabernet Sauvignon, imported exclusively for our members.
DISCOVER OUR FOUR CLUBS