If energetic, full-flavored, in your face white wine appeals to you, you will surely love the 2006 Las Brisas from Bodegas Naia and if such a wine is not your style you will probably enjoy it anyway. "Wow, this wine is hard to resist" is how one incredulous, persnickety member of the tasting panel described this wine – authentic testimony and high praise from one hard to please type. With a glint of sunshine and hint of gold to dazzle the eye, this top notch Rueda begins a sensory odyssey. Las Brisas continues its retinue of sensual delight by offering up an exciting set of olfactory fireworks, which include apricot, spice, and tons of ripe citrus fruit. It is hard to believe that so much scent and savor can be packed into a single wine, but thankfully they are in the 2006 Las Brisas. Pink grapefruit, lime, melon, passion fruit, and ohhh so much more come through on the palate. And even with so much fruit flavor, the youthful 2006 Bodegas Naia Las Brisas remains bone-dry, crisp, and long to the finish where it explodes in a crescendo. Enjoy this fun-filled wine ice cold or only moderately chilled. For the greatest enjoyment we suggest consuming the 2006 Las Brisas in its exuberant youth, but do allow it a few minutes to rest in the glass to gather its grandeur and proffer every bit of its many delights. Unequivocally, this is the finest Las Brisas we have tasted to date and this effort constitutes a new chapter for this dynamic, up and coming winery. Salud!
The 2006 Bodegas Naia Las Brisas is a natural summertime wine. With its crisp, pinpoint flavors and racy demeanor, it simultaneously quenches the thirst as it awakens the gustatory passions that haunt the mind. Tapas and the freshest sushi immediately come to mind, but why stop there? Grilled Sea Bass with steamed jasmine rice; Bacon Crusted Swordfish with grilled Portobello mushrooms; and Potato Encrusted Grouper, served with a shitake mushroom and smoked salmon duxelles, are just a few of the favored dishes that can evoke paradise in the presence of the 2006 Las Brisas. Steamed shrimp, mussels, clams, and oysters provide other good bets with the this flavorful, very easy to drink white wine. Crusted cheeses such as Brie, Camembert, and Explorateur provide simple but outstanding accompaniments, too. Enjoy!
Bodegas Naia is a partnership between three talented individuals: Javier Alen, the respected Galician producer of Viña Mein; Victor Rodriquez, the former director of Spain's highly acclaimed Vino y Gastronomia; and Eulogio Calleja, one of Rueda's most talented winemakers. This trio is responsible for three outstanding white wines from a splendid 98.8 acre vineyard in Rueda, where many of the vines are ungrafted and nearly 100 years of age. Bodegas Naia is situated in the town of La Seca, which locals consider to be the only grand cru village in Rueda. Moreover, this outstanding bodega specializes in the production of indigenous Spanish varietals, most notably Verdejo and Viura. The estate's racy Las Brisas offering is an artful blend of 50% Verdejo and 50% Viura/Sauvignon Blanc. The bodegas' other two outstanding wines: Naia and Naiades are both crafted from 100% Verdejo. Naia is aged for four months on it lees, while Naiades hails from the oldest, ungrafted Verdejo vines on the property and has been aged eight months in French oak. Naiades constitutes one of Spain's finest white wines and is the equal of the greatest French Grand Cru Chablis. It is by all accounts the ultimate expression of Verdejo and a tour de force in winemaking. All of Bodegas Naia's wines come to the United States courtesy of Jorge Ordonez. Jorge Ordonez: The Master from Malaga Jorge Ordonez came to the United States in 1987. When he arrived in this country he spoke no English, but he had a dream. Today, he is one of the most respected importers in the United States and his unique, very special portfolio of Spanish wines known as The Fine Estates of Spain have taken North America by storm. Moreover, the name Jorge Ordonez is now synonymous with the renaissance in Spanish viticulture and it is as close to a guarantee in the world of wine that what rests inside a bottle that bears the name is one of the tastiest and most affordable wine treasures on earth. Ordonez's key to success has been his unfailing dedication to quality over quantity, coupled with a patient, systematic approach to opening and building each and every individual market. Ordonez leaves no part of the viticultural puzzle to chance. He works personally with each and every producer of the wines he offers for sale and he is meticulous in his selection as well as his distribution. In fact, each and every bottle of wine that bears the name of Jorge Ordonez leaves the winery under ideal, temperature controlled conditions and is delivered to his North American clients under similar circumstances. Nothing is done haphazard or left to chance. Is there any wonder then that the Spanish Renaissance in wine corresponds to Ordonez's quest to bring The Fine Estates of Spain to North America? Ordonez's accomplishments are no mean feats. The boy from Malaga has done well and made us all proud. Jorge Ordonez has justly earned the title "The Master of Malaga."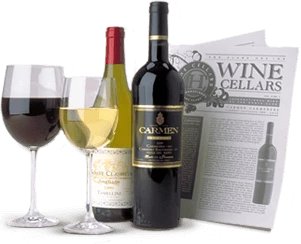 Enjoy Limited Production Estate
Bottled Wines
Discover limited production estate bottled wines such as Vergenoegd's internationally
acclaimed 2005 Cabernet Sauvignon, imported exclusively for our members.
DISCOVER OUR FOUR CLUBS