A juicy, purple potion, the 2006 Viña Gormaz highlights the approachable, friendly, downright irresistible side of old vines Tempranillo. Produced from vines more than 50 years old from Soria, the highest, most remote area of Ribera del Duero, the 2006 Viña Gormaz displays both true elegance and well as concentration of flavor. From start to finish, Viña Gormaz is a pleasure to drink. The scent of red fruits, raspberry and strawberry, caress the nose and a wealth of long, velvety flavors enliven the palate. Refreshing, yet satisfying, there are no tannic edges to tame with this wine, nor does one have to let it breathe forever to reveal its charm. From the first sniff to the last swallow that glides merrily down the eager gullet, the 2006 Viña Gormaz wins the day with its overt charm and sensuous vitality. Although hardly necessary for enjoyment, a bit of breathing time will almost certainly enhance the scent and savor of this outstanding Tempranillo. In addition, we suggest serving Viña Gormaz at cool room temperature (no more than 66° F).
Given the silky, seductive nature of the 2006 Viña Gormaz, a wide variety of gustatory delights awaits both the serious gourmet and the ordinary gourmand alike. Whether you prefer butter and herb roasted chicken, a spicy country cassoulet, or an epicurean creation, the 2006 Viña Gormaz is ready to accompany just about any meat or poultry dish with aplomb. We have found this wine particularly well suited to tapas, too, the traditional "small dishes" that are featured appetizers in Spanish restaurants. In fact, two or three tapas can serve as a complete meal. Some fine tapas selections with the Viña Gormaz include mushroom soup; duck, quail, or pheasant confit; and a white bean and chicken dish with tomatoes, onions, and peppers. Venison stew, prepared with carrots and potatoes constitutes another winning partnership. Lightly grilled tuna steaks, served with a Mediterranean antipasto paste of chopped olives, tomatoes, roasted red peppers, and fresh basil makes for wonderful pairing with Bodegas Gormaz's Viña Gormaz, too. Furthermore, we strongly suggest that you not overlook other traditional Mediterranean favorites, even typical Italian specialties like lasagna. In fact, almost any food with which you would consider serving a fine Italian red, a smooth, full-bodied Châteauneuf-du-Pape, or similar hedonistic style of Rhône wine will work quite well with the 2006 Viña Gormaz Ribera del Duero. Enjoy!
Bodegas Gormaz has been turning out exemplary Ribera del Duero from old, head pruned Tempranillo vines since 1972. One of the original 16 bodegas of the D.O. Ribera del Duero, Bodegas Gormaz was originally founded as a cooperative consisting of some 360 growers in the Ribera del Duero province of Soria. Today, Bodegas Gormaz is privately owned and managed, and it is fashioning wines that simply must not be missed. Brought to fore by Classical Wines of Spain, Bodegas Gormaz now consists of more than 1,300 acres of vines in Soria. As Soria lies at a very high elevation, it remains the least developed area of the appellation, just beyond the center of commercial development in the Ribera del Duero. Consequently, its vineyards have not been replanted, and most of the vines at Bodegas Gormaz are in excess of 50 years of age and have been propagated from vine to vine in pre-phylloxera fashion. In other words, the vineyards of Bodegas Gormaz grow on ungrafted rootstock, a rarity in the 21st century. What results is pure, rich, unadulterated Ribera del Duero from 100% old vine Tempranillo. Ribera del Duero Located in the heart of Spain in the ancient realm of Castile and León, Ribera del Duero has been a center of wine production for thousands of years. Even today, Ribera del Duero is one of the most important wine regions in Spain, as it remains the spiritual home of Tempranillo, Spain's most venerable red grape variety. Here the iconic Tempranillo, also known locally as Tinto Fino and Tinta del País, reaches its pinnacle and demonstrates to the world its inherent virtue. Ribera del Duero occupies the hills and high meseta to the northeast of the city of Valladolid and stretches out along the Duero River, Spain's most beloved waterway. Not surprisingly, the region draws its name from the venerable Duero that plays an important role in the region's terroir. It seems that the soil of Ribera del Duero bears more than a passing resemblance to that of France's Burgundy, with a wide range of chalk, clay, marl and gravel, combined in varying degrees of prominence. However, whereas Burgundy's soil complexity results from plate tectonics, the soil in Ribera del Duero results from the Duero's erosion through the sedimentary layers of the Castilian meseta. The Duero River may likely play a role as well in moderating the rather harsh continental climate of the region, an area known for its dry, hot summers and cold winters. Add altitude (2,500-3,300 feet) and the intense luminosity of the Spanish meseta to the region's exemplary terroir, and it becomes apparent that Ribera del Duero possesses all the features it needs to showcase the many attributes of Tempranillo, Spain's quintessential grape variety. Although Tempranillo provides heart and soul to nearly all the wines of Ribera del Duero, the Denominacion de Origen (DO) does permit small quantities of other grape varieties to appear in the appellation's red wines, most notably Cabernet Sauvignon, Merlot, Malbec, and Grenache. There is, however, no requirement that Ribera del Duero contain any grape other than Tempranillo. The extraordinary, trendsetting wines of Alejandro Fernández's Pesquera are made from 100% Tempranillo, while the legendary Vega Sicilia utilizes small quantities of Cabernet Sauvignon and Merlot to work its magic. Consequently, there is no one magic formula. However, what is certain is that world wide demand for the great wines of Ribera del Duero will continue to grow, as a cadre of astute producers in the zone continue to push the envelope on quality. Moreover, the relative value of the voluptuous red wines of Ribera del Duero are second to none. Just allow the red wine wares of Ribera del Duero a few years in bottle and a little time to breathe prior to serving, and they will more than handsomely reward the patient imbiber.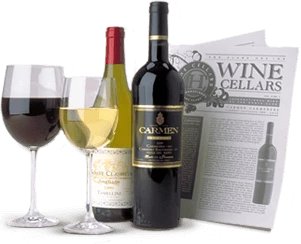 Enjoy Limited Production Estate
Bottled Wines
Discover limited production estate bottled wines such as Vergenoegd's internationally
acclaimed 2005 Cabernet Sauvignon, imported exclusively for our members.
DISCOVER OUR FOUR CLUBS