Imbued with a sunny, straw-colored robe that recalls the sun-drenched plains of northern Spain, the 2007 Mozares Verdejo (60%) Viura (40%) makes a stunning first impression. And it only gets better. Scented and savory, the 2007 Mozares Verdejo Viura is pungent with the aromas of grapefruit and pear, fresh-squeezed lime, and cut flowers. Sprightly but intense, the Mozares provides a mouthful of wine with racy fruit, herbal intensity, and refreshing acidity; no flabby insipid-tasting wine here. Powerful and passionate on the palate, this well-made wine finishes with panache and leaves one begging for more. What more could one expect from this wine? Serve the 2007 Mozares Verdejo Viura moderately chilled, and as often as you can.
In Spain, the 2007 Mozares Verdejo Viura serves as the perfect tapas wine, a wine to sip and perhaps even guzzle while consuming as many of those "tasty little appetizers" known as tapas as one can hold. But why wait to go to Spain? Tapas are rapidly growing in popularity in this country, so why not try your hand at a few tapas classics such as Artichoke Rice Cakes with Manchego Cheese, Prawn Croquettes, Salt Cod Fritters, Ceviche, Spiced Clams, Smoked Mussels, Empanadas, or simple toasted rounds covered with thin slices of the peerless Jamon Ibérico, the delicious acorn-fed ham that truly has no equal. For the less adventuresome, why not set out a plate of jumbo shrimp and let the 2007 Mozares work its magic. Nearly all kinds of cow, sheep, and goat's milk cheese provide superb accompaniments to this wine, too. Hearty Chicken Salads, made with fruit, walnuts, and Mediterranean herbs offer other tasting pairings with Mozares. Enjoy!
Mozares is produced by Bodegas Garci Grande, a revered bodega with prime vineyards in Rueda along the Adaja River. The Rueda D.O. is home to many of Spain's greatest white wines. Here, indigenous varietals predominate, and Verdejo reigns supreme as the sovereign grape. Bodegas Garci Grande fashions a number of delicious, top quality Verdejo and Viura based wines in its new winery, constructed over 14th century subterranean vaults. Bodegas Garci Grande was founded in 1989 and shares the same ownership as the highly touted Bodegas Gormaz in Ribera del Duero and several other notable properties from now-fashionable viticultural regions. Just a few years ago these properties and their respective D.O.'s (designated appellations) were virtually unknown in the United States; but, thanks to the viticultural renaissance sweeping Spain, we are now fortunate beneficiaries of these wine wares. The name Mozares is believed to be derived from the name of the Christians who repatriated the land under the Castilian Kings after the crusade against the Moors in Medieval Spain. These people had maintained their habits under Muslim domination, including drinking wine. The Mozares Verdejo Viura memorializes a style of white wine highly appreciated in Rueda for centuries. Spain: The Land Time Forgot? Spain has been called "the land that time forgot." Sadly, when it came to wine, this adage rang true throughout much of the 20th century. Spain has been the world's third-largest producer of wine for decades (after Italy and France) and it has more acreage under vine than any other wine-producing nation. Yet, with the exception of Rioja and the lovely, affordable Cava of Penedes, Spanish wines were little known in the United States until quite recently. In comparison to France, Italy, and other leading wine-exporting nations, Spain had failed miserably in the decades of the 1970s and 80s to exploit its fine array of ancient vines and indigenous grape varieties. It failed, too, in marketing her wines in the United States and elsewhere. In addition, most Spanish producers had steadfastly refused to modernize their winemaking operations or spend money to improve the quality of their wines, leaving Spain behind many other nations in the overall quality quotient. Furthermore, Spain, who had long prided herself on great, old-style reds, had become locked in a stereotype that it seemed incapable of obliterating. Spain was seen almost exclusively as the world's purveyor of 19th-century-style reds, period. These were wines that spent years in old American oak barrels, and they tasted like it, only occasionally for the better but more often for the worse. The vast majority of Spain's white wines were even less appealing. Moreover, for generations only one name was synonymous to most of the world with fine Spanish wine – Rioja – much to the detriment of other excellent Spanish reds and an intriguing number of white wines from lesser-known locales. Fortunately for Spain and American consumers, the decade of the 1990s saw a renaissance in winemaking in Spain that has quickly ushered in that nation's second Siglo d'Oro (Golden Age). Aided by such forward thinking and able importers as Classical Wines of Spain, De Maison Selections, and the redoubtable Jorge Ordonez, the sleeping giant of wine has awakened at last, bearing both new and old styles of interesting, high-quality wines to our shores. Spain, the land that not so long ago time seemed to have forgotten, has definitely been rediscovered. Bierzo, Jumilla, Castilla y Leon, Montsant, Priorat, Rueda, and Rias Baixas are just a few of the Spanish wine regions whose wines have been reborn in the contemporary age of oenological exploration. And these designated names are only the beginning. Savvy consumers, take note: Spain is a veritable wine lover's paradise, and there has never been a better time to hunt for affordable treasure and liquid gold among its vineyards than now.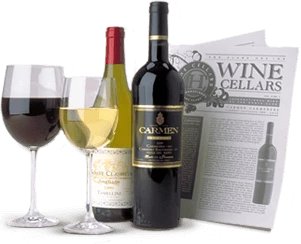 Enjoy Limited Production Estate
Bottled Wines
Discover limited production estate bottled wines such as Vergenoegd's internationally
acclaimed 2005 Cabernet Sauvignon, imported exclusively for our members.
DISCOVER OUR FOUR CLUBS