We have followed this estate for more than a dozen years, happily consuming its beautiful Rioja wines; but we can state unequivocally that the 2004 Loriñon Crianza is the finest young Crianza we have ever tasted from this estate. It is imbued with everything it needs to succeed in life, including a deep ruby robe, an amplifying aroma, supreme extract, a delightfully sumptuous mid palate, and the requisite tannin to allow further improvement in bottle for at least several more years. This wine's amplifying nose offers a smorgasbord of tantalizing aromas: cassis, plum, spice, chestnut, sweet oak, and vanilla to name a few. In the mouth, the 2004 Loriñon Crianza appears silky and plush and at the same time elegant and packed with all kinds of flavors. Typical of great Rioja, each subsequent sip of the 2004 Loriñon Crianza reveals more of the warmth and latent goodness for which Rioja is famous. Each sip is another revelation as this Crianza gains complexity minute by minute, so we suggest you not be in a hurry to consume this wine or you may miss the best that this wine has to offer. For optimum enjoyment, allow the 2004 Loriñon Crianza to breathe for at least half an hour, preferably in a decanter, before savoring it at cool temperature (62° - 66°F).
A coterie of food and wine critics and more than a few self-proclaimed connoisseurs have extolled the virtues of beef in the company of Rioja; and, indeed, steaks and filets will provide excellent accompaniments to the 2004 Breton Loriñon Crianza. However, lamb and pork dishes are other traditional favorites in the Rioja that we believe merit serious consideration. But why stop here? One of the tasting panel's perennial favorites with the Loriñon Crianza is a simple rotisserie roasted chicken, basted with Mediterranean herbs, butter, olive oil, and garlic. This simple but flavorful dish allows Bodegas Breton's Loriñon Crianza to shine unencumbered. Several meatless pasta dishes also rank high on our list. Penne pasta, served with a heady white bean sauce that is made with plenty of onion, garlic, red pepper, celery, and grated hard cheese will highlight perfectly the fresh and elegant side of the 2004 Breton Loriñon Crianza.
Bodegas Breton is a small, world-renowned estate in the Rioja Alta, the most beautiful and prestigious of Rioja's wine regions. Founded in 1983, Bodegas Breton is a partnership that includes the famous 100-acre Viña Loriñon property, which lies at the heart of the Rioja along the south bank of the Ebro River, just outside of the city of Logrono. Bodegas Breton also includes the legendary Dominio de Conté site, whose average vineyard age is the oldest in the Rioja. Both Breton vineyards specialize in the cultivation of indigenous Rioja varietals: Tempranillo, Mazuelo, Graciano, and Garnacha for red Rioja, and Viura and Malvasia for the estate's white wines. Here, winemaking is very much in the traditional Rioja style – only Spanish grape varieties are utilized and the emphasis is on Crianza and Reserva style wines (meaning extended barrel aging and pronounced fruit, wood, and spice flavors) that have come to define not only Breton's own traditional style but Rioja's distinctive flavor profile as well. In spite of its youthful origin, Breton takes a very time-honored approach to its wines. The philosophy and overriding objectives of this estate are twofold: the preservation of the elegant, balanced "Rioja Alta" style and the longevity for which traditional Rioja is legendary. Moreover, since its premier release, Bodegas Breton has consistently sought to increase extract in its wines to complement the racy, impressive acidic structure that is routinely obtained from the estate's mature, low-yielding vineyards. The outstanding 2004 vintage is further testimony to Breton's continuing achievement in this regard, as this vintage has supplied supreme elegance as well as formidable flavor and texture to the estate's wines, especially in the estate's Crianza. Like most Rioja estates, Bodegas Breton produces both red and white Rioja. In fact, a decade ago this estate began pioneering the production of barrel-fermented dry white Rioja from 100% Viura. The Loriñon Blanco "Barrel Fermented" Rioja is a firm, richly-textured and perfumed wine that improves with age. Furthermore, a more traditional white Crianza, aged twelve months in oak, is also fashioned by Breton. Yet, despite Breton's success with white Rioja, the bodega's red Rioja wines remain its specialty. In particular, the Loriñon Tinto Crianza remains the critics' choice as Rioja's most serious Crianza. This special wine spends 15 to 18 months in seasoned American oak barrels before it is allowed to rest an additional year in bottle before release. In addition, Breton crafts a luxury offering, the rare Dominio de Conté Reserva, which is produced only in the finest vintages. The latter serves as a reminder of the great age worthiness and depth of Rioja – attributes that first made this region and its wines legendary in the 19th century.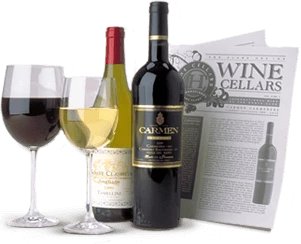 Enjoy Limited Production Estate
Bottled Wines
Discover limited production estate bottled wines such as Vergenoegd's internationally
acclaimed 2005 Cabernet Sauvignon, imported exclusively for our members.
DISCOVER OUR FOUR CLUBS