The 2006 Garnacha de Fuego Old Vines stands apart as an amazingly good value and a fine example of the wine maker's art. Following an extremely well received 2005 vintage, which garnered high praise indeed from The Wine Spectator, the 2006 edition offers a remarkable reprise. A clean aroma of black cherry overlaying a hint of old saddle leather lets us know that this is no ordinary wine. Once on the tongue, the clean and tightly wound character of the 2006 Garnacha de Fuego Old Vines impresses. The dark cherry note from the nose reveals itself, too, in the mid palate, where it mingles with a cornucopia of red fruits and subtle earth tones, before sliding gracefully across the palate on the wings of a wonderfully composed, spicy structure. A tight finish characterized by oriental spice and white pepper completes the experience of this dry, medium-bodied 100% Garnacha wine. Wines such as the 2006 Garnacha de Fuego Old Vines make us smile for two reasons. At its price, it affirms the democratic ideal–that quality wine is accessible to all. And it reconfirms the adage that one can't drink a price tag or a label. The contents of the bottle are what matter, and here we have a winner!
The 2006 Garnacha de Fuego Old Vines combines well with easy-to-make dinners, so don't wait until the weekend to uncork a bottle. Appetizers, such as grilled mushrooms or prosciutto with melon (honeydew or cantaloupe) complement the fruit and earth qualities of the Garnacha de Fuego. Served with steak, grilled tuna, or other meaty fish–even a gourmet burger–the wine will round out a filling meal. Pleasing sauce and spice flavors include cranberry and sage for those of you on the hunt for your own recipes. For pasta and cheese lovers, a quick and simple gnocchi with gorgonzola–our feature recipe–always makes us pause and smile in the middle of a bustling work week. Enjoy!
Bodegas Ateca is a collaborative effort on the part of Jorge Ordonez, the renowned importer of Spanish wines, and Miguel Gil of Bodegas Juan Gil. Together, they craft the 2006 Garnacha de Fuego Old Vines. The bodega, named after the village of Ateca in the municipality of Calatayud, Spain, focuses on bringing the quality of old vine Garnacha (also known Grenache) to the table. This premium venture debuted with the 2005 vintage, but already it has earned tremendous critical acclaim. The secret to Garnacha de Fuego is the old, shy bearing, tree-like vines of Garnacha that Ordonez and Gil use to make their magical wine. Many of Garnacha de Fuego's vines are approaching 100 years of age, with no grapes from vines less than 55 years of age allowed in the blend. The decision to tap the region's ancient Garnacha vines contributes immensely to the rich quality and intensity of Ateca's Garnacha de Fuego. In addition, the venerable old vines of Garnacha de Fuego are all situated in the full sun on the south facing slopes of the Sierra de la Virgen range. On these slopes, at an elevation of 3,000 feet, the grapes develop physiological ripeness and full, round flavors. A combination of old vines, superb terroir, and the well-honed winemaking skills of Miguel Gil add up to a boon for savvy consumers. Both Jorge Ordonez and Miguel Gil are familiar names to those seeking high quality and great value in Spanish wine. These gentlemen are responsible for bringing a treasure trove of great tasting high quality Spanish wines to American tables. One such example is Gil's Wrongo Dongo, a 100% Monastrell (aka. Mourvèdre) that has garnered considerable critical notice and ample affirmation from consumers, too. Jorge Ordonez, an advocate for Spanish wines, has similarly done much to promote Spain's wines in America and to modernize and bring consistency to the wine-making practices of many Spanish grape growers and wine makers. In the case of the 2006 Garnacha de Fuego Old Vines, we are especially grateful. Garnacha Garnacha, Spanish for the varietal commonly known by its French name Grenache, is Spain's most planted grape variety. Although ubiquitous, Garnacha is most often blended by Spanish winemakers with other varietals, so much so that it rarely stands alone as a 100% varietal. Because of its thin skin and ability to tolerate extremely hot conditions, the grape ripens slowly to develop high sugar content. The result is that Garnacha produces a fruity profile complemented by a spicy quality that makes it a perfect palette upon which to paint. It can either mellow out highly tannic varietals with its fruit, or add character to thinly structured varietals. In addition, its thin skin carries relatively little pigment, so it doesn't drastically affect the coloring of a wine when it's blended. Yet, from ancient vines grown in an ideal terroir Garnacha can be majestic on its own, as the great Château Rayas and a bevy of other Grenache based, old vine Châteauneuf-du-Papes can attest. Thanks to Jorge Ordonez who has promoted Spanish Garnacha as a stand-alone 100% varietal, the wine market is now enjoying pure varietal examples of Grenache such as the 2006 Garnacha de Fuego. Blessed by optimal growing conditions in Calatayud, mature old vines, and modern wine-making techniques, the Bodegas Ateca is proving that Garnacha is more than worthy of standing on its own two legs. After a strong start, we're also predicting that Bodegas Ateca will continue to produce quality Garnacha at a reasonable cost. For this, we are extremely grateful.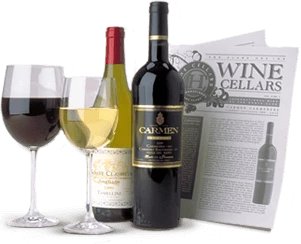 Enjoy Limited Production Estate
Bottled Wines
Discover limited production estate bottled wines such as Vergenoegd's internationally
acclaimed 2005 Cabernet Sauvignon, imported exclusively for our members.
DISCOVER OUR FOUR CLUBS