Year after year, in spite of the vagaries of each vintage, Angel Rodriquez and his children have fashioned the quintessential Verdejo from organically grown grapes. Nonetheless, Angel's 2017 Martinsancho may fittingly be his finest to date, surpassing even the 2016 Martinsancho, which was nothing short of outstanding. The 2017 Martinsancho is full of energy and shines in the glass with a bright sunny color. Martinsancho's great minerality, laser-like precision and purity emanate from every draught. Pungent aromas of citrus and lemon zest, spring flowers and liquid stones seduce the nose and prepare the palate. As we have come to expect from the superlative Martinsancho Verdejo, the 2017 Martinsancho first graces the mouth with light but sensual fruit and floral tones. Underpinned with a crisp, racy, herb-tinged minerality and perfectly balanced natural acidity, the 2017 Martinsancho enlivens the senses and finishes with subtle yet complex flavors and a vibrant energy that refreshes the mouth. In fact, nothing detracts from the purity and freshness of this wine, which is undoubtedly one of the reasons that noted wine critic Robert Parker Jr. once made this comment about Martinsancho: "This is the best dry white table wine I have tasted from Spain." We are pleased that Angel Rodriguez's swan song, the 2017 Martinsancho, continues to deliver the best that Rueda has to offer and that Angel's legacy and life changing work live on. Enjoy the outstanding 2017 Martinsancho moderately chilled and often (40º-45º F).
Dubbed the perennial "no headache wine," the 2017 Martinsancho Verdejo, like its predecessors, needs no accompaniment to shine; its purity and individuality speak volumes on their own providing you don't over indulge. Nonetheless, simple, well-prepared foods enhance great wine and vice versa, so we suggest doubling the pleasure by serving the 2017 Martinsancho Verdejo with some well chosen dishes. Some of our favorite accompaniments to serve with Martinsancho include tapas, hors d'oeuvres, smoked salmon with capers, baked or grilled white fish, shellfish, poultry, and paella, providing the paella is not too highly charged. In addition, we highly recommend pairing Martinsancho with grilled octopus with avocado aioli and watercress, as well as grilled red snapper, rock fish, sea bass, or halibut. Jamon Iberico and ripe honeydew melon wrapped with prosciutto make simple but tasty companions, too. Better still, why not have a party, invite some acquaintances, and serve the 2017 Martinsancho as your opening act? Since Martinsancho goes down easily, we can almost guarantee that after the first bottle of Angel Rodriquez's seductive 2017 Martinsancho Verdejo you will have made several new friends or at least solidified existing friendships. In that case, you may want to stock up while supplies last. Enjoy!
One of the great highlights for us of any trip to Spain has been sharing a glass of wine and a meal with the legendary Angel Rodriguez, Spain's iconic octogenarian winemaker and guardian of Rueda's Verdejo grape. To spend time with the extraordinary Angel Rodriguez and his beloved Martinsancho vineyard was to share in history. Our first visit to Angel Rodriguez was a quest, the fulfillment of a promise, and a pilgrimage of sorts. We had become acquainted with this courageous man and the story behind Martinsancho. I am happy to report that we were not disappointed; we all left Angel Rodriquez's company in complete awe. A more gracious, humble, hardworking gentleman would be hard to find. Moreover, his lifetime commitment to Verdejo and his native Rueda constitute a living legacy.
We had hoped to make another visit to Angel and his beloved Martinsancho last year, but sadly Angel Rodriguez passed away in January of 2018. He was 88 years old. This month's feature, the 2017 Martinsancho Rueda Verdejo is the last vintage he presided over. It will not, however, be the last Martinsancho. Angel's son and daughter have been integral parts of Martinsancho for decades, including making Martinsancho with the venerable Angel.
Angel Rodriguez and the emergence of Rueda as the most prestigious still white wine-producing region of Spain are synonymous. Angel's story is the story of a unique grape called Verdejo. Although Verdejo is one of only a handful of truly noble Spanish white grape varietals, Verdejo was in serious danger of extinction by the early 1970s due to the pervasive planting of more prolific native varietals such as Viura and Palomino and the introduction of international favorites such as Chardonnay. Through his loving refusal to uproot his ancient 17th century vineyard called Martinsancho, Angel Rodriguez saved the shy-bearing, thick-skinned Verdejo from extinction.
The original majuelo or 17th century vineyard of Martinsancho is less than two acres of gnarled, ungrafted vines, preserved in isolation as a museum of pre-phylloxera viticulture and a continuing source of undisputed varietal authenticity. Once considered an anachronism and an economic liability, nurseries throughout Europe now treasure the Martinsancho vineyard and its beloved Verdejo for the vine cuttings it provides and the legacy it has preserved. Yet, five decades ago no one seemed to care about this old vineyard with extremely low yielding vines; in fact, few had even heard of Martinsancho's existence. Besides, Verdejo was not deemed profitable enough then by most experts to preserve, let alone grow, despite the vine's noble pedigree and the undisputed quality of the wine it produced. Yet, in spite of the prevailing pressure and "expert advice" to uproot the old vineyard, Angel Rodriguez preserved it, and then undertook the near impossible and what many have called sheer lunacy: he re-grafted a vineyard by hand onto 25 acres of premier land, using Verdejo cuttings from the Martinsancho vineyard.
Subsequently, other Rueda growers have planted Verdejo with the help of Angel Rodriguez, to the point that today this shy-bearing vine is once again the leading white grape varietal in Rueda and one of Spain's most important grape varieties.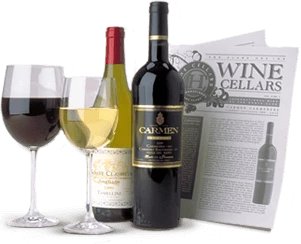 Enjoy Limited Production Estate
Bottled Wines
Discover limited production estate bottled wines such as Vergenoegd's internationally
acclaimed 2005 Cabernet Sauvignon, imported exclusively for our members.
DISCOVER OUR FOUR CLUBS