There is good Rioja, and then there is great Rioja. Bodegas Amézola's 2010 Viña Amézola Rioja definitely belongs in the great category. Our tasting panels chose this special cuvee as it makes its North American debut before any of the major publications published their results, but judging from the press this wine has begun to garner, we are certainly not alone in our summation. Josh Raynolds of IWC just gave it 90 points, and others are even more effusive in their praise. Traditional Rioja through and through, the 2010 Viña Amézola appeals to all the senses with a deep ruby robe, smoky red and black fruit aromas to dazzle the nose and a broad, rich palate of layered fruit, vanilla and spice – all framed by warm fine-grained tannins that add structure and depth but nary an edge. Velvety and expansive in the mouth, the 2010 Viña Amézola offers great hedonistic pleasure from the very first sniff to the wine's long lingering after-glow. Although originally destined to be Rioja Reserva from the superlative 2010 vintage, Bodegas Amézola made an excellent choice to bottle this splendid cuvee two months short of the wine's proposed 12 month hiatus in French and American oak barrels. The result is a suave, sexy Rioja in which the wood complements the wine, but never overpowers it. Enjoy this exceptional Rioja now and for the next decade or more. For optimal drinking pleasure, we suggest affording the 2010 Viña Amézola Rioja plenty of breathing time before serving. Although it may need only a few minutes of aeration to shine, an hour or more will make it positively glitter. Enjoy!
The good news when one thinks of food pairings for Bodegas Amézola's 2010 Viña Amézola Rioja or any first rate Rioja is that one is hard pressed to find a dish that will overwhelm it. While Rioja aficionados will appreciate an unadorned glass of the 2010 Viña Amézola, Rioja is a wine that is meant to be consumed with a richly satisfying meal. Two of our favorite accompaniments to this wine include roasted chicken breasts stuffed with peppers, caramelized onions, and goat cheese, served next to a kabob of grilled potatoes, and roasted pork tenderloins encrusted with black olive tapenade and wild herbs. The distinctive, succulent, and earthy flavors of these dishes accentuate similar flavors inherent in Viña Amézola's Rioja. Other substantive complements include lamb, duck, and tender game hens served with a rich gravy or sauce. Of course, a well-chosen peppered steak, marinated sirloin or rib-eye always makes a good bet, too. More adventurous gourmands may want to tap into the Mediterranean and Arabic influences on the Rioja region, in particular, and Spain, in general, and experiment with a distinctively spiced chicken or rabbit couscous option. Rich pasta dishes such as angel hair pasta with duck confit gets our nod as well, but then one shouldn't overlook serving this delicious Rioja with a selection of fine artisan cheeses, either. Salud!
Bodegas Amézola de la Mora is a new addition to the American market, though this renowned Rioja estate is hardly an upstart. Amézola de la Mora is a branch of the noble Manso de Zúñiga family of Torremontalbo, a local family that played a critical role in the advent of modern Rioja in the 19th century.
The Amézola estate encompasses 148 acres of mature vines that sit atop hills overlooking the confluence of the Najerilla and Ebro Rivers in the heart of Rioja Alta – the Rioja's most illustrious sector. This is a unique Rioja property with a great diversity of terroir in close geographical proximity. Chalky-clay vineyard terraces rise to the summit of Cerro San Quiles, while limestone and gravelly parcels occupy the hills 100 meters below. The late-ripening Graciano is planted here in low-lying limestone where relative warmth accelerates grape maturation, while the early-ripening Tempranillo achieves its optimum concentration and ideal acidity in the higher, more ventilated parcels.
Bodegas Amézola's modern era began in 1987 with the expansion of the estate's facilities and resumption of winemaking by brothers Iñigo and Javier Amézola. Today, Iñigo's daughters María and Cristina guide the property with the assistance of French winemaking consultant Georges Pauli, who served previously as head enologist at Château Gruaud-Larose and many other top-ranked Bordeaux estates. Anchoring the property are Bodegas Amézola's ancestral subterranean cellars and bodega dating from the mid-19th century. In more ways than one, which includes the quality of the estate's wine, Bodegas Amézola de la Mora resembles the classified châteaux of Bordeaux, yet its wines remain distinctly Rioja in both style and flavor.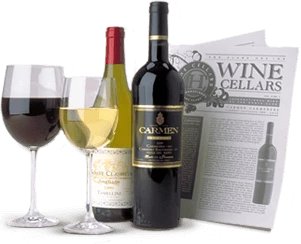 Enjoy Limited Production Estate
Bottled Wines
Discover limited production estate bottled wines such as Vergenoegd's internationally
acclaimed 2005 Cabernet Sauvignon, imported exclusively for our members.
DISCOVER OUR FOUR CLUBS