For more than three decades Alejandro Fernández has been dazzling the world of wine with an unbroken string of savory, sophisticated Tinto Pesqueras. However, never have we tasted a finer young Tinto Pesquera than the 2004. A great wine from an outstanding vintage, the 2004 Tinto Pesquera is world-class wine that takes its rightful place among the very top echelon of wines produced anywhere in the world. Deep purple in color, this super saturated wine offers up a tremendous olfactory, replete with the fragrance of blackberry, blueberry, currant, earth, and lead pencil. Perhaps more impressive even than the wine's mesmerizing scent is its full, rich liqueur-like flavors that come wrapped in one seductive, downright voluptuous body – all of which add up to eminent drinkability in this youthful, full-bodied, impeccably made Pesquera. However, as fine as this masterpiece may appear at the moment, it will continue to mature for years in bottle. It should approach its apogee in five or six years, and then hold for decade or more. For near-term consumption, we suggest letting this outstanding Ribera del Duero breathe for thirty minutes or more in a decanter, or better still give it as much time to breathe as your patience and thirsty throat will allow. And if at all possible, serve the 2004 Tinto Pesquera cool (59°-66° F). Enjoy!
As one has come to expect from Alejandro Fernández, Tinto Pesquera constitutes one of the world's great dinner party selections. In fact, the 2004 Tinto Pesquera can easily hold court at table with haute cuisine. Consequently, we like serving this quintessential Ribera del Duero with Duck Breast, prepared with either a refined blackberry or cherry sauce. A thick herb encrusted Veal Chop, accompanied by a mushroom risotto, provides another sophisticated companion. Quail or squab in puffed pastry makes for a memorable accompaniment, too. However, lest you think the 2004 Tinto Pesquera is a snob, a plain grilled sirloin steak with a bit of barbecue rub makes an equally pleasing accompaniment. In fact, good down-home cooking won't do any harm to the 2004 Tinto Pesquera, either. And if you are stuck, just remember that all one really needs to enjoy the 2004 Tinto Pesquera is a good clean glass. Yet, beware! The gorgeous, hedonistic 2004 Tinto Pesquera almost shouts from the glass and demands to be shared with company at a splendid table; otherwise, one risks being truly covetous.
The original Pesquera bodega was founded in 1972 by Alejandro Fernández, a living icon of modern Spanish wine and the most famous name in Ribera del Duero. When Fernández founded Pesquera, the Ribera del Duero was known as the home of Spain's single greatest wine, Vega Sicilia, but of little else in the way of viticulture. In the early 1970's sheep grazing and sugar beet production were the extent of the region's agronomy. Consequently, Alejandro Fernández changed the face of Ribera del Duero when he began Pesquera, a patchwork of biodynamic, low yield, wire trained vineyards that comprise all the important soil types of the region, including a locally rare gravel deposit. Nearly 500 acres are now under cultivation at Pesquera, nearly all of it devoted to Tempranillo – Ribera del Duero and Spain's most important red grape varietal. The founding and subsequent acclaim that Pesquera has garnered among critics and consumers, not to mention the impact this estate has had on Spanish viticulture as a whole, are in themselves remarkable accomplishments. However, Alejandro Fernández's vision of creating great Tempranillo wines and restoring Spanish viticulture to its rightful place of honor in the world has not stopped with Bodegas Pesquera or even within the confines of the Ribera del Duero appellation. Fernández has founded three other outstanding estates: Condado de Haza, a splendid south facing slope of vines along the Duero; Dehesa La Granja, a 1,800 ranch in nearby Zamora; and El Vinculo, the finest example of old vine Tempranillo in Toro – one of Spain's least known but potentially rich viticultural areas. All of these properties specialize in the production of pure, natural wines from the finest Tempranillo vines. Moreover, each of these properties now fashions the flagship wine in its respective appellation. One would expect nothing less from Alejandro Fernández, the "Master of Tempranillo" and the father of modern biodynamic viticulture in Spain. Ribera del Duero by Stephen Metzler, President, Classical Wines from Spain, Ltd. Editor's Note: Steve Metzler is one of the nation's foremost authorities on the traditional wines of Spain. He wrote this piece exclusively for our membership. We first arrived in Ribera del Duero in 1983, in time to witness the finishing of that region's first officially-controlled vintage, the great 1982. Having founded Classical Wines upon the assumption that Spain's high-altitude, non-Mediterranean wine districts offered classic quality potential second to none, Alejandro Fernández and his Tinto Pesquera became an early and powerful affirmation. Following the international discovery of Pesquera, much has changed in Ribera del Duero. After decades of vineyard reduction in favor of irrigated crops such as sugar beets, the region's sudden rise to fashion attracted investment from within the industry and from prominent personalities, much in the Napa manner. While many are busy turning large fortunes into smaller ones (to paraphrase the famous one-liner), the basis for quality is real. Ribera del Duero boasts soils quite similar to Burgundy, with a wide range of chalk, clay, marl and gravel, combined and in varying degrees of prominence, with clay and chalk predominating. Whereas Burgundy's soil complexity results from plate tectonics, in Ribera del Duero this results from the river's erosion through the sedimentary layers of the Castilian meseta. Vineyards range from 2500 to over 3300 feet in altitude, serving to delay ripening of the short-cycle Tempranillo variety (locally: Tinto Fino and Tinta del País). Extreme diurnal temperature variation at extreme altitude also serves to maintain a healthy level of acidity, minimizing the need for adjustment or inclusion of compensating varieties. Meanwhile, the intense luminosity of the meseta thickens and darkens the skins of the grapes, producing wines with concentrated phenolic structure. The hallmark of Ribera del Duero is monovarietal Tempranillo. The best producers have learned to combine lots from heavier and lighter soils as well as earlier and later harvests as a means of obtaining complexity and balance. In Pesquera, Alejandro Fernández has designed his vineyards to cover the full range of terroirs. Montecastro, under the direction of Jean-François Hébrard, has undertaken a similar approach upon search and acquisition of mature plots sourced beginning with his début 2002 vintage.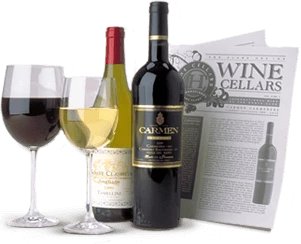 Enjoy Limited Production Estate
Bottled Wines
Discover limited production estate bottled wines such as Vergenoegd's internationally
acclaimed 2005 Cabernet Sauvignon, imported exclusively for our members.
DISCOVER OUR FOUR CLUBS