To reach the Xiloca estate is no easy feat: one must first climb a steep and narrow road into the rugged heart of Aragon with neither a sign nor a marker to show the way. Instead, a massive orchard of century-old cherry trees with ancient Garnacha vines interspersed among them serves as the sole confirmation to visitors that they have arrived at Xiloca. Whether it is the proximity of the cherry orchard or the propensity for old vine Garnacha to offer savory scents of black cherry, the intensely colored 2019 Xiloca Garnacha offers a deep draught of ripe black cherry in its aroma, along with subtle hints of blackberry and plum, earth and mineral to further enhance the allure. In the mouth, the 2019 Xiloca Garnacha offers plenty of plush fruit flavors born of Jiloca's old, heirloom Garnacha vines, many of which are 100 years of age. The wine's pleasant minerality and ripe tannins offer fine counterpoint to the wine's plush, seductive fruit, which makes for hedonistic, uncomplicated, unadulterated enjoyment. The 2019 Xiloca Garnacha weighs in at 14.5% alcohol, yet it never appears flabby in texture or weighty with alcohol. Instead, it comes across as pure, smooth, and superbly balanced. The 2019 Xiloca Garnacha offers bold flavors, easy drinking and authentic Old World charm. For optimal enjoyment, allow this old vine Garnacha a few minutes of aeration before serving it at cool room temperature (58°-64° F).
Xiloca's old vines 2019 Calatayud Garnacha is any easy red wine to pair with all kinds of foods, making it a popular companion in Spain and elsewhere to everything from the simplest of tapas to the most complex paellas. Savory chicken and black bean chili, chicken with black olives and wild herbs, and three cheese cauliflower gnocchi all provide wonderful foils to Xiloca's smooth, richly flavored Garnacha. A fresh pasta and roasted acorn squash dish with Manchego provides another opportunity to let the 2019 Xiloca Garnacha shine. Spicy eggplant and zucchini dishes pair nicely with this wine, too. In fact, most highly seasoned Mediterranean dishes, whether meat, cheese, pasta or vegetable, offer excellent opportunities to showcase Xiloca's plush old vine Garnacha flavors. The wealth of sheep and cow's milk cheeses that proliferate throughout Spain also provide superb accompaniments to Xiloca's 2019 Garnacha. A mild Spanish cheese such as Tetilla as well more robust flavored cheeses such as Cabrales, Mahon, Majorero, and Manchego provide wonderful companions to Xiloca's old vine Garnacha. Enjoy!
Bodega Sommos' Xiloca estate lies off the beaten path, high up in the hills of the rugged Jiloca River Valley in the ancient province of Aragon. A visit to the Xiloca estate is a voyage back in time – literally. Xiloca's vineyards range in elevation from 2,900 to 4,000 feet, and their slopes, which consist of exposed slate, harbor enormous Cambrian fossil deposits of trilobites and other prehistoric remnants that paleontologists routinely journey to Xiloca to study.
In 2015 Bodegas Sommos acquired Xiloca from José Antonio Martín, who was born and raised in the remote Jiloca River Valley and who worked assiduously to restore the property and revive the estate's ancient vineyards. Martin possessed a love for this land from spending his youth among the vineyards of his forefathers in nearby Murero's Pago de la Moratilla. He returned to Jiloca in 2001 with friends, including noted Spanish wine authorities, and formed a partnership to resuscitate Jiloca's s nearly forgotten old heirloom Garnacha vines. He revitalized plots of ancient vines (some 100 years of age) that he purchased from local growers looking to retire. Two years later he completed a new bodega in time for Xiloca's debut 2003 harvest. Under the direction of Bodega Sommos, the revitalization endures and the quality of Xiloca's old vine Garnacha continues to soar, setting the bar for Garnacha in Jiloca.
The Jiloca area is the highest growing region in Calatayud in the Zaragoza province of Aragon where it is widely thought that the Garnacha variety originated, which makes Xiloca's vineyards some of the highest in Spain. With an average age of vines in excess of 80 years and yields as low as 700 pounds (a miniscule 1/3 ton) per acre, Xiloca's yields are also among the tiniest in Spain. Xiloca's specialty is this month's selection, unoaked, heirloom Garnacha from hand-picked vines from the estate's steep, nearly inaccessible slopes. The very old, low yielding Garnacha vines develop firm tannins to balance the wine's concentrated fruit and pronounced minerality.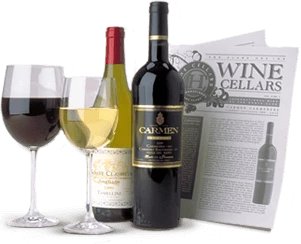 Enjoy Limited Production Estate
Bottled Wines
Discover limited production estate bottled wines such as Vergenoegd's internationally
acclaimed 2005 Cabernet Sauvignon, imported exclusively for our members.
DISCOVER OUR FOUR CLUBS