Sporting a deep ruby color with flashes of violet, the smooth and racy 2019 Bodega Renacer Punta Final Reserva Cabernet Franc (92 Points – Tim Atkins) opens with succulent scents of crushed raspberry, red currant, eucalyptus, and mint, all of which happily re-emerge in the mouth. The wine's berry flavors and heady aromatics are carried on soft velvety tannins that caress the palate. Add hints of vanilla, dark chocolate, and pretty spicy tones from a 12-month hiatus in French oak barrels, which integrate seamlessly with the wine's elegant fruit flavors, and the 2019 Bodega Renacer Punta Final Reserva Cabernet Franc is hard to resist. The wine's fine balance and concentration persist on the finish, too, as this comely Cabernet Franc exits with real panache. Afford the hedonistic 2019 Bodega Renacer Punta Final Reserva Cabernet Franc at least 10-15 minutes of aeration before serving at cool room temperature (58°-62° F). Anticipated maturity: 2022-2026. Enjoy!
Argentina is renowned for its high quality meats, especially beef, so it should come as no surprise that Bodega Renacer's 2019 Punta Final Reserva Cabernet Franc provides the ideal partner to steak, roasts, and barbequed chicken. Grilled sausages, spicy and full of flavor, provide tasty partners, too. Veal Medallions wrapped with prosciutto ham also warrant two thumbs up as does Roast Colorado Rack of Lamb, served with potato gnocchi, pearl onions, and mushrooms, and Sous Vide Duck Breast served with a blackberry reduction over wild rice. Hearty meat and vegetable stews also make splendid accompaniments. Rich, heady pasta dishes made with vine ripened tomatoes, garlic, and plenty of basil, oregano, and spices in the company of thick slices of crusty Italian bread and plenty of freshly grated Parmesan cheese provide equally compelling companions. Buon Provecho!
Bodega Renacer's 2019 Punta Final Reserva Cabernet Franc makes a splendid companion to all kinds of hard and semi-soft cheeses. Cheddar, Feta, Manchego, Parmigiano-Reggiano, and Pecorino make especially tasty accompaniments to Bodega Renacer's silky smooth Cabernet Franc, but many other cow, goat, and sheep's milk cheeses pair well, too. To enjoy the finest cheeses, join us at www.cheesemonthclub.com.
Bodega Renacer was founded by Patricio Reich in 2003. In collaboration with the highly acclaimed and award winning winemaker Lucas Amoretti, Bodegas Renacer fashions an enviable portfolio of outstanding varietal wines from Mendoza's finest vineyards and terroirs. Located in Perdriel in sight of the towering Andes where the soil, climate, altitude, and availability of water provide the ideal environment for the cultivation of Cabernet Franc, Cabernet Sauvignon, and Malbec, Bodega Renacer's wines are rendered pure and natural tasting, vegan certified, and certified organic as of 2021. The estate has a total of 100 acres of vines under cultivation in Perdriel and draws additional grapes from select Mendoza vineyards in Lujan de Cuyo, Medrano, and the Uco Valley.
Patricio Reich has combined his longstanding passion for wine with his extensive business and industrial engineering experience in creating Bodega Renacer. Patricio has worked for the World Bank, been an executive for the Santiago Chamber of Commerce in his native Chile, and constructed an incredible state of the art winery at Bodegas Renacer where the bodega's wines are carefully crafted after a double culling and selection process. The estate's Punto Final Reserva wines offer extraordinary quality as well as value, and they regularly garner international acclaim from Tim Atkins, James Suckling, Vinous, Wine Spectator, and Robert Parker's Wine Advocate.
Without the towering Andes, there would be no cultivation of the vine in Mendoza and no real agriculture as we know it, nor would viticulture thrive in the river valleys of central Chile, which lie just across the Andean spine or Cordillera from Mendoza – a mere one hundred miles as the condor flies but a torturous eight-hour adventure by car. Simply, it is the Andes that give life to the desert like Mendoza and the arid rift valleys of Chile. Specifically, it is Andean snows that accumulate upon the higher elevations of the Andes that give life and sustenance to these parched parcels of South America that yield the continent's finest wines.
In order to make the desert bloom, the inhabitants of the Andes have come to rely on their mighty mountains for water. By sluicing off the Andean snow melt and directing its waters into canals, much of Argentina and Chile are now productive farmland and especially suited to the cultivation of the vine. Since the Italian migration to Argentina in the 19th century and subsequent settlement in the Illinois-sized province of Mendoza, the Mighty Mendoza has become the largest wine producing area in South America, leading Argentina to fifth among the world's leading wine producing nations just behind the United States. Without the Andes, there would be no wine or much else to speak of from Mendoza. Viva Los Andes!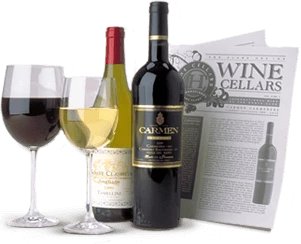 Enjoy Limited Production Estate
Bottled Wines
Discover limited production estate bottled wines such as Vergenoegd's internationally
acclaimed 2005 Cabernet Sauvignon, imported exclusively for our members.
DISCOVER OUR FOUR CLUBS