Exceptional weather conditions in 2016 combined with the meticulous care the Huguet brothers afford their grapes has yielded a splendid 2016 Can Feixes Blanc Selecció. In addition to the high praise our tasting panel heaped on it, the wine was also awarded by Wine Enthusiast with 90 points and a spot in their Top 100 Best Buy Wines of 2017. At Can Feixes, the native Montonec (Parellada) once again produced small, tight-bunched grapes of great structure and purity in 2016. As a result, Can Feixes' 2016 Blanc Selecció comes across as both racy and suave. A beautiful bouquet of apple, citrus blossoms, and melon, imbued with a gentle mineral underpinning, greets the nose. In the mouth, this rare Parellada-based wine seduces with subtlety and charm. Medium-bodied and devoid of oak, the organically grown 2016 Can Feixes Blanc Selecció preserves its natural fruit and mineral flavors to exude balance, elegance, and a true sense of place. Moreover, there are no hard edges to this wine, only a pleasant refreshing finish. For optimal enjoyment, we suggest that you allow the classically structured 2016 Can Feixes Blanc Selecció a few minutes to collect itself in the glass (much as you would a light red wine) before consuming. You may, also, want to afford it only a moderate chill (40°-45° F) to accentuate the wine's natural flavor and texture. Enjoy!
The 2016 Can Feixes Blanc Selecció is both flavorful and structured enough to hold up to a variety of foods. It pairs especially well with fish and poultry. Grilled salmon, served over a bed of organic greens that are tossed in tangy vinaigrette, has always been one of our favorite accompaniments to this wine. A simple chicken and brown rice dish, with onion, carrot, zucchini and herbs makes another perennial favorite. Thin slices of Spain's famous Jamon Iberico, assorted tapas, and green Manzanilla olives all pair nicely with Blanc Selecció, too. Meat or vegetable Paninis layered with melted buffalo mozzarella cheese and grilled portabella mushrooms provide other tasty choices to accompany the 2016 Blanc Selecció. Sushi, sashimi, and tofu based dishes provide wonderful companions for the 2016 Can Feixes Blanc Selecció as well. The only downside to the 2016 Can Feixes Blanc Selecció is its propensity to disappear quickly as the thirsty throat and sensual palate consistently beg for more. Consequently, we suggest you have another bottle or two on hand, so as not to disappoint your guests or your own thirsty gullet.
The historic Can Feixes (pronounced can fay shess) estate is situated on gravelly slopes astride the famous Montserrat pinnacle in northern Penedès. It basks in the sun of a high mountain amphitheater far removed from the gleaming Mediterranean Sea, which means the climate is dry and continental. The days are warm and nights cooler than the surrounding vineyards at lower attitudes. Moreover, the high altitude and austere mountain terrain of this rugged area of Catalonia constitute the tiny viticultural home of the native Parellada varietal, which locally is known as Montonec (grape of the mountain). Can Feixes is also the home of some of the finest, most intense Chardonnay, Merlot, Cabernet, and Tempranillo (locally referred to as Ull de Llebre) in all of Catalonia, thanks to the vineyard's premier location and unique terroir.
The Can Feixes estate dates back to 1400 with the arrival of Jaumes Feixes in the upper reaches of the Penedès. Historical records indicate that wine has been produced continuously at Can Feixes since at least 1690. Whether under the auspices of the Feixes family or the Huguet's, the present owners who purchased the estate at the end of the 19th century, Can Feixes has always been considered one of the Grand Cru vineyards of Penedès. Bodega Huguet de Can Feixes is a certified organic estate, and all grapes for Can Feixes Blanc Selecció are all certified estate grown organic grapes.
Today, the vineyards at Can Feixes comprise nearly 300 acres, which are planted primarily to Parellada, an indigenous white varietal, and small amounts of Macabeo and Chardonnay for producing first rate white wines. Tempranillo, Merlot, and Cabernet are cultivated for the estate's red wines. A small quantity of a special Gran Reserva Cava is also produced from traditional varietals as Huguet Cava Gran Reserva Brut. The estate's Blanc Selecció (this month's feature) is Catalonia's benchmark Parellada and the Can Feixes Chardonnay is considered by critics and popular acclaim to be one of the finest produced in all Spain. The Huguet brothers, Joan and Josep Maria handle all viticulture and enology, respectively, at their estate.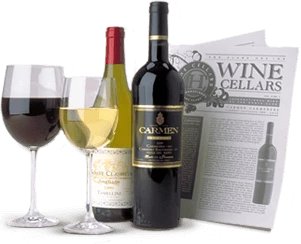 Enjoy Limited Production Estate
Bottled Wines
Discover limited production estate bottled wines such as Vergenoegd's internationally
acclaimed 2005 Cabernet Sauvignon, imported exclusively for our members.
DISCOVER OUR FOUR CLUBS