The 2014 Diaz Bayo Ribera del Duero Crianza emanates from 100% Tempranillo vines averaging over 50 years of age from two high altitude vineyards that sit above 3,000 feet. This traditional Ribera del Duero exhibits a dark, brooding color, rich aromatics, and plenty of bold flavors. Cherry and mulberry fruit blended with spicy balsamic notes and traces of new oak make a splendid aromatic introduction to Diaz Bayo's tasty 2014 Crianza. Authoritative and engaging on the palate, the 2014 Diaz Bayo Crianza expands in the mouth, offering rich fruit, subtle spice tones and plenty of structure to carry it into the next decade and beyond. Built in traditional Ribera del Duero fashion, the youthful 2014 Diaz Bayo Crianza is ready to drink now but will continue to develop further in the bottle. For optimal enjoyment we suggest decanting an hour before serving at cool room temperature (59°-64° F). Enjoy!
Diaz Bayo's 2014 Ribera del Duero Crianza pairs beautifully with meats, cheeses, pastas and rich sauces. Beef, especially in the form of a ribeye or pot roast, certainly has its place alongside this flavorful Ribera del Duero, but that's not all. Some other favorite accompaniments to this flavorful Tempranillo include chicken chili, spicy country cassoulet, and traditional paella made with chicken, shrimp and scallops. The paella might come as a surprise to some, but we have come to crave authentic paella with young Ribera del Duero. Tapas, the traditional "small dishes" that are featured appetizers in nearly all Spanish restaurants, also make fine companions. Duck, quail or pheasant confit, and a white bean and shredded chicken dish with tomatoes, onions, and peppers provide tasty accompaniments, too. For those who prefer contemporary American fare, baby back ribs and either pork or beef sliders provide good company to Diaz Bayo's Ribera del Duero. If your culinary acumen is somewhat lacking, no need to worry, a simple herb roasted rotisserie chicken and most cheeses will shine alongside a bottle of Diaz Bayo's 2014 Crianza.
Spain's array of artisan cheeses make splendid accompaniments to Diaz Bayo's 2014 Ribera del Duero Crianza. Consider Mahon, Manchego, or lesser known but equally compelling Spanish cheeses such as Arzua-Ulloa and Idiazabal. A farmhouse Cheshire or Swiss Appenzeller pairs beautifully with Tempranillo as well. To learn more about the world's finest cheeses, contact us at www.cheesemonthclub.com.
The Díaz Bayo family have been perennial growers in the village of Fuentelcésped, where viticulture dates to the 1100s and Spain's Reconquest of the Duero Valley from the Moors. Ideal conditions for vines abound in and around Fuentelcésped along the Arroyo de la Nava, a high valley just ten miles to the southeast of modern-day Aranda de Duero, an area renowned for its full-bodied red wines. Here the Diaz Bayo estate comprises nearly 100 acres in multiple high elevation parcels ranging between 2,800 and 3,200 feet in elevation on soil types encompassing limestone, marl and clay. Varied soils and exposures further contribute to the vines' fruit diversity and extended harvest times. The age of Díaz Bayo's vines, the great majority being old-clone Tinta del País (aka Tempranillo), ranges from 12 to 100 years, with the average being well over 50 years of age, resulting in bold, concentrated wines.
Viticulture at Díaz Bayo is organic. The modern bodega includes conical oak barrels, cement, and steel tanks for fermentation of the estate's distinct vineyard parcels, each according to the type of wine being produced. Barriques, primarily of French oak from multiple producers, are also part of the equation. Extreme altitude and soil types combined with sensitive winemaking that expresses the deep minerality of the region's soils lead to full-bodied, balanced wines.
Enologist Isaac Fernández divides Díaz Bayo's production among three superb red wines, all offering excellent quality and value: Tinto Roble, which spends 6 months in barrique, Tinto Crianza, this month's feature, which enjoys a 12 month hiatus in barrique followed by 12 months in bottle before release, and the estate's Tinto Reserva, with 20 months in barrique and an additional 24 months in bottle.
Located in the heart of Spain in the ancient realm of Castile and León, Ribera del Duero has been a center of wine production for thousands of years. Today, Ribera del Duero remains one of the most important wine regions in Spain, as it is the spiritual home of Tempranillo, Spain's most venerable red grape variety and the source of many of Spain's greatest wines. Here the iconic Tempranillo, also known locally as Tinto Fino and Tinta del País, reaches its pinnacle and demonstrates to the world its inherent virtue.
Ribera del Duero occupies the hills and high meseta to the northeast of the city of Valladolid and stretches out along the Duero River, Spain's most beloved waterway. Not surprisingly, the region draws its name from the venerable Duero that plays an important role in the region's terroir. It seems that the soil of Ribera del Duero bears more than a passing resemblance to that of France's Burgundy, with a wide range of chalk, clay, marl and gravel, combined together in varying degrees of prominence. However, whereas Burgundy's soil complexity results from plate tectonics, the soil in Ribera del Duero results from the Duero's erosion through the sedimentary layers of the Castilian meseta. The Duero River may likely play a role, as well, in moderating the rather harsh continental climate of the region, an area known for its dry, hot summers and cold winters. Add altitude (2,500-3,300 feet) and the intense luminosity of the Spanish meseta to the region's exemplary terroir, and it becomes apparent that Ribera del Duero possesses all the attributes needed to showcase the beauty of Spain's quintessential grape variety.
Although Tempranillo provides heart and soul to nearly all the wines of Ribera del Duero, the Denominacion de Origen (DO) does permit small quantities of other grape varieties to appear in the appellation's red wines, most notably Cabernet Sauvignon, Merlot, Malbec, and Grenache. There is, however, no requirement that Ribera del Duero contain any grape other than Tempranillo. Consequently, there is no one magic formula. However, what is certain is that world-wide demand for the great wines of Ribera del Duero will continue to grow as the cadre of astute producers in the zone like Diaz Bayo continue to push the envelope on quality. Moreover, the relative value of the voluptuous red wines of Ribera del Duero are second to none. Allow the finest red wines of Ribera del Duero a few years in bottle and ample aeration prior to serving, and they will more than handsomely reward the patient imbiber.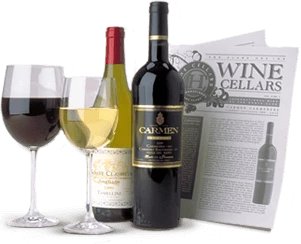 Enjoy Limited Production Estate
Bottled Wines
Discover limited production estate bottled wines such as Vergenoegd's internationally
acclaimed 2005 Cabernet Sauvignon, imported exclusively for our members.
DISCOVER OUR FOUR CLUBS