In crafting her 2019 Black Pearl Chenin Blanc, Mary-Lou Nash has proven she is equally adept at fashioning a pure, delicious white wine as she is red. This most recent release offers a fresh and enchanting bouquet of peach, pear and stone fruits infused with a citrus twist and a hint of chamomile. The wine's enticing fruit aromas carry through in the mouth and meld beautifully with the wine's refreshing acidity. Soft and succulent on the palate and beautifully textured, too, it's hard to imagine a more engaging young Chenin Blanc. Every sip seems to introduce an additional aromatic delight or savory note. To add to the enjoyment, the 2019 Black Pearl Chenin Blanc finishes with a lively and pleasant citrus twist. We suggest affording Mary-Lou Nash's delightful 2019 Chenin Blanc a moderate chill (40° F) before serving. Many will find the wine to be even more engaging as it slowly reaches a more ambient temperature where its flavors and texture come fully to fore. Enjoy the 2019 Black Pearl Chenin Blanc now and over the next several years.
Mary-Lou Nash's delightful, natural-tasting 2019 Black Pearl Chenin Blanc is a flavor-filled, easy-drinking white wine that is equally appealing on its own as it is at a table with fish, pasta, risotto and a host of Thai and vegetarian dishes. In addition, South Africa's rich culinary history includes an exciting mélange of African, Asian and European influences along with a wealth of exotic spices, which lend themselves well to Chenin Blanc – a grape that responds beautifully to spicy foods. A spicy Roasted Red Pepper Dip with carrot chips makes an excellent appetizer and a fine companion to Black Pearl's 2019 Chenin Blanc. Calamari Tempura, Thai Green Curry Chicken with vegetables, Grilled Halibut topped with mango salsa, and Scallops Wrapped in Bacon provide additional tasty accompaniments. Other winning companions to the 2019 Black Pearl Chenin Blanc include Zucchini Pie with goat cheese, Tandoori Chicken, and Crispy Vietnamese Spring Rolls. Bon Appétit!
Mary-Lou Nash and her beloved Black Pearl estate continue their meteoric rise and persist in defining quality on South Africa's fabled Western Cape. Stumbling upon Black Pearl Vineyards on a trip to South Africa more than a decade ago certainly was a stroke of gr¬eat fortune, although I have to wonder if divine providence is more responsible as the visit my family and I made to Mary-Lou Nash and her father Lance at Black Pearl Vineyards that day remains one of my fondest memories of a month-long trip.
We visited Black Pearl on a magical spring day on Africa's Western Cape, a day in which the air appeared distilled and rarefied and the sky and surrounding landscape scintillated and vibrated with a brilliant pulse. Yet, it wasn't only the land that hummed an electric tune. Mary-Lou and Lance, too, embodied the animation and vibrancy of this special spot, a space filled by perfectly tended vines, unique flora, and eye-popping scenery, which made us believe we could see clear across the continent. Yet, none of the wonder comes about serendipitously. Starting a winery and making wine requires hard work, persistence, and more than a bit of blind faith as American ex-pat Mary-Lou Nash will attest. Moreover, you have to love wine and the land. Today, Mary-Lou Nash reigns as one of South Africa's most accomplished winemakers.
Since our visit to South Africa, Mary-Lou's Black Pearl wines have been some of the most popular wines among our club members, and we have been clamoring for several years to get more of her precious, highly allocated wines. Cabernet Sauvignon, Shiraz and tiny quantities of Mourvèdre and Chenin Blanc are all Mary Lou grows. Oro, a blend of Cabernet Sauvignon and Shiraz, is the estate's flagship red, while Black Pearl's Chenin Blanc is quickly becoming one of the Western Cape's star white wines.
In addition to fashioning exceptional wines, the Nash family is actively involved in restoring biodiversity to South Africa's wine lands: their Rhenosterkop Farm has 184 hectares of its 240 hectares covered with pristine Renosterveld – the natural indigenous flora of the Southwest Cape of Africa, a biome extremely rich in biodiversity.
Chenin Blanc emanates from France's Loire Valley, where it produces everything from spritely still and sparkling white wines to some of France's most luscious and long-lived dessert wines. In cool climates such as France's Anjou and Touraine regions, where weather conditions can vary enormously from vintage to vintage, the high acid Chenin Blanc grape variety runs the gamut. Because of its natural acidity and ability to adapt to varying soils and climates, Chenin Blanc, like its French counterparts Chardonnay and Cabernet Sauvignon, has traveled the world. Chenin Blanc has found its way to Australia, California and elsewhere, but nowhere is the illustrious variety more important than in South Africa, where it is known as Steen and has become South Africa's most widely cultivated grape. In fact, South Africa may warrant the distinction of receiving the first Chenin Blanc vines outside of France, as the grape variety was brought to South Africa's Western Cape as early as the 16th century by Dutch settlers or the wave of 17th century French Huguenots who sought asylum in South Africa from religious persecution.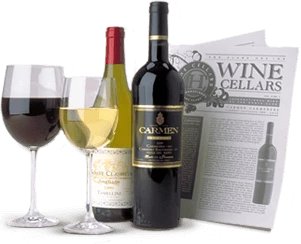 Enjoy Limited Production Estate
Bottled Wines
Discover limited production estate bottled wines such as Vergenoegd's internationally
acclaimed 2005 Cabernet Sauvignon, imported exclusively for our members.
DISCOVER OUR FOUR CLUBS