Birthday Wine Gift Ideas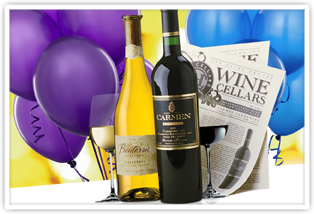 Birthdays are traditionally celebrated once a year, although some manage to milk it over the entire month. They are times when we come together to acknowledge the people we love, remembering past experiences together and creating new memories at the same time. Often times, food and wine are closely coupled with the celebration of life's milestones.
Shopping for wine enthusiasts can be a daunting task as you peruse wine specialty stores and catalogues looking for just the right thing, all along hoping they don't already have it.
We invite you to let us do the groundwork for you while you look like a hero by giving a monthly wine club subscription that reminds your loved ones of your generosity not just on their birthday along with countless other gifts, but long after their special day has passed. We'll deliver outstanding, limited production wines that any serious wine lover would love to receive, wines you'll be proud to give. Expertly chosen by nationally recognized wine consultant Don Lahey's two-tier tasting panel, our featured wine selections are both extraordinary and hard to find.
A Personalized Wine Club Gift is Easy, Affordable and Memorable
Order Online or Toll Free in Minutes — Order as a guest, or set up an account and manage your address book, view and edit gift announcements, review past orders, and more.
Personalized Last Minute Gift Announcement Options — Email or print a personalized gift announcement today or on a specified date.
Show Your Appreciation Throughout the Year on Any Budget — Gift memberships are available from 2-12 months and can be shipped monthly, every other month, quarterly or even on specific months.
Combine a Wine Club Membership with Five Other Monthly Clubs — Our Design Your Own Club™ program allows you to ship whatever you want, whenever you want to ship it. Combine our wine, beer, cigar, cheese, chocolate and flower clubs in any way for a truly unique birthday gift.
Rest Easy — knowing that you can rely on A+ Better Business Bureau rated customer service and that we will consistently deliver exceptional wines throughout the duration of your gift.