Charm, elegance, and good taste are the hallmarks of the recently released 2009 Biltmore Reserve Chardonnay. A luminous glint of golden yellow, pretty scents of acacia flowers sautéed in sweet butter, soft ripe fruit flavors, deft touches of oak and spice, and a long crisp finish make this wine positively irresistible, even for "dyed in the wool Chardonnay haters." If one could imagine a blend of California Chardonnay, Puligny-Montrachet with its enticing cachet of texture and purity, and the refinement and eminent drinkability that emanate from the most beguiling wines of Pouilly-Fuissé, it may well be the 2009 Biltmore's Reserve North Carolina Chardonnay. Neither big nor brawny, this Chardonnay ingratiates with soft natural tasting flavors, which are enhanced by extensive oak barrel aging, rather than obscured by it. Kudos to the Biltmore Estate for fashioning a refined Chardonnay that is unique and reflective of all the timeless beauty and allure of the Southern Appalachians. For optimum enjoyment of the 2009 Biltmore Reserve Chardonnay we suggest moderate chilling (about 40º F) and just a few minutes of aeration in order to release all of this gracious wine's latent charms.
In addition to a magnificent house, stunning gardens, and an award-winning winery, Biltmore Estate is also home to one of the Carolina's finest inns and restaurants. At Biltmore, nearly all of the inn's original recipes are expertly paired with one or more of the estate's wines. The 2009 Biltmore Reserve Chardonnay offers great companionship to a variety of fish, fowl, pasta, and cheese dishes. However, we would be remiss in not mentioning some of Biltmore's tried and true favorite pairings with their Reserve Chardonnay. For starters, Smoked Trout Tartare with Horseradish and Dill provides a memorable experience. Shrimp and Grits, a Carolina tradition; Crab and Artichoke Crusted Salmon, served with haricots verts; and Shrimp-Stuffed Rigatoni in Chardonnay Thyme Sauce, which is served with French bread or crostini, make splendid accompaniments, too. But perhaps, the most original Biltmore recipe and our personal favorite is Maine Lobster Frittata with Trout Caviar because not only is it scrumptious, it serves a crowd. Soft and semi-soft cheeses paired with sliced mountain grown apples provide splendid but easy accompaniments, too. And if all you have on hand is a clean glass, the 2009 Biltmore Reserve Chardonnay doubles as a great aperitif. Enjoy!
Biltmore evokes images of grace and luxury. Today, the name graces many a hotel and resort. However, George Vanderbilt's original Biltmore Estate, which lay nestled amid the mountains surrounding Asheville, North Carolina, epitomizes the ultimate in beauty and grandeur. Designed by Richard Morris Hunt (architect of Marble House and The Breakers in Newport, Rhode Island, The Metropolitan Museum of Art in New York, and many other famous structures) and landscape architect Fredrick Law Olmstead (designer of New York's Central Park), Biltmore opened its doors on Christmas Eve 1895. Set amid 125,000 acres, Biltmore was and still remains the largest private residence in America. Although now open to the public, Biltmore continues to be home to George Vanderbilt's descendents. It is quite likely the most stunning and authentically preserved home on the continent. Moreover, it contains a winery and an impeccably situated vineyard of mature vines, which yield some very elegant wines indeed. For more than three decades, Biltmore has tended a 90-acre vineyard nestled in a sun splashed amphitheater near the Biltmore home. Like Biltmore house, the vineyard is meticulously laid out and tended. A winery was added in 1985 to produce estate bottled wines. Although much of the wine that bears the Biltmore name originates in California, the estate's North Carolina Chardonnay, Viognier, and Cabernet Sauvignon are made on the property and have become benchmarks by which other eastern wines are measured. As of late, the Biltmore Reserve Chardonnay, vintage Blanc de Blancs Méthode Champenoise, and Viognier have been especially successful, stunning critics and consumers alike with their elegance, flavor, and uncompromising purity. We believe George Vanderbilt would be proud of what his heirs have been fashioning at the family homestead, and we invite you to partake of their wines, because to sip a glass of Biltmore's estate wine "is to cross the threshold into a world of hospitality, beauty, and luxury that has remained unchanged for more than a century and is being preserved for many generations to come." Moreover, given the quality of Biltmore's recent releases, it is perhaps time to take a serious look at North Carolina wines and perhaps re-evaluate the bias that continues to surround eastern wines.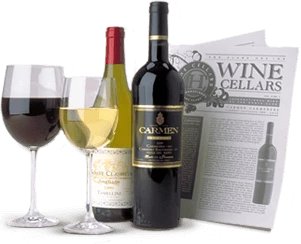 Enjoy Limited Production Estate
Bottled Wines
Discover limited production estate bottled wines such as Vergenoegd's internationally
acclaimed 2005 Cabernet Sauvignon, imported exclusively for our members.
DISCOVER OUR FOUR CLUBS