For decades Bethel Heights has produced many of Willamette Valley's finest estate grown Pinot Noirs. Equally compelling is Bethel Heights' 2013 Estate Eola-Amity Hills Chardonnay, though due to limited production few have had the opportunity to enjoy Bethel Heights' tasty Burgundian style Chardonnay. Awarded 90 Points from Wine Spectator, the 2013 Bethel Heights Estate Eola-Amity Hills Chardonnay is sure to turn some heads and elicit more than a few smiles. This Oregon beauty offers an enticing bouquet resplendent with soft textured fruit, hints of spice, a gentle minerality, and just enough oak from barrel ageing to burnish the wine's components to a fine art. Reminiscent of Premier Cru white Burgundy, this Bethel Heights Chardonnay doesn't overwhelm the senses; it caresses them. In the mouth, savory Chardonnay fruit infused with spice and wrapped in a velvety texture coddle the palate with their lovely flavor and feel. And as the wine makes it way down the thirsty throat, a lively citrus twist adds zest and reminds us that this elixir offers both structure and finesse. For optimal enjoyment we suggest serving the 2013 Bethel Heights Estate Eola-Amity Hills Chardonnay moderately chilled (40º-45° F).
Oregon Chardonnay is one of the most versatile and food friendly of all Chardonnays. It accompanies true American, Continental and French classics with aplomb. Whether it is Penne Pasta with a Wild Mushroom Ragout, Poached Salmon, or Chicken Carolina, chicken stuffed with farm cured ham and Crotin cheese, the 2013 Bethel Heights Estate Eola-Amity Hills Chardonnay provides the ideal companion to a variety of dishes as well as a special gastronomic experience. Maryland Style Crab Cakes make delicious accompaniments to a bottle of Bethel Heights' Estate Chardonnay, too. And given the balance and subtle complexity of the 2013 Bethel Heights Estate Chardonnay, seafood specialties featuring flounder, halibut, salmon, scallops, and tuna provide more natural companions. Pan Seared Scallops served with zucchini pasta in a savory cream sauce wins high praise. Salads with organic greens, pear and walnuts also pair nicely with Bethel Heights Chardonnay. Enjoy this delightful Burgundian style Chardonnay with soft, mild cow's milk cheeses and sliced mountain apples, or all by itself to savor the wine's innate beauty. Enjoy!
One glance out the back door of the Bethel Heights Winery and it is easy to see why twin brothers Terry and Ted Casteel and their spouses Marilyn Webb and Pat Dudley fell madly in love with the Eola Hills and the breathtaking scenery that unfolds before them. From a series of vine covered hills that spill from the winery door to the soaring majesty of snow covered peaks that frame the luminous horizon, all that is fertile and awe inspiring about Oregon can be found at Bethel Heights.
Founded in 1977, Bethel Heights is one of the oldest wineries in Oregon and in our estimation still one of the best. The estate's Pinot Noirs are among the finest in the state and co-owner Marilyn Webb knows how to make visitors feel at home. Her soft-spoken manner and straightforward approach leaves one with the impression that the folks at Bethel Heights truly love what they do, and they do it well. Moreover, the second generation at Bethel Heights (the kids of Terry, Marilyn, Ted, and Pat) has come of age and by all accounts the wines at Bethel Heights are better than ever. In short, there is something for everyone here, whether it be red, white, rosé, or some of the grandest scenery in all Willamette Valley.
Although the current rage is for Pinot Noir from Oregon (and Bethel Heights produces a delicious estate-grown Pinot Noir in the Eola-Amity Hills along with several awe inspiring single vineyard Pinot selections), Terry and Ben Casteel also fashion an equally intriguing array of outstanding white wines, with the estate's outstanding Chardonnay leading the way. And for good health and added enjoyment, the Bethel Heights estate vineyard has been certified sustainable by both LIVE and Salmon Safe since 1999. So, come, taste, and enjoy all that Bethel Heights has to offer!
Oregon's Willamette Valley was the destination and the dream of thousands of 19th century pioneers as they migrated west across the Great American Desert to "the promised land," a green oasis where crops and orchards bore fruit aplenty. Today, the Willamette Valley retains its original allure. It is the center of the Oregon wine and fruit industries and it has become a haven for many environmental and high tech industries.
Today, the Willamette Valley is home to more than two thirds of the wineries and vineyards in Oregon. At last count there were more than two hundred wineries in this broad and varied valley that follows the Willamette River from north to south for a hundred miles from the Columbia River to just south of Eugene. The Willamette Valley is one of the premier places on earth for the cultivation of Pinot Noir, one of the finest, yet most difficult grape varieties to grow. So favorable is this land for Pinot Noir that Willamette Valley is mentioned in the same breath as Burgundy and a few select cool weather locations in California as one of the few places on earth for growing the often magical, yet mercurial Pinot Noir grape. Willamette Valley, also, provides ideal terroir for Chardonnay, Pinot Gris and other premium white varietals as Bethel Heights' Chardonnay will attest.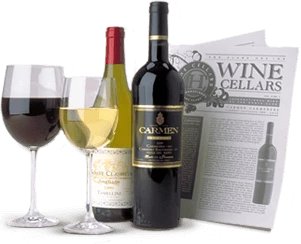 Enjoy Limited Production Estate
Bottled Wines
Discover limited production estate bottled wines such as Vergenoegd's internationally
acclaimed 2005 Cabernet Sauvignon, imported exclusively for our members.
DISCOVER OUR FOUR CLUBS