The quintessential Barossa Shiraz, the 2002 Bethany Shiraz from Barossa is luxuriously robed and full of rich, deep down flavors. However, what sets this lovely Shiraz apart from much of the competition is its sense of elegance. Certainly, ripe black cherry and cassis flavors haunt the nose and there is plenty of black fruit, cedar, and eucalyptus in this flavor packed Shiraz to go around. However, try to find a Shiraz with this much complexity and finesse and you will find there are very few Australian Shiraz that can compete with the Bethany. A sixteen month stay in American oak has left its indelible mark on this wine, too. It has imparted a roundness and warmth to the Bethany and aligned it to a wealth of fresh juicy fruit, which explodes on the finish. Although still quite young and capable of extensive ageing, the 2002 Bethany Shiraz is already a veritable pleasure to drink and savor. For optimum enjoyment, we suggest allowing this wine at least 30-45 minutes of aeration before consumption at cool room temperature (no more than 66° F). Anticipated Maturity: 2007-2014.
A flavor packed Shiraz with breed and elegance like the 2002 Bethany Barossa Shiraz is one of he easiest wines to pair with foods. In Australia, beef casseroles, steaks, stews, roast lamb with a myriad of condiments, kangaroo, and even ostrich are the favored accompaniments to fine Shiraz. And indeed, the Bethany Barossa Shiraz will complement these meats with great aplomb. We also think traditional Provençal cuisine provides a myriad of tried and true recipes in the form of country cassoulets and hearty ratatouilles. What we may suggest for the more adventuresome, though, is pairing the 2002 Bethany Shiraz with some Indian specialties such as Lamb Biryani, a classic dish with juicy pieces of lamb, cooked with basmati rice, spices, and nuts; Chicken Makhni or its vegetarian counterpart Dal Makhni, which contains a variety of lentils, slow simmered and sautÉed with fresh garlic, ginger, tomato, herbs, and spices: or a any number of authentic Tandoori offerings. Providing the spices are kept to a dull roar, the Bethany will more than hold its own. And for ending a meal, some good Esrom cheese and a loaf of crusty bread are all one needs with this Shiraz to make the day complete. Enjoy!
Johann Gottlob Schrapel and his family arrived in South Australia in 1844, just eight years after the colony was settled. They arrived in Port Adelaide as free settlers (as opposed to convicts or indentured servants as did most of Australia's early European immigrants) seeking a new life in a mysterious, time worn land "down under" that we know as Australia. Curiously, the Schrapels arrived in South Australia aboard a vessel named George Washington, which served as their bridge to freedom and a life far better than any they could have imagined in the old country. Upon arrival, they settled in the Barossa and quickly built a home and cleared the land to grow crops and raise sheep. They also planted a vineyard and constructed a wine cellar. Today, the fifth generation descendents of Johann Gottlob Schrapel, Geoff and Rob Schrapel, carry on the family tradition at Bethany Wines. Bethany is a quaint, cottage-style winery in the successful garagiste tradition of Bordeaux. Located in a quarry high in the Barossa Ranges, the picturesque Bethany Winery overlooks the historic village of Bethany and the family's 66 acres of old vines, many of which require hand selection and traditional methods of pruning. The Schrapels own three of the most important vineyard blocks in Bethany, including the well-known Bethanien Block, the Old Manse Block, and the Homestead Block. In typical South Australian fashion, Bethany Wines grows a multitude of grape varieties within these three vineyard blocks: Chardonnay, Riesling, Semillon, Shiraz, Cabernet Sauvignon, Cabernet Franc, Merlot, and Grenache are all represented in these vineyards and each finds its way into a Bethany wine or two. As master craftsmen, the Schrapel brothers know how to fashion more than one kind of wine, and we would be hard pressed to find a Bethany wine that was not at the top of its game. Nonetheless, in Barossa Shiraz is king, and Bethany's Barossa Shiraz ranks among the very best that South Australia has to offer, as countless awards and trophies will attest. In fact, Bethany's stunning, very limited 1992 Grand Reserve Shiraz was judged to be the Best Shiraz at Australia's National Wine Show. Subsequent Shiraz offerings from Bethany have received similar accolades in international competitions. Bethany's unique location on the foothills of the Barossa Ranges affords it a unique microclimate and a distinct advantage over many of it neighbors. From the Barossa Ranges, a cool evening breeze emanates that fans the grapes throughout the night. In a hot, dry climate such as Barossa, where daytime temperatures can exceed 110° F, a cool evening breeze is a respite for the grapes as well as the people who grow them. Moreover, this cooling effect each night allows the grapes to retain their natural acidity and still achieve full sugar levels, without becoming over-ripe. In short, the wide variation at Bethany between day time and night time temperatures translates into well-balanced, full-flavored wines with structure and finesse that age extremely well. At Bethany, sustainable methods of agriculture are the norm. The Schrapels employ very little spraying and utilize only a minimum amount of sulfite. Gravity is used to reticulate the must from the crusher to the tanks and barrels for fermentation, and each wine is handcrafted in small lots. And unlike most Australian wines, which are the product of huge conglomerates, Bethany wines are made the old-fashioned way – by hand with tender loving care by the people who care for the vines.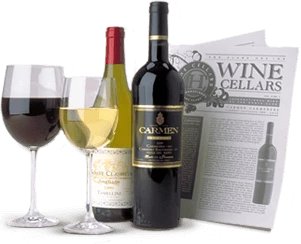 Enjoy Limited Production Estate
Bottled Wines
Discover limited production estate bottled wines such as Vergenoegd's internationally
acclaimed 2005 Cabernet Sauvignon, imported exclusively for our members.
DISCOVER OUR FOUR CLUBS