Ben Glaetzer's Bishop Barossa Shiraz always displays an inviting royal purple robe, bold textured flavors, and wonderful purity – a full-bodied, take-no-prisoners style of wine. In the 2015 Glaetzer Bishop, Ben provides all that and more. Awarded multiple 90+ point ratings, including 95 points from James Halliday and the Wine Companion, the 2015 Glaetzer Bishop offers a sensual bouquet of blackberry, mulberry, violets and spice as its invocation. The wine's visual appeal is followed by enticing flavors of cassis, mulberry, plum, dark chocolate and clove. In the mouth, the 2015 Bishop offers not only beautiful fruit flavors, complex spice tones and well-integrated touches of oak; it carries this cornucopia of flavors on a bed of smooth textured tannins and a 15% alcohol level that is nearly imperceptible. Given the wine's alcohol level, one would expect the 2015 Bishop to be portly, but Ben Glaetzer's 2015 Bishop is light on the palate in every way but flavor. Surprisingly easy to drink, this youthful Barossa Shiraz, which bears Ben's mother's name of Bishop, never loses its grace or charm. Moreover, its fine-grained tannins add structure and are seamlessly integrated into the wine's fruit. Enjoy this expertly crafted Shiraz now through 2030. For optimal enjoyment we suggest at least 30 minutes of aeration before serving at cool room temperature (60°-64° F).
The 2015 Ben Glaetzer Barossa Valley Shiraz needs little to shine, with or without accompaniments. Nonetheless, Ben Glaetzer's Bishop Shiraz provides the ideal companion to Prime Rib and Filet Mignon, especially when these fine cuts of beef are served medium rare with grilled or sautéed portabella mushrooms. Lamb Osso Bucco and ostrich pair splendidly with the 2015 Bishop, too. Slow Roasted Duck with a tart cherry brandy sauce offers another opportunity for the 2015 Bishop to shine. Slow cooked pork ribs or sliders offer more excellent pairings. Eggplant Parmigiana also makes a rewarding partner to Ben Glaetzer's splendid old vine Shiraz. Lastly, creamy cow's milk cheeses provide simple, tasty accompaniments to Ben Glaetzer's sumptuous 2015 Barossa Valley Shiraz. Enjoy!
Ben Glaetzer is one of Barossa Valley's star winemakers. With a portfolio of just four wines, each from his family's northern Barossa Ebenezer vineyards, Ben Glaetzer's name has become synonymous with great wine. Not surprisingly, Shiraz is Ben's specialty, and it figures prominently in all Glaetzer wines.
The winery's Wallace is the quintessential Australian blend of Grenache and Shiraz, while Bishop emanates solely from old Shiraz vines. Glaetzer also fashions small quantities of two other wines: Amon-Ra, a massive Shiraz built for cellaring that bears the name of the king of gods in Egyptian mythology, and Anaperenna, a Shiraz-Cabernet blend inspired by Anna Perenna, the Roman goddess of the New Year. Each Ben Glaetzer wine offers a unique Barossa experience of the highest quality.
The Glaetzer Story in Their Own Words
"The first Glaetzers settled in the Barossa Valley in 1888 after emigrating from Brandenburg, Germany. The family left Germany on board the Nord-Deutscher Lloyd steamer "Habsburg" and took seven weeks to reach their final destination of Port Adelaide. From here they settled in a country town called Nuriootpa in the Barossa Valley where they started their new life in Australia. The family were some of the earliest recorded viticulturalists in the Barossa Valley and Clare Valley.
"Over a century later, winemaking patriarch Colin Glaetzer established Glaetzer Wines, a boutique family owned winery producing premium Barossa Valley wines. Today Colin's son Ben carries on the wine making traditions at Glaetzer Wines. Indeed it was the birth of Glaetzer Wines that signaled a new era for Colin's family which boasts more than its fair share of winemakers."
The Barossa (pronounced Ba rassa) is Australia's most famous wine region. It is arguably the continent's most exciting wine region, too, especially for Shiraz. Although serious competition for quality now comes from Western Australia's Margaret River and other renowned South Australian appellations such as McLaren Vale and Coonawarra for red wines and Clare, Eden and Padthaway appellations for white wines, it is hard to refute the longstanding track records of such great Barossa producers as Ben Glaetzer, Binder, Burge, Henschke, Penfolds, and Torbreck as well as the plethora of glorious old vine Shiraz and Grenache wines for which Barossa is justly famous.
Although the words Barossa and Shiraz are nearly synonymous, especially for rich, decadent Shiraz from ancient vines that more resemble gnarled trees than vines, it would be easy to lose sight of the fact that the Barossa also remains one of the world's great sources of old vine Grenache, Mataro (Mourvèdre), and Cabernet Sauvignon. These varietals only account for the valley's outstanding red wines; the Barossa is also home to some of the planet's greatest white wines in the guise of Riesling and Semillon, many of which mature for a decade or more into rich, splendid potions.
Barossa icon Max Schubert once said, "True excellence is a constant and endless journey, it is not a destination." And if the words of the late Max Schubert, the former winemaker at Penfolds and the artist behind Penfold's Grange (the Southern Hemisphere's greatest wine), bear any credence, the Barossa will remain a beacon of oenological excellence.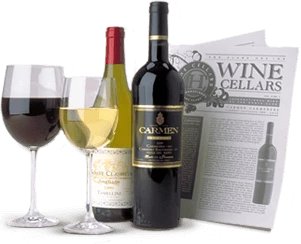 Enjoy Limited Production Estate
Bottled Wines
Discover limited production estate bottled wines such as Vergenoegd's internationally
acclaimed 2005 Cabernet Sauvignon, imported exclusively for our members.
DISCOVER OUR FOUR CLUBS