The 2016 Bellingham Old Orchards Chenin Blanc underscores South Africa's preeminence with this grape variety. Produced from some of the estate's finest Chenin Blanc vines, it embodies a faint golden glow and all the purity and brilliance of the light that one encounters on Africa's Western Cape. It also offers a beautiful, almost haunting bouquet, replete with nuanced scents of ripe apple, quince and stone fruits. In the mouth, subtle flavors emerge as the wine breathes, revealing layers of subtle fruit flavors infused with buttered brioche, marmalade and dried honey before finishing with a refreshing twist of citrus in the form of Meyer lemon or lime. For optimal enjoyment we suggest affording the 2016 Bellingham Old Orchards Chenin Blanc a moderate chill (40° F) before serving, followed by a few minutes in the glass to collect itself. What may come as a surprise to many is the ageing potential of Chenin Blanc, and Bellingham's Old Orchard Chenin Blanc is no exception. Storing a few bottles of this youthful wine will surely pay dividends as Chenin Blanc is capable of displaying many facets, both in its youth and as a mature wine.
The 2016 Bellingham Old Orchards Chenin Blanc is equally pleasing at table as it is on its own as an aperitif. Shrimp, clams, mussels, prawns, oysters, scallops, and most anything else with a shell that once swam in the sea are sure bets with Bellingham's Old Orchard Chenin Blanc. Pan-seared halibut served with roasted corn pudding or a zucchini soufflé with baked goat cheese and pancetta cream provides another fine accompaniment. For those more beholden to the land than the sea, consider pork schnitzel sliders, crispy fried pork loin served German-style with caramelized onion mustard. In addition, cheese pies, pastas, poultry, and quiches provide more tasty pairings. One of our other favorite companions with Chenin Blanc is possibly the simplest – an assortment of gourmet cheeses, specifically Brie, Camembert, and other crusted cheeses. Traditional Loire Valley varietals such as Chenin Blanc and Sauvignon Blanc provide some of finest accompaniments to full-flavored crusted cheeses. They also pair well with creamy cow and sheep's milk offerings. In the company of such cheeses, both the cheeses and Bellingham's Old Orchard Chenin Blanc will shine. Enjoy!
"Fools rush in where angels fear to tread – we came down to the Cape from Johannesburg in August 1943 after my husband Bernard had been boarded out of the Air Force, and that as far as I am concerned, was the beginning of a meaningful life."
Excerpt from Our Lives at Bellingham by Fredagh Podlashuk, 1983
South Africa harbors a plethora of exciting wines, while that country's Western Cape captures the indescribable beauty of the vast African continent. A visit to South Africa some years ago confirmed both the preeminent position that South Africa's Western Cape holds for its beauty as well as its growing acumen in fashioning world class wines. Happily, the spate of exciting South African wines we had tasted prior to our visit proved to be just the tip of the iceberg. In fact, many of the South African wines presently gracing our shores are both affordable and very fine indeed; others warrant even greater accolades for their lush, exotic, and often wholly unique flavors. Some of the most compelling South African wines we have tasted recently hail from the Bellingham Estate. Bellingham's Bernard Series, Ancient Earth, and Old Orchards offerings are especially noteworthy.
The Bellingham Homestead is nestled between the slopes of the picturesque Groot Drackenstein Mountains in the Western Cape's Franschhoek Valley. Originally known as 'Bellinchamp' (meaning pretty fields), Bellingham began life in 1693 when Hollander Gerrit Janz van Vuuren and his French Huguenot wife planted the first vines on the estate. Since then, viticulture has played an integral role in the Bellingham story. Yet, the modern history of this historic estate doesn't emerge until 1943, the year Bernard and Fredagh Podlashuk purchased the dilapidated Bellingham Estate in Franschhoek and began reviving the derelict farm and restoring the property's manor house, gardens and vineyards.
In embarking upon this odyssey, the Podlashuks exhibited true pioneering spirit. In the beginning, they had little farming experience or knowledge of viticulture, so they enlisted the aid of 13 Italian prisoners of war (this was during the Second World War) to help them replant the vineyards. After the war, Bernard and Fredagh travelled to France and Germany in search of the knowledge and experience they would need to set Bellingham on course to make world class wine. Their travels inspired them and prompted the release of the first rosé from South Africa's Cape in 1949. Subsequently, Bellingham released its first 'Premier Grand Cru' in 1951 – an original dry white blend. And they bottled their first single varietal Shiraz at Bellingham in 1956.
Today, Bellingham estate's greatest strength remains award-winning wines, most notably the estate's exceptional Chenin Blanc, Pinotage and Shiraz based wines. Under the tutelage of master winemaker Niël Groenewald, Bellingham continues to push the envelope on quality, with ingenuity and innovation the driving forces. Consequently, Groenewald has affectionately been labeled "the brains behind the bottle." We invite you to taste and see what Niël Groenewald and Bellingham Estate's wines have to offer.
Chenin Blanc emanates from France's Loire Valley, where it produces everything from spritely still and sparkling white wines to some of France's most luscious and long-lived dessert wines. In cool climates such as France's Anjou and Touraine regions, where weather conditions can vary enormously from vintage to vintage, the high acid Chenin Blanc grape variety runs the gamut. Because of its natural acidity and ability to adapt to varying soils and climates, Chenin Blanc, like its French counterparts Chardonnay and Cabernet Sauvignon, has traveled the world. Chenin Blanc has found its way to Australia, California and elsewhere, but nowhere is the illustrious Chenin Blanc variety more important than in South Africa, where it is known as Steen and has become South Africa's most widely cultivated grape. In fact, South Africa may warrant the distinction of having received the first Chenin Blanc vines outside of France, as Chenin Blanc was brought to South Africa's Western Cape as early as the 16th century by Dutch settlers or the wave of 17th century French Huguenots who sought asylum in South Africa from religious persecution.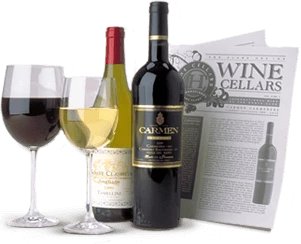 Enjoy Limited Production Estate
Bottled Wines
Discover limited production estate bottled wines such as Vergenoegd's internationally
acclaimed 2005 Cabernet Sauvignon, imported exclusively for our members.
DISCOVER OUR FOUR CLUBS