Bellingham's 2013 Ancient Earth Pinotage Shiraz exhibits a deep purple robe, thanks at least in part to a good dose of Shiraz in the blend. And considering the rich color and wonderful flavors of this intriguing blend of 80% Pinotage and 20% Shiraz (aka Syrah), we have to wonder why more South African producers have not taken greater advantage of this artful blend. Pinotage, a cross between Pinot Noir and Cinsault (the latter a premium red Rhône varietal like Shiraz/Syrah), provides bright fruit and spice flavors in this wine, while Shiraz adds deep berry tones, color and depth. The result is a wine of charm as well as power. There is plenty to like about this Ancient Earth's savory aroma, lively black cherry and mulberry flavors wrapped in a light patina of oak, and smooth forceful finish. Enjoy this wine now and for the next several years at cool room temperature (60°-64°) after 15-20 minutes of aeration.
Let's cut to the chase: our two tasting panels for the 2013 Ancient Earth Pinotage Shiraz enjoyed this wine straight up before we even brought out any food. With no hard edges, one can easily sip and savor the 2013 Ancient Earth Pinotage Shiraz with nary a morsel. Yet, pasta, steak, game, and full-flavored cheeses make tasty companions to this wine and will undoubtedly enhance most members' drinking pleasure. Marinated sirloin steak; roast pork loin rubbed with garlic, onion, thyme and sage; beef and duck sliders; and bison burgers constitute some of our favorite accompaniments to this wine. For the more adventuresome, spicy lamb kebobs and Ostrich Kefta, an authentic South African dish made with spicy ostrich meatballs and a savory sauce, pair well, too. Spicy tomato based pasta dishes made arrabbiata style with red pepper flakes provide additional pairings with which to enjoy the 2013 Ancient Earth Pinotage Shiraz. A plate of rich, creamy cheeses will also complement the splendid flavors in this exceptional offering.
"Fools rush in where angels fear to tread – we came down to the Cape from Johannesburg in August 1943 after my husband Bernard had been boarded out of the Air Force, and that as far as I am concerned, was the beginning of a meaningful life." Excerpt from Our Lives at Bellingham by Fredagh Podlashuk, 1983
A visit to South Africa a couple of years ago convinced me that the plethora of excellent South African wines our tasting panels had been sampling were no flukes, nor had we simply stumbled upon a lucky spate of wines. Many of the South African wines presently gracing our shores are quite good indeed; others warrant even greater accolades for their lush, exotic flavors. Recently, several of the most compelling South African wines we tasted hail from the Bellingham Estate. Bellingham's Bernard Series and Ancient Earth offerings are especially exciting, particularly Ancient Earth's limited production of 2013 Pinotage Shiraz, this month's feature.
Bellingham, originally known as 'Bellinchamp' (meaning pretty fields), began life in 1693 when Hollander Gerrit Janz van Vuuren and his French Huguenot wife planted the first vines on the estate. Since then, viticulture has played an integral role in the Bellingham story. Yet, the modern history of this historic estate doesn't emerge until 1943, the year Bernard and Fredagh Podlashuk purchased the dilapidated Bellingham Estate in Franschhoek and began reviving the derelict farm and restoring the property's manor house, gardens and vineyards.
In embarking upon an odyssey, the Podlashuks exhibited true pioneering spirit. In the beginning, they had little farming experience or knowledge of viticulture, so they enlisted the aid of 13 Italian prisoners of war to help them replant the vineyards. After the war, Bernard and Fredagh travelled to France and Germany in search of the knowledge and experience they would need to set Bellingham on course to make world class wine. Their travels inspired them and prompted the release of the first rosé from South Africa's Cape in 1949. Subsequently, Bellingham released its first 'Premier Grand Cru' in 1951 – an original dry white blend. And they bottled their first single varietal Shiraz at Bellingham in 1956.
Today, Bellingham estate's greatest strength remains award winning wines, most notably the estate's Shiraz and Pinotage based wines, including the estate's Ancient Earth selections, most notably the Ancient Earth Pinotage Shiraz. Presently under the tutelage of master winemaker Niël Groenewald, Bellingham continues to push the envelope on quality, with ingenuity and innovation the driving forces. Consequently, Groenewald has affectionately been labeled "the brains behind the bottle." We invite you to taste and see what Niël Groenewald and Bellingham Estate's Ancient Earth wines have to offer.
The soils of South Africa's Western Cape are some of the most ancient viticultural soils on earth. Weathered Malmesbury rock, shale and Table Mountain granite make up the soils in Bellingham's Ancient Earth vineyards. Over time, these elements have conjured the unique alchemy of the soil of the Cape wine lands and imparted those elements to the wines that spring from them. Bellingham's Ancient Earth collection links the future to where it all began, as Ancient Earth wines tap into the bedrock of the Cape vineyards with flavors faithful to the cultivars and the soils that give them life in six individual grape varietals. Bellingham's Ancient Earth wines include Cabernet Sauvignon, Chardonnay, Sauvignon Blanc, Merlot, Pinotage, Shiraz, and this month's feature, the estate's Pinotage Shiraz blend.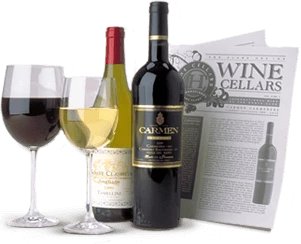 Enjoy Limited Production Estate
Bottled Wines
Discover limited production estate bottled wines such as Vergenoegd's internationally
acclaimed 2005 Cabernet Sauvignon, imported exclusively for our members.
DISCOVER OUR FOUR CLUBS