The nearly impenetrable 2013 Beckmen Vineyards Purisima Mountain Vineyard Ballard Canyon Syrah catches the eye and captivates the senses from the moment it is poured. Beguiling scents of blackberry, kirsch, violet and sizzling bacon pour from the glass. In the mouth, this dense, beautifully endowed Syrah offers massive appeal in the form of rich berry fruits, plum, dark chocolate, wood smoke and pepper, all wrapped in polished, tightly-wound tannins. From its savory bouquet to its authoritative finish, the 2013 Beckmen Vineyards Purisima Mountain Vineyard Ballard Canyon Syrah embodies the essence of great Syrah. It's an enjoyable, even profound, glass of wine now, but this 2013 Beckmen Syrah will continue to improve in bottle for up to a decade or more. For optimal enjoyment, we suggest at least 30 minutes of aeration before serving at cool room temperature (60°-65° F). Enjoy!
The youthful 2013 Beckmen Purisima Mountain Vineyard Ballard Canyon Estate Syrah begs for the finest meat and vegetable accompaniments one can bring to table. Chateaubriand served Bordelaise style in a simple red wine reduction sauce, Bacon Wrapped Filet Mignon, and Prime Rib of beef offer worthy complements to Beckmen's Ballard Canyon Syrah. Crown Roast of Pork encrusted with an herb and black olive paste and served with roasted butternut squash provides another superb complement to this wine. Another favorite pairing with Beckmen's quintessential Syrah is a Vegetarian Bouché consisting of roasted root vegetables in a pastry shell. Serve this dish with roasted baby organic potatoes brushed with of olive oil and fresh rosemary. Eggplant Rollatini and a traditional ratatouille with eggplant, zucchini squash, and plenty of garlic and Provencal herbs offer more tasty accompaniments to Beckmen's Purisima Mountain Vineyard Syrah.
"When you open a bottle of BECKMEN, you are opening a piece of our history. Good wine comes from good grape juice – that comes from good grapes, that comes from great plants, that grew on the right soil, all nurtured by the vision, passion and dreams of a family." – Beckmen Family
After many years as leaders and pioneers in the electronic music business, Tom and Judy Beckmen, joined by their son Steve, set out to make wines as distinctive and well-crafted as the keyboards and synthesizers that built their successful careers as founders and pioneers of Roland Corp. US. In 1994, their vineyard search led them to a 40-acre winery near the picturesque town of Los Olivos, which they purchased, and in 1996 to the theretofore undiscovered Ballard Canyon. In 1996, the Beckmens purchased an unplanted 365-acre ranch in Ballard Canyon and named it Purisima Mountain Vineyard after the name of the ranch. Today, all Beckmen wines emanate from the 150 acres of vines from their two estate vineyards, and, thanks to the Beckmen family, Ballard Canyon enjoys an enviable reputation as the nation's "hottest" source for world-class Syrah.
Syrah reigns supreme at Beckmen Vineyards as it does throughout Ballard Canyon. Beckmen's Purisima Mountain Vineyard Syrah routinely garners high praise and 90+ point scores from critics, including Wine Spectator and Robert Parker Jr.'s Wine Advocate. The 2013 Beckmen Purisima Mountain Vineyard Ballard Canyon Syrah (this month's feature) garnered 93 points from Wine Spectator. Beckmen wines have also been served at official state dinners at the White House. This pioneering winery also fashions exceptional Grenache and Rhône style blends. The quality of Beckmen wines is simply uncompromising. Taste and see!
Ballard Canyon enjoys its own distinct American Viticultural Area (AVA) within Santa Barbara County, thanks to the Beckmen family and a few other like-minded individuals who recognized the unique climate and terroir of Ballard Canyon decades ago and pioneered its planting. Ballard Canyon enjoys cool maritime influences from the Santa Rita Hills to the west and warmer temperatures from Happy Canyon to the east. With wind, soil and climate all conducive to the production of great Syrah, Ballard Canyon has become a premier source for exceptional Syrah. Possessing the finesse and complex aromatic profiles of the finest Syrah from France's Rhône Valley as well as the beautiful fruit and physiologically ripe tannins that make California wines so appealing, Ballard Canyon truly shines with Syrah, so much so that Ballard Canyon has become synonymous with great Syrah throughout the world. What Napa Valley is to great Cabernet Sauvignon, Ballard Canyon now is to Syrah.
Syrah has been grown for centuries in the Rhône Valley of France, where it is responsible entirely or in part for many of the greatest wines of France (Hermitage, Côte Rôtie, and Châteauneuf-du-Pape specifically). However, the exact origins of the deep purple grape of tremendous flavor known as Syrah remains a question to debate. Nonetheless, historians do seem to agree on several points. First, Syrah was brought to Europe from the Middle East, yet when and by whom still remain mysteries. The other point that enjoys widespread consensus is that the name Shiraz, from the Persian city of that name, is the likely origin of the grape variety's name. In any case, Syrah or Shiraz flourishes today not only in the south of France but in other Mediterranean climates. It fares particularly well in Australia, California, Chile and South Africa, where it answers to either Syrah or Shiraz. But no matter the name, Syrah remains one of the world's finest grapes; it earns a place in every serious wine drinker's glass, but only long enough to bring a smile to one's face.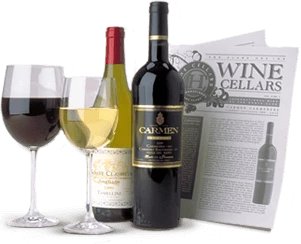 Enjoy Limited Production Estate
Bottled Wines
Discover limited production estate bottled wines such as Vergenoegd's internationally
acclaimed 2005 Cabernet Sauvignon, imported exclusively for our members.
DISCOVER OUR FOUR CLUBS