A Certified Organic Wine, the 2003 Badia a Coltibuono Chianti Classico exudes all the natural flavor and goodness of this great estate. The 2003 Coltibuono Chianti Classico is a formidable blend of Sangioveto (90%) and Canaiolo (10%) from a very hot vintage. Nonetheless, this pure, silky wine aptly reflects the hauntingly beautiful landscape of southern Tuscany, at the same time that it recalls all the auspicious attributes of Chianti Classico: breed, charm, nuance, and subtley of flavor, all in a solitary glass. Indeed, Chianti Classico produces the most elegant of Tuscany's world-class reds, and Coltibuono embodies the quintessence of Chianti Classico. A bright, moderately deep garnet robe gives way to a medium-bodied wine that mingles the overt scents and flavors of dried red and black fruits, earth, and fennel with the delicate undertones of fragrant woodlands – replete with a faint but beautiful profile that includes a hint of truffle. Enjoy this elegant, round, sophisticated wine at cool room temperature (no more than 66° F) after moderate aeration (30 minutes). Enjoy!
A fine Chianti Classico, such as the 2003 Badia a Coltibuono, exudes sophistication and charm and provides the ideal complement to foods of similar stature. A myriad of meats and vegetables take on whole new dimension when paired with the likes of the Badia a Coltibuono Chianti Classico. Some irresistible favorites come from Lorenza de'Medeci's own kitchen. Pheasant, stuffed with braised vegetables, porcini mushrooms and a hint of truffle, makes a memorable meal and a marriage that will last forever. However, if pheasant seems a bit too exotic to tackle in your own kitchen, we suggest that you substitute game hens or other fowl for the pheasant and enjoy this wonderful food and wine pairing just the same. Fine cuts of beef and pork provide other worthy suitors. Classic Tuscan white bean dishes, served with flat Tuscan onion bread and a few slices of hard cheese, will thrill both carnivores and the vegetarian crowd, and more than satisfy the soul as well as the stomach. In a simpler vein, you may also want to try the 2003 Badia a Coltibuono Chianti Classico with a thinly shaved grilled chicken breast with grilled onions and peppers, melted Havarti cheese, and basil aioli on grilled focaccia. Parmigiano Reggiano, Pecorino Romano, and other hard cheeses in the company of this fine Chianti Classico offer more excellent, uncomplicated choices, especially for ending a meal. For more expert advice on cheese and to view our monthly international cheese selection, we suggest you peruse our In Pursuit of Cheese website at www.cheesemonthclub.com. So, whether it is simple elegance or sophisticated fare you seek, you are sure to find a friend in the Badia a Coltibuono Chianti Classico and in turn be offered a taste of the good life of the Abbey of Good Culture. Buon Appetito!
Badia a Colitbuono is often referred to as the Abbey of Good Culture, an apt description of this splendid Medieval and Renaissance wine estate and a well-deserved tribute to one of the world's finest cooking schools. Assuredly, Badia a Coltibuono is much more than a fine wine estate, it is way of life in which the past and present merge into living history. The home of Piero Stucchi-Prinetti and his wife Lorenza de'Medeci (of the de'Medeci family) and their children, Badia a Coltibuono has come to define the sophistication and taste of Tuscany. For centuries the great wines estates of Tuscany were not commercial enterprises in the traditional sense. They were first and foremost the country estates of the Tuscan gentry, and in typical Latin fashion their doors remained closed, even to those in the trade. Certainly, these renowned fattorias sold their wares locally and abroad but the thought of opening their family farm to the public was next to unthinkable. In fact, until Piero Stucchi-Prinetti came on the scene, very few Tuscan estates even had a marketing budget let alone a plan to market or educate the world about the treasures of Tuscany: food, wine, and a centuries old cultural heritage that by the 1970's the world was clamoring to know. Consequently, thirty years ago, Piero Stucchi-Prinetti and Lorenza de'Medeci embarked upon a new course that has helped usher in the second Italian Renaissance in Tuscany. They threw open the portals to Badia a Coltibuono and began a new day. An astute and forward thinking international businessman, the gregarious Piero Stucchi-Prinetti perceived both the public's interest in the good life, which was inherent to Badia a Coltibuono, and the economic need on the part of Chianti Classico producers to change with the times. Instinctively, he understood the need for marketing because the paradigms in the world of wine were not about to stand still; the wine Renaissance in California alone had seen to that. Moreover, he understood the value of marketing the great products his family produced, including their way of life. As a result, his first move was to transform the estate's old stable into a trattoria or restaurant, replete with the property's stunning view of the Arno valley and the distant Appenine Mountains. From near and far, the world came to feast on a cultured way of life as well as some of the finest food and wine around. Piero Stucchi-Prinetti's next move was even more daring. He hired a full-time director of promotions and public relations – something no other Tuscan estate in the area had done. The result was the invitation of wine importers, distributors, retailers, writers, and a list of adoring aficionados. Overnight guests were brought to Coltibuono and a bona fide hospitality program had begun, but this would be just the beginning. Lorenza de'Medeci, who was then already well known as the food editor of Vogue Italia and the author of many cookbooks, began cooking for events at Coltibuono, which attracted even greater acclaim for the family's estate and its fine Chianti Classico. Soon, Lorenza's kitchen became the home of The Villa Table, one of the world's most renowned cooking schools. In the school's nearly two decades of existence, thousands of international chefs and serious amateur cooks have passed through the portals of Badia a Coltibuono to share the ancient abbey's renown as the guardian of traditional Tuscan cooking and the purveyor of the allure and mystic of Tuscany. As of this writing Lorenza Medeci has published thirty individual books on regional cuisine. Today, Piero and Lorenza's children Emanuela and Roberto are the present mangers of the Coltibuono wine estate, while the couple's two other sons Paolo and Guido manage the family's now famous restaurant. Coltibuono remains one of the world's greatest producers of Chianti Classico as well as extra virgin olive oil. And as one would expect, Badia a Coltibuono remains a legend in its own time.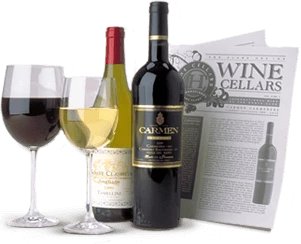 Enjoy Limited Production Estate
Bottled Wines
Discover limited production estate bottled wines such as Vergenoegd's internationally
acclaimed 2005 Cabernet Sauvignon, imported exclusively for our members.
DISCOVER OUR FOUR CLUBS