An aromatic, elegant wine of bold flavor and impeccable balance, the 2013 Avignonesi Vino Nobile di Montepulciano reveals its class and noble upbringing from the moment it exits the bottle. Dressed in a regal robe of purple with deep ruby highlights, this graceful yet flavorful Tuscan red leads with an enticing aroma redolent of black cherry, forest woodlands, violets, and spice along with a pleasing hint of mineral born of Tuscan earth – all of which intimate the ultimate complexity of the aristocratic 2013 Avignonesi Vino Nobile, which was awarded 91 points by Wine Spectator and 91+ points by Wine Advocate. On the palate, the medium-bodied 2013 Avignonesi Vino Nobile expands to reveal a mélange of complex flavors that well up from a vibrant core replete with ripe dusty tannins. The latter will undoubtedly hold this Vino Nobile perfectly for a decade or more to come. With aeration, hints of dark chocolate and fine Florentine leather also emerge to meld with the wine's polished fruit and spice tones. Drink from 2018-2023. For optimal enjoyment we suggest an hour or more of aeration in a decanter before consuming. Affording exceptional Tuscan reds such as the 2013 Avignonesi Vino Nobile time to breathe and unfold gracefully in the glass is essential to capturing all that a true noble wine has to offer. Enjoy!
Vino Nobile is one of Tuscany's gastronomic treasures, and Avignonesi's 2013 Vino Nobile di Montepulciano is one of Vino Nobile's foremost ambassadors. Its presence at table signals elegance, fine food, and good taste. With this in mind, Avignonesi's Vino Nobile deserves to be paired with high quality ingredients worthy of its noble stature. Grilled meats top Tuscany's list of choices with the region's noble red wine. Beef, lamb, quail, and squab are perennial favorites. Rotisserie chicken, basted with butter, garlic, olive oil, and rosemary, offers simple but superb companionship to Avignonesi's delightful Vino Nobile. Lamb ragout with mushrooms, red peppers, and onions, served over braised greens and oven roasted potatoes, provides another tasty treat. Ragout of wild boar offers yet another tasty companion. Traditional Tuscan bean and lentil dishes, with or without sausage or cured ham, provide additional complements, while roasted wild mushrooms over polenta or tagliatelle pasta with black truffle shavings and olive oil provide a special vegetarian companion to the regal 2013 Avignonesi Vino Nobile. Buon Appetito!
Avignonesi is one of the oldest and most respected names in Tuscany. From the winery's original homestead named Le Capezzine, located just a few kilometers outside of the venerable hill town of Montepulciano, Avignonesi has flourished. It now includes four wine producing estates: Le Capezzine, I Poggetti, La Selva, and La Lombarda that together comprise nearly 240 acres of vines.
Each of Avignonesi's four Tuscan farms specializes in growing different classic and indigenous grape varietals. Given Avignonesi's ties to Montepulciano, it is not surprising that the estate's two oldest properties, Le Capezzine and I Poggetti specialize in Tuscany's indigenous varietals: Prugnolo Gentile (Montepulciano's unique clone of Sangiovese), Mammolo, and Canaiolo. These three grape varieties are responsible for the region's noble red wine, known simply as Vino Nobile di Montepulciano. It is Vino Nobile that first established Avignonesi's international reputation for quality, and Avignonesi's "noble" red wine remains the benchmark by which other Vino Nobiles are measured. Among connoisseurs, Avignonesi is also regarded as the greatest producer of Vin Santo, the special Tuscan dessert wine that is aged for a decade or more before release. Avignonesi fashions delicious Rosso Toscana, too, a wine that combines the indigenous Prugnolo Gentile with Cabernet Sauvignon and Merlot from the estate's La Selva property.
Sangiovese (literally translated as Blood of Jove) is the principal grape of Tuscany. It is the lifeblood of Chianti and Vino Nobile (In Vino Nobile only the Prugnolo Gentile clone of Sangiovese is permitted) and the sole constituent of Tuscany's most illustrious wine, Brunello di Montalcino. It also serves as the backbone of many Super Tuscan blends. And despite its importance and proliferation throughout Tuscany and Central Italy, Sangiovese is a difficult grape to cultivate and master. It is notoriously slow growing and slow to ripen. Moreover, it is thin skinned and prone to high acidity, which under ideal conditions produces wines with delicious fruit and excellent structure, many of which can age for a decade or more. However, Sangiovese is not meant only for collectibles; the grape's light fruit and bright acidity also lend themselves to excellent everyday wines meant for the weekday dinner table. Sangiovese's natural acidity makes it an ideal varietal for California, particularly Amador and Napa counties, and a natural accompaniment to meat, pastas and cheeses.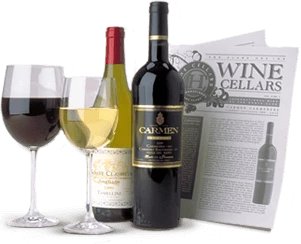 Enjoy Limited Production Estate
Bottled Wines
Discover limited production estate bottled wines such as Vergenoegd's internationally
acclaimed 2005 Cabernet Sauvignon, imported exclusively for our members.
DISCOVER OUR FOUR CLUBS