The 2015 Atze's Corner GSM displays a beautiful deep ruby and violet colored robe that pleases the eye, which complements a sensuous bouquet that heralds the wine's juicy palate-pleasing flavors. Savory scents and flavors of black currant and mulberry infused with hints of cocoa, spring flowers and touches of toasted oak delight the nose and mouth. Soft and succulent on the palate, the 2015 Atze's Corner GSM gives very little hint of the latent power that lies behind the wine's sumptuous fruit and polished tannins, until after the wine has so elegantly slipped down the thirsty throat. Smooth and seemingly lighter in alcohol than one might think, Atze's GSM is a joy to drink, but it's no lightweight. Afford Atze's star 2015 GSM a few minutes of aeration and enjoy it at cool room temperature (60° F) now and over the next several years.
The 2015 Atze's Corner GSM is an upfront, in-your-face kind of wine with a good bit of class that provides the ideal red wine to pair with foods Americans like to eat. Burgers and Texas style beef brisket make tasty accompaniments to Atze's ample GSM. A perfectly grilled marinated flank steak topped with Shitake or Portabella mushrooms also shines in the company of Atze's 2015 GSM. Traditional Carolina pork barbecue and Baby Back ribs slow cooked in a thick, spicy barbeque sauce get our endorsement as well. Provençal and Italian specialties straight out of a brick oven also offer excellent companionship to Atze's flavor-packed 2015 GSM: cassoulets, calzones, Eggplant and Zucchini Parmigiana, lasagna, manicotti, and deep dish or three cheese pizzas topped with the finest pepperoni, prosciutto, and salami all pair beautifully with this wine. But if all you can muster are some multigrain chips with hummus or baba ghanoush, Atze's delightful 2015 GSM can turn a simple appetizer or side dish into a delectable meal. Enjoy!
Atze's Corner was founded in 2005 by winegrower Andy Kalleske. Although Atze's Corner Wines is a relatively new winemaking operation, the Kalleskes are no strangers to wine or Australia's Barossa Valley; Andy Kalleske is the 6th generation of Kalleskes to grow grapes in Barossa, as his family has tended vineyards there since 1847. With the help of his parents, John & Barb, Atze's Corner now handcrafts exclusive limited-edition wines from fragile old vines to produce award winning wines with minimal intervention.
Like most top Barossa wineries, Atze's Corner specializes in growing traditional Rhône varietals, Shiraz (Syrah), Grenache, and Mourvèdre, to bottle as single varietals or to craft into Barossa's emblematic GSM blend comprised of all three grapes (this month's feature). Atze's Corner also fashions small amounts of Cabernet Sauvignon, a juicy Montepulciano, and several small lots of other red varietals in addition to a delicious white wine from Italy's fashionable Vermentino grape. Recently, Atze's Corner released for the first time the estate's flagship offering, the 2012 Zen Master Shiraz, made from a tiny plot of Shiraz vines that was planted in 1912. It can be purchased for a mere $500.00 per bottle.
The Barossa (pronounced Ba rassa) is Australia's most famous wine region. It is arguably the continent's most exciting wine producing area as well. Although serious competition for quality now comes from Western Australia's Margaret River and other renowned South Australian appellations such as McLaren Vale and Coonawarra for red wines and Clare, Eden and Padthaway for whites, it is hard to refute the longstanding track records of such great Barossa producers as Binder, Glaetzer, Burge, Henschke, Penfolds, Torbreck and others, as well as the plethora of glorious old vine Shiraz and Grenache wines for which Barossa is justly famous.
Although the words Barossa and Shiraz are nearly synonymous, especially rich, decadent Shiraz from ancient vines that more resemble gnarled trees than vines, it would be easy to lose sight of the fact that the Barossa remains one of the world's great sources of old vine Grenache, Mourvèdre (also known as Mataro), and Cabernet Sauvignon, too. These varietals account for the valley's outstanding red wines. The combination of Grenache, Syrah and Mourvèdre, which is best known by its acronym, GSM, is an emblematic Barossa blend whose name has become nearly synonymous with Australian wine. Barossa is also home to some of the planet's greatest white wines in the guise of Riesling and Semillon, many of which can mature for a decade or more into splendid potions.
Barossa icon Max Schubert once said, "True excellence is a constant and endless journey; it is not a destination." And if the words of the late Max Schubert, the former winemaker at Penfolds and the artist behind Penfold's Grange (the Southern Hemisphere's greatest wine) bear any credence, the Barossa will remain a beacon of oenological excellence and the continent's premier wine region for Australia's Mediterranean varietals, namely, Shiraz, Grenache, and Mourvèdre.
Rhône-style blends such as the 2015 Atze's Corner GSM make ideal companions to many of the world's finest cheeses. A mild Chèvre as well as a full-bodied Manchego will pair equally well with Atze's tasty GSM. English Cheddar provides another tasty companion. For additional pairings or to learn more about the world's finest cheeses, contact us at www.cheesemonthclub.com.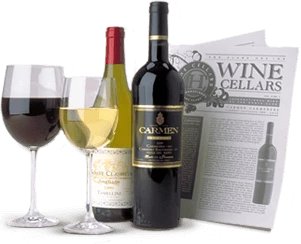 Enjoy Limited Production Estate
Bottled Wines
Discover limited production estate bottled wines such as Vergenoegd's internationally
acclaimed 2005 Cabernet Sauvignon, imported exclusively for our members.
DISCOVER OUR FOUR CLUBS