A superlative offering from an excellent vintage, the 2020 Arzuaga Ribera del Duero Crianza (90% Tempranillo, 5% Cabernet Sauvignon, 5% Merlot) opens with heady aromatics. A deep draught of red and black fruits, roasted chestnuts, herbs, and aromatic wood smoke greet the nose. In the mouth, Arzuaga's 2020 Ribera del Duero Crianza is deep and harmonious, offering plenty of rich fruit, dark chocolate, and coffee tones. Moreover, all of these flavors come wrapped in a firm core of well integrated tannins, which should afford those savvy enough to cellar a few bottles of Arzuaga's Crianza a decade or more of drinking pleasure. For optimal enjoyment, we strongly suggest decanting the 2020 Arzuaga Ribera del Duero Crianza 30 minutes prior to serving at cool room temperature (58°-62° F). Then, taste and revel in the glory of Ribera del Duero. Anticipated maturity: 2023-2030. Enjoy!
Given the considerable structure and wealth of flavor in the 2020 Arzuaga Ribera del Duero Crianza, we strongly favor accompaniments equal to the wine, so consider saving the salads, pizzas, and tapas for lighter, less complex wines. Traditional Spanish fare and the finest cuts of lamb, beef, and pork make splendid companions to Arzuaga's complex 2020 Ribera del Duero. Pork with Black Olives and Capers, a favorite of our wine tasting panel, provides a splendid accompaniment. Duck Breast, prepared with a refined blackberry or cherry sauce, offers another superb pairing. Venison, wild boar or a thick herb encrusted lamb chop, accompanied by a mushroom risotto, provides yet another sophisticated companion. Simpler, easier to prepare accompaniments such as Spain's delicious Jamón Ibérico when paired with a spicy bean or lentil dish also provide tasty companionship to the smooth bold-flavored Arzuaga Ribera del Duero Crianza. In fact, almost any flavorful dish, including a thick vegetable soup will be enhanced by Arzuaga's comely Ribera del Duero Crianza. Buen Provecho!
Florentino Arzuaga, a visionary and a great lover of wine, purchased La Planta in Quintanilla de Onésimo in the heart of Ribera del Duero. Beginning in the early 1990s, he planted vines, built a winery in Valladolid, and began making quintessential Ribera del Duero. Today Arzuaga's wines are reference points for the Ribera del Duero DO and La Planta is a center of wine education and wine tourism, including a 5-Star hotel. No wonder the New York Times cited "Arzuaga and Ribera del Duero: among the 52 destinations worldwide recommended to visit in 2018."
Quality is paramount at Arzuaga and the estate's wines are based on three premises – the soil, the climate, and the orientation of the vineyards – yet what is most impressive about La Planta is the integration of local flora and fauna into the sprawling 3,500-acre estate to provide much needed biodiversity for La Planta's 520 acres of vines. Holm oaks, pines, and juniper cover much of the estate and are home to dear, wild boar, and other indigenous fauna.
Arzuaga's ecosystem provides the ideal environment for Ribera del Duero's fabled Tempranillo grape variety as well as for Chardonnay, Cabernet Sauvignon, and Merlot. Arzuaga fashions a bevy of wines, although none is more emblematic than the estate's flagship offering and this month's feature, the Arzuaga Ribera del Duero Crianza, which emanates from the oldest part of the La Planta estate. Arzuaga also produces a delightful 100% Tempranillo from vines more than 20 years of age for near term consumption.
Located in the heart of Spain in the ancient realm of Castile and León, Ribera del Duero has been a center of wine production for thousands of years. Today, Ribera del Duero remains one of the most important wine regions in Spain, as it is the spiritual home of Tempranillo, Spain's most venerable red grape variety and the source of many of Spain's greatest wines. Here the iconic Tempranillo, also known locally as Tinto Fino and Tinta del País, reaches its pinnacle and demonstrates to the world its inherent virtue.
Ribera del Duero occupies the hills and high meseta to the northeast of the city of Valladolid and stretches out along the Duero River, Spain's most beloved waterway. Not surprisingly, the region draws its name from the venerable Duero that plays an important role in the region's terroir. It seems that the soil of Ribera del Duero bears more than a passing resemblance to that of France's Burgundy, with a wide range of chalk, clay, marl and gravel combined together in varying degrees of prominence. However, whereas Burgundy's soil complexity results from plate tectonics, the soil in Ribera del Duero results from the Duero's erosion through the sedimentary layers of the Castilian meseta. The Duero River may likely play a role as well in moderating the rather harsh continental climate of the region, an area known for its dry, hot summers and cold winters. Add altitude (2,500-3,300 feet) and the intense luminosity of the Spanish meseta to the region's exemplary terroir, and it becomes apparent that Ribera del Duero possesses all the attributes needed to showcase the beauty of Spain's quintessential grape variety.
Although Tempranillo provides heart and soul to nearly all the wines of Ribera del Duero, the Denominacion de Origen (DO) does permit small quantities of other grape varieties to appear in the appellation's red wines, most notably Cabernet Sauvignon, Merlot, Malbec, and Grenache. There is, however, no requirement that Ribera del Duero contain any grape other than Tempranillo. Consequently, there is no one magic formula. However, what is certain is that world-wide demand for the great wines of Ribera del Duero will continue to grow as astute producers in the zone continuously push the envelope on quality. Moreover, the relative value of the voluptuous red wines of Ribera del Duero are second to none. Allow the finest red wines of Ribera del Duero a few years in bottle and ample aeration prior to serving, and they will more than handsomely reward the patient imbiber.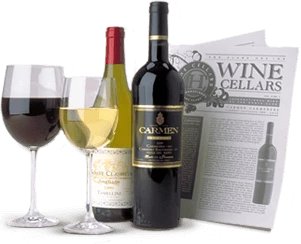 Enjoy Limited Production Estate
Bottled Wines
Discover limited production estate bottled wines such as Vergenoegd's internationally
acclaimed 2005 Cabernet Sauvignon, imported exclusively for our members.
DISCOVER OUR FOUR CLUBS