The hand-crafted 2020 Artesana Canelones Tannat Rosé, made with minimal intervention, captures the eye with the color of wild roses and satisfies the palate with a myriad of tantalizing flavors. The scents of apple and cherry blossoms along with savory spice flavors dominate this mouth-filling rosé. In short, the 2020 Artesana Canelones Tannat Rosé offers the palate more than the oceans of insipid rosé wines that flow from cooperatives in the South of France. It offers plenty of body and flavor as well as a racy dry finish, in the style of the finest white wines. Taste and see for yourself. For optimal enjoyment, we suggest affording the 2020 Artesana Tannat Rosé a moderate chill (38°-45° F) before consuming with abandon. Anticipated maturity: 2021-2022. Enjoy!
Although rosé has often been categorized as an anytime wine to drink with abandon or the wine of choice when no white or red wine seems to go, Artesana's 2020 Tannat Canelones Rosé is that and much more. Consider serving this mouth-filling rosé with tuna sashimi or lightly seared tuna served with grilled shitake mushrooms. Salade Niçoise, Caesar Salad with fresh anchovies, or just about any leafy green salad, alone or with shrimp, will also provide a tasty accompaniment to the 2020 Artesana Tannat Rosé. Rotisserie chicken basted with butter, olive oil and Mediterranean herbs deserves two thumbs up as well. Flatbreads, vegetable and cheese pizzas, and spicy vegetarian specialties, including a vegetarian paella, provide more outstanding accompaniments. Aged Gouda, Cantal, Pont l'Eveque and other flavorful cheeses also make ideal companions to a glass of Artesana's 2020 Tannat Rosé – Artesana's newest star. Buen Provecho!
Artesana is one of South America's emerging stars, as is Uruguay, a South American oasis of peace and stability that has been making good wine for centuries, most of which heretofore has been consumed by the small but prosperous local population. However, in recent years Uruguay's oenological treasures in the form of deep reds and wonderfully crisp mouth-filling rosé wines have begun to flow north and find favor in "El Norte." In the last five years, the trickle has become a steady flow, as new and longtime producers in Uruguay continue to raise the quality bar and embark upon the search for additional markets for their country's distinctive wines. Yet, unlike Uruguay's South American neighbors Argentina and Chile, Uruguay is a country of small-scale, family-owned wineries with a European winemaking tradition. And as an added note, Uruguay is considered to have one of the purest vineyard environments in the world, ranking 3rd after Norway and Finland in the Environmental Sustainability Index (ESI) in 2005.
Artesana has been lauded as one of Uruguay's most exciting small estate wineries. It is located in Uruguay's acclaimed Canelones winegrowing region, where the temperate coastal Atlantic climate produces growing conditions that are often compared to that of Bordeaux. Artesana is owned by Blake Heinemann and his engaging American niece, Leslie Fellows. Award-winning Uruguayan winemakers, Analía Lazaneo and Valentina Gatti, handcraft Artesana's iconic, award-winning wines that express the unique terroir of the estate vineyard. In recognition of their great accomplishment, Artesana was previously named Uruguay Winery of the Year by the New York International Wine Competition. Artesana's wines are made in small lots with minimal intervention, allowing the character of the fruit to be expressed. As the estate's name implies, Artesana is truly an artisanal affair as all of Artesana's handcrafted wines are made with 100% estate-grown grapes that showcase Uruguay's distinctive terroir and preeminence with Bordeaux varietals and Uruguay's signature grape variety – Tannat.
Artesana's Canelones Tannat Rosé is hand-crafted in small lots and it is produced like a white wine with no barrel ageing and only minimal skin contact, which from Tannat provides a rose colored blush. The juice of nearly all grapes, including Tannat, is white. White and rosé wines are often made from red skinned grapes such as Grenache, Pinot Noir, Sangiovese, Tannat, etc.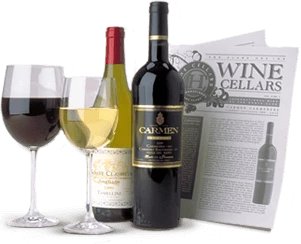 Enjoy Limited Production Estate
Bottled Wines
Discover limited production estate bottled wines such as Vergenoegd's internationally
acclaimed 2005 Cabernet Sauvignon, imported exclusively for our members.
DISCOVER OUR FOUR CLUBS