Aquitania's 2018 Lazuli Cabernet Sauvignon (94 Points – Vinous) pays homage to the finest classified red wines of Bordeaux. Elegant, sophisticated, and loaded with flavor, the 2018 Lazuli Cabernet Sauvignon sports a brilliant purple color, an elegant nose, and deep palate-pleasing flavors. Savory scents of blackberry, dark cherry, currant, and spice waft from the glass. In the mouth, silky, rich tannins carry the wine's deep hedonistic berry flavors infused with aromatic cedar, deft touches of vanilla, and toasted oak to a long climactic finish. With ripe, rich tannins with nary an edge, the 2018 Aquitania Lazuli Cabernet Sauvignon makes an ideal companion for current drinking as well as a candidate for decade-long ageing, which will only augment this complex wine's sophisticated flavors. For optimal enjoyment, we suggest affording the outstanding 2018 Aquitania Lazuli Cabernet Sauvignon at least 30 minutes of aeration before consuming around 58°-62° F. Anticipated maturity: 2022-2030. Enjoy!
Although the sophisticated and palate-pleasing 2018 Aquitania Lazuli Cabernet Sauvignon drinks beautifully on its own, it also shines at table in the company of fine cuts of meat and a host of well-prepared dishes. Consequently, we suggest pairing it with a tender veal chop grilled slowly to perfection and topped with a light mushroom sauce. Sous Vide Duck Breast with a blackberry reduction makes another splendid companion. Aged Wagyu beef provides another mouthwatering accompaniment. For the more adventuresome, consider serving the delicious Bordeaux-style 2018 Lazuli Cabernet Sauvignon with the classic French dish, Chicken Barigoule, a rotisserie chicken breast with braised artichokes, garlic, pearl onions, carrots, asparagus, and tomatoes. It provides a simple but elegant meal that showcases the complexity and rich flavors of the 2018 Aquitania Lazuli. On a simpler note, BBQ pork ribs and Asian stir-fries with vegetables also make tasty pairings. And, a selection of Dubliner, Edam, Port Salut, and other similar cheeses provides a superb way to end a splendid meal in the company of a glass of the 2018 Aquitania Lazuli Cabernet Sauvignon. Bon Appétit, or should we say Buen Provecho!
Aquitania is the first truly boutique Chilean winery. Founded by Bordeaux luminaries Bruno Prats of Château Cos d'Estournel, the late Paul Pontallier of Château Margaux, and Chilean agronomist, oenologist, and master winemaker Felipe de Solminihac in the early 1990s, Aquitania specializes in producing the highest caliber Cabernet Sauvignon from high altitude vineyards in Chile's famed Maipo region. Aquitania comprises 45 prime acres in the historic heart of the Maipo Valley known as Quebrada de Macul. In 2003, Ghislain de Montgolfier of the legendary Bollinger Champagne house joined with Pratts, Pontallier and de Solminihac as a full partner in Aquitania.
The name Aquitania pays homage to the partners' French roots and the wines they fashion. Aquitania (Aquitaine) is the original name given to the Bordeaux region of France and its inhabitants at the time of Caesar's conquest of Gaul. Aquitania (aka Bordeaux) is also the spiritual home of Cabernet Sauvignon, the world's most revered red grape variety. Aquitania produces two exceptional wines, Valle del Maipo Reserva Cabernet Sauvignon and Lazuli Cabernet Sauvignon, named for the precious gemstone lapis lazuli. Lazuli is Aquitania's super luxury Cabernet Sauvignon and this month's feature. It is produced only in exceptional vintages such as 2018.
Cabernet Sauvignon is one of the most widely cultivated of the world's noble red grape varieties. For centuries it was thought to be an ancient varietal, but DNA studies conducted in the 1990s revealed that Cabernet Sauvignon is not nearly as old as was once thought. Moreover, what is even more startling is that Cabernet Sauvignon is actually the offspring of Cabernet Franc (a red variety) and Sauvignon Blanc (a white variety).
The origin of Cabernet Sauvignon has traditionally been attributed to Bordeaux, where it holds court with Merlot, Cabernet Franc, Malbec, Petit Verdot, and in rare instances Carmenère. The combination of any three or more of these varieties is what is known in Europe as the Bordeaux Blend or in California and elsewhere as a Meritage selection. Some evidence suggests that northern Spain, just south of the Pyrenees, could also one day lay legitimate claim to being an original site of the planet's most important red grape variety as well. However, Bordeaux rightly claims to be the disseminator of this noble red grape because from Bordeaux, Cabernet Sauvignon has traveled the world far and wide.
In Bordeaux, Cabernet Sauvignon is the heart and soul of the finest Médoc wines and a leading player in nearly all of the finest red wines of Graves. Châteaux Haut-Brion, Margaux, Latour, and Lafite are all Cabernet Sauvignon based wines. However, even in Bordeaux appellations where Cabernet is King, it is usually blended with Merlot and or other traditional Bordeaux varietals. By nature, Cabernet Sauvignon is a thick skinned grape that requires a longer maturation than most red grape varieties, which makes blending it a natural choice in winemaking regions such as Bordeaux where climate conditions are variable.
Cabernet Sauvignon thrives under warm, even hot, semi-arid conditions, which is one reason why this noble variety has been extensively and successfully cultivated in Argentina, Australia, California, Chile, South Africa, Spain, and elsewhere. The flavor profile of Cabernet Sauvignon can vary considerably, depending upon climate and terroir. However, blackberry and blackcurrant (often referred to as cassis) flavors are most often associated with this premium variety. Earthy and herbaceous aromas such as cedar, eucalyptus, graphite, and tobacco are also common. Moreover, of all the world's red grape varieties, Cabernet Sauvignon has the greatest propensity for successful ageing. Cabernet Sauvignon also contains high amounts of antioxidants and resveratrol, which render it one of the most healthful of all wines. Enjoy!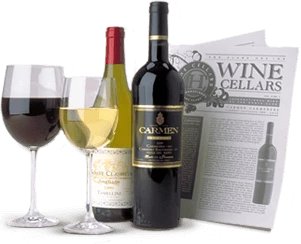 Enjoy Limited Production Estate
Bottled Wines
Discover limited production estate bottled wines such as Vergenoegd's internationally
acclaimed 2005 Cabernet Sauvignon, imported exclusively for our members.
DISCOVER OUR FOUR CLUBS