The 2006 Angove's Limestone Coast Vineyard Select Chardonnay is ample testimony to the Limestone Coast's reputation for furnishing many of Australia's greatest Chardonnay wines. Bright, complex, and packed with a cornucopia of flavor, the 2006 Angove's Limestone Coast Chardonnay exhibits a heady olfactory that happily follows through on the mid palate and nearly explodes on the finish. Scents of soft, ripe tropical fruits, zesty lime and melon tantalize the nose and fold effortlessly into the flavor profile of this complete Chardonnay. Savory hints of vanilla, butter, toast, and mineral emerge in the mid palate and carry through on the wine's vibrant finish that ever so adeptly displays the expert interplay of fruit, oak, and spice. A combination of the lithe spirit of Pouilly-Fuissé and the rich, mouth-filling Chardonnay wines of Napa Valley, the 2006 Angove's Limestone Coast Chardonnay offers a very appetizing, easy-to-drink Chardonnay that wears ever so well on the palate and keeps you coming back for more. We suggest you enjoy this delicious Chardonnay moderately chilled (40°-45° F).
Given the rich flavor profile of the 2006 Angove's Limestone Coast Chardonnay, a wealth of foods from both land and sea offer superb accompaniments. Dill Seasoned Sea Scallops; Baked Grouper or Tilapia, served with a fruit salsa; and Crab Cakes, drizzled with saffron vinaigrette and a red pepper lime sauce comprise a few seafood selections that pair well with this splendid Chardonnay. For landlubbers, we suggest Roast Chicken, accompanied by a sweet corn and herb pudding; or Smoked Turkey, served with corn bread stuffing. Most cow and goat's milk cheeses offer wonderful companionship to Angove's Vineyard Select Chardonnay, too. Fried Goat Cheese Salad, served with organic baby lettuce, brandy soaked dried cherries, and walnuts, provides a splendid accompaniment when served with a light tarragon vinaigrette. And for the record, the 2006 Angove's Limestone Coast Chardonnay excels as an aperitif as well. Enjoy!
Angove's Pty. Ltd. is one of Australia's largest privately owned wineries. It began with Dr. William Angove, an accomplished general practitioner and surgeon, who emigrated with his wife and young family from Cornwall in 1886 to establish a medical practice in South Australia. Although he enjoyed a distinguished medical career, Dr. Angove's most enduring legacy survives in the viticulture of South Australia. His early experimentation with vines, winemaking and distilling led to the establishment of a proud family business. Dr. Angove's initial plantings at the township of Tea Tree Gully in the Adelaide foothills were the forerunner of one of the largest vineyards in the southern hemisphere — the magnificent Nanya Vineyard at Renmark in South Australia's Riverland. Since 1950, Angove has steadily expanded its operations and structure. The Renmark facility has grown to become a major winemaking and distilling entity with storage capacity for more than 15 million liters of wine and spirits. In Australia, Angove's is known not only for its fine table wines (still wines under 14% alcohol), but its exceptional line of fortified wines and spirits. Angove's produces sherry, port, vodka, and an especially fine line of pot stilled brandies under the name of St. Agnes. The 5 Star Liqueur Brandy from St, Agnes is a gold medal winner that consistently receives the highest critical acclaim from tasters and critics. In 1983, the fourth generation of the family took control of Angove's when John Carlyon Angove succeeded his father as Managing Director of the company. John has taken up where his father left off, with increased development and investment in all aspects of the winery. In addition, Victoria, John's eldest daughter and a member of the fifth generation, is now actively involved in ensuring ongoing growth in her role as International Business Development Manager, so much so that Angove's wines can be found today in over 30 different countries around the globe. This is testimony to Victoria's ability and the outstanding quality of Angove's many critically acclaimed, award-winning wines. Like most Australian wineries, Angove's fashions an entire portfolio of wines at varying levels of quality and age worthiness. Angove's Vineyard Select offerings are the winery's top wines. Angove's Nine Vine Series (and most notably the Viognier) is another exemplary line of wines. It is so named because only nine vines remain at the original 19th century Tea Tree Gully Vineyard in the Adelaide Hills that Dr. Angove planted. These ancient vines serve as a reminder of the vibrancy of a wine-growing region that has played a vital role in the development of a nation as well as an integral part in the Angove family's winemaking heritage. Limestone Coast A diverse, stunningly beautiful area of South Australia, the Limestone Coast is a world renowned destination for cavers, divers, and adventurers. This rugged coast displays a unique ecosystem, which includes prolific bird life and nearly 30 caves that are recognized as World Heritage Sights. It is also the home of more than forty family wineries and nearly 30,000 acres of vines. The Limestone Coast is home to several of Australia's leading viticultural appellations, including Coonawara and Padthaway. Chardonnay and Cabernet Sauvignon are the Limestone Coast's greatest claims to fame. Moreover, nearly 20% of Australia's premium wines hail from the Limestone Coast, even though this region comprises less than 10 % of the vineyard area in the country.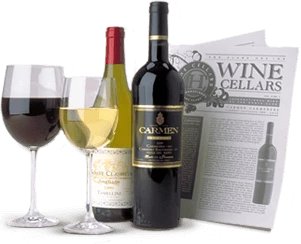 Enjoy Limited Production Estate
Bottled Wines
Discover limited production estate bottled wines such as Vergenoegd's internationally
acclaimed 2005 Cabernet Sauvignon, imported exclusively for our members.
DISCOVER OUR FOUR CLUBS