Marcelo Morales, Corona de Aragon's winemaker, deserves kudos for his crafting of the 2010 Anayón Chardonnay. Born and raised in Chile, Morales utilizes the best Old and New World winemaking techniques in fashioning an outstanding Anayón Chardonnay. From estate vineyards located at nearly 1,600 feet, the 2010 Anayón Chardonnay is imbued with a bright yellow robe and a taste of Spanish sunshine. Moreover, it offers up an intense nose of fresh tropical fruits in the form of banana, pineapple and passion fruit combined with deft touches of vanilla and wood smoke. In the mouth, Anayón continues its magic. The wine's expressive bouquet carries through on the palate with explosive fruit flavors, vanilla, spice, pinpoint minerality, and just the right touch of oak to make a perfectly balanced package. Full-bodied, elegant, long, and impeccably balanced, the 2010 Anayón Chardonnay is hard to beat in the Old World or New World. For optimal enjoyment we suggest moderate chilling (40°-45° F) of this Chardonnay and just a couple of minutes in the glass prior to consuming to release Anayón's full personality.
"Who needs food with this wine" and "This is one Chardonnay that rocks my world" were just two of the panel's comments upon tasting the 2010 Anayón Chardonnay. And this was a panel that ordinarily takes underwhelming Chardonnays to task. Suffice it to say that the 2010 Anayón Chardonnay doesn't need much moral support in the form of accompaniments to be enjoyed. However, grilled chicken over an orzo salad made with garden fresh tomatoes and herbs makes a splendid accompaniment to Anayón and will double the pleasure of a glass of Marcelo Morales' premier Aragon Chardonnay. Grilled fish served with fruit salsas, Mediterranean couscous stuffed squid, scallops sautéed with butter and shallots, and Pasta Primavera are just a few other winning accompaniments to the 2010 Anayón Chardonnay. In fact, most seafood, poultry, salads, and vegetables provide easy pairings to this splendid Aragon Chardonnay. Enjoy!
It never ceases to amaze us that outstanding wine can be found in the most unlikely of places. Who would have thought that one of the finest white wines we would taste in a recent trip to Spain would be a Chardonnay from Aragon? Once again, this proves the adage: "You can't drink a label, a price tag, or a wine's place of origin, only the wine in the bottle." And in the case of Anayón de Corona's Chardonnay, the wine is in the bottle.
Anayón is the flagship wine of Corona de Aragon, a select group of vineyards in excess of 45 years of age from Aragon's largest winery, Grandes Vinos Y Viñedos. Grandes Vinos Y Viñedos is a staggering venture with state of the art winemaking facilities. It opened its doors in 1997 to serve the burgeoning cooperatives of Aragon. Frankly, Aragon was not our first scheduled stop on this particular trip, but we make a point never to judge a book by its cover or a wine by its point of origin, at least not until we have had the chance to taste it. To our delight Anayón de Corona de Aragon's Chardonnay didn't disappoint. In fact, it received the unanimous endorsement of our traveling tasting panel.
What Corona de Aragon and Grandes Vinos Y Viñedos do best is bottle small lots of old vines from select vineyards. Anayón is one of the winery's small specialty bottlings and its finest white wine. It is made from 100% hand harvested Chardonnay from un-irrigated high mountain vineyards.
Chardonnay is the most widely cultivated white grape variety on the planet. Twice each year at harvest time (because the seasons are reversed in the northern and southern hemispheres) in its native France and in countless locales throughout the world, Chardonnay grapes command premium prices. In tribute, Chardonnay produces the finest, most flavorful dry white wines on the planet to which writers and connoisseurs devote countless columns and untold hours exalting its virtues and dissecting its flavors. Whether it be from Chablis or Champagne, Napa or Aragon, or from the most illustrious of vineyards perched atop the slopes of Corton and Montrachet, Chardonnay is the yardstick by which all other dry white wines have come to be measured.
From its origins in the Burgundy region of France, Chardonnay has traveled the globe. Today, Chardonnay is produced on all continents, except Antarctica. In numerous locales Chardonnay produces outstanding wine that reflects in every detail the soil and the climate (terroir) in which it is grown.
With food, Chardonnay is a peerless match. Chablis-style Chardonnays provide superb complements in the company of seafood. And fuller, fleshier Chardonnay wines, typified by the best New World versions, can more than hold their own with more complex fare, rich cream sauces, and meats. Moreover, the finest Chardonnay wines shine on their own, requiring nothing but a clean glass to please the palate. Enjoy!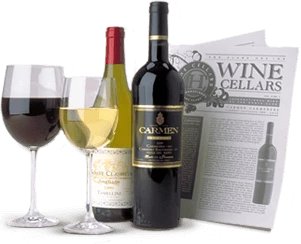 Enjoy Limited Production Estate
Bottled Wines
Discover limited production estate bottled wines such as Vergenoegd's internationally
acclaimed 2005 Cabernet Sauvignon, imported exclusively for our members.
DISCOVER OUR FOUR CLUBS