The bright, juicy 2010 Seven Sisters Dawn Pinotage/Shiraz comes wrapped in a crimson robe, but eye appeal is hardly this sister's only attribute. The 2010 Dawn carries a pretty scent that offers plenty of up front berry, plum, loam, and spice tinged fragrances that make this quintessential South African blend so immediately appealing. On the palate, savory dark cherry, plum, pepper and spice flavors emerge. Backed by soft tannins from the Shiraz and crisp acidity from the Pinotage, the wine's gracious fruit flavors seem to dance and glide effortlessly across the tongue. Round, smooth and very easy to drink Seven Sister's 2010 Pinotage/Shiraz more than brings her welcome with her. For optimal enjoyment, we suggest serving this artful blend of 65% Pinotage and 35% Shiraz at cool room temperature (a maximum of 66º F). Although this wine does not require extensive breathing time, it will benefit from 15-20 minutes of aeration. Enjoy!
The 2010 Seven Sisters Dawn Pinotage/Shiraz makes for a very affable table companion. Given the wine's soft, juicy fruit and spicy, mouth filling flavors, Dawn is at home with the delights of a good country kitchen. Pasta, steak, game, and full-flavored cheeses constitute some of our favorite pairings with this wine. Marinated sirloin steak; roast pork loin rubbed with garlic, onion, thyme and sage; ostrich burgers or better still authentic South African Ostrich Kefta (Spicy Ostrich Meatballs served with a savory sauce) highlight Dawn's many attributes. Spicy tomato based pasta dishes made arrabbiata style with red pepper flakes provide additional chances for Dawn to shine. A plate of rich creamy cheeses also complements Dawn and her splendid array of flavors.
"Charity starts at home. When I investigated the idea of entering the wine industry, I decided to go back to my roots and start a wine label with my sisters . . . a sisterhood celebration – each wine carefully selected and styled to match the personality and character of each sister, celebrate their bond and devotion to one another – a fitting tribute to sisterhood indeed!" ~ Vivian Kleynhans, Brutus Sister and the "Brain" behind African Roots Brand The Brutus sisters are the heart and soul of Seven Sisters wines, part of the African Roots Wine Brands portfolio, and each of the seven biological sisters has a great story to tell. The sisters source their wines from small dry-farmed vineyards tended by indigenous peoples in Swartland on the Western Cape of South Africa. They also own 7 hectares (15 acres) of vineyard in nearby Stellenbosch that will shortly be coming into production. Presently, each of the seven sisters has a wine in the Seven Sisters portfolio named for her that matches her personality. John Brutus, the sisters' baby brother and a trained enologist, will soon be joining his sisters and have a wine named for him as well. Seven Sisters Mythology has it that the seven sisters (Pleiads), daughters of Atlas and Pleione, were nymphs in the train of Artemis and nursemaids and teachers to the infant Bacchus too. The seven sisters behind this label in the African Roots Wine Brands portfolio are biological sisters and hail from Paternoster, a picturesque fishing village on Africa's Western Cape. The Brutus sisters, along with their baby brother John, had to leave their home when the family was evicted after their father lost his job of over 20 years with a local fishing company. Now, 25 years later, their wine brand, Seven Sisters, launched in 2007, has been a way to change their destiny. Today, the siblings often meet up on weekends at Paternoster to go kayaking, and feast on crayfish, bokkems (salted dried fish) and other local delicacies. The town is one of the oldest along the West Coast and was named after a prayer. The story goes that long ago when the first European (Portuguese) sailors were stranded and shipwrecked, they would pray that one day they might see their homes and families again. The prayer started like this, Patre Nostre which translates as "Our Father." Today, Paternoster is equally famous for its white-washed fishermen's cottages and curving white beach. Paternoster provides an abundance of seafood caught by the local fisherman on their little boats. Apart from the bounty the sea provides, the village boasts some 1200 different plant and flower species. The Seven Sisters wines are named after each sibling and it starts from youngest to oldest. The range consists of Bukettraube-Odelia, Pinotage-Rosé-Twena, Chenin Blanc-Yolanda, Sauvignon Blanc-Vivian, Pinotage/Shiraz-Dawn, Merlot-June, and Cabernet-Carol. The 2009 Seven Sisters Sauvignon Blanc-Vivian was recently selected by American Airlines, the first South African wine ever, to be served on their flights. No doubt we will be hearing more about the Brutus family's wines, as they expand their facilities and the family vineyard comes on board.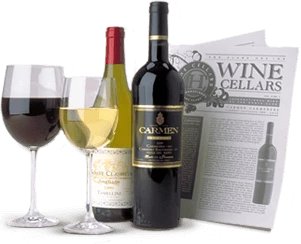 Enjoy Limited Production Estate
Bottled Wines
Discover limited production estate bottled wines such as Vergenoegd's internationally
acclaimed 2005 Cabernet Sauvignon, imported exclusively for our members.
DISCOVER OUR FOUR CLUBS