Henri Poiron's 2010 Domaine des Quatre Routes is classic Sèvre-et-Maine Muscadet. Bottled Sur Lie it reveals the clean, dry, refreshing flavors that have earned estate bottled Muscadet a favored place in Parisian bistros and seafood restaurants. A slight perle or tingle, a hint of stone fruit, citrus, and sea spray emanate from the thirst quenching 2010 Domaine des Quatre Routes to enliven the nose and send the brain and palate a clear message: "authentic dry white wine" is on its way. If you are waiting for the butter, oak, and residual sugar associated with many New World Chardonnays, you will not find them in Poiron's Muscadet, or any authentic Muscadet for that matter. The limestone rich soil of the Loire, the scent of the sea, and the delicate flavors of the Melon de Bourgogne varietal are what shine in Domaine des Quatre Routes' classic, refreshingly dry Sèvre-et-Maine Muscadet. Although Poiron's traditional Muscadet should age well for at least another year, we suggest consuming it moderately chilled (40º-45º F) while still in the fresh bloom of youth.
English wine writer Hugh Johnson has fondly referred to Muscadet as "Neptune's Garden" in light of the wine's heralded reputation for accompanying fish, shellfish and all kinds of fruits from the nearby sea. Indeed, the climate, history, and sustenance of the Sèvre-et-Maine appellation appear inexorably married to maritime fare, and with it the fortune of Henri Poiron's 2010 Domaine des Quatre Routes Muscadet. In France, when oysters are the topic of conversation or even mere contemplation, Muscadet is sure to follow. Indeed, these two old friends make an incomparable pair. But why stop there? Crabs, mussels, prawns, scallops, and shrimp offer equally compelling accompaniments to this wine. Specifically, Shrimp Cocktail, Shrimp Scampi, and Scallops en Brochette make for tasty accompaniments. Sole, flounder, and most light, white fish will pay homage to this fine Muscadet well. Domaine des Quatre Routes' 2010 Muscadet will even do justice to moderately spicy bouillabaisse. It will shine in the presence of just a few slices of cheese, too, or go solo to provide a splendid bone dry aperitif. Bon Appétit!
Domaine Henri Poiron traces its origin in winemaking in Muscadet back more than two centuries. The Poiron family owns a total of 39 hectares (96 acres), all located in the heart of the Muscadet appellation known as Sèvre-et-Maine. Domaine des Quatre Routes is one of four small exclusive Muscadet properties owned by Domaine Henri Poiron. It consists of just 13 hectares (32 acres), which are devoted exclusively to the appellation's premier varietal, Melon de Bourgogne. Domaine des Quatre Routes' vines average more than 45 years of age. Winemaking at Domaine des Quatre Routes is traditional. All harvesting is done by hand and proprietor Eric Poiron fashions terroir driven wines using traditional techniques. Vinification takes place in older oak barrels. The resulting wine then rests on its lees for months to garner greater flavor and freshness before being bottled Sur Lie the following March. The result is crisp, classic Muscadet.
The pastoral appellation of Muscadet possesses the only classified vines in Brittany. This large appellation lies near the mouth of the Loire River, just to the south of the city of Nantes. Sèvre-et-Maine, which occupies the hills above the two small rivers (Sèvre and Maine) from which the appellation draws its name, is the finest part of the sprawling Muscadet appellation. Two grapes, both white, have traditionally been associated with Muscadet: Gros Plant and Melon de Bourgogne. However, Melon de Bourgogne is a far superior grape to Gros Plant and is now the only grape variety allowed in Muscadet wines that bear the Sèvre-et-Maine appellation. Melon de Bourgogne was brought to Muscadet in the 17th century and was once a permitted variety in Burgundy as its name implies. Although rarely complex, the finest wines of Muscadet Sèvre-et-Maine provide splendid accompaniments to seafood and can hold their own with many more famous and expensive white wines. This is especially true when Muscadet is kept on its lies for several weeks or even months (designated by the words Sur Lie on the label and bottle) to gather additional flavor and texture. (Known as "lees" in English, these are deposits of yeast and other precipitated particles that fall to the bottom of the storage vessel.) Presently, the wine wares of Muscadet Sèvre-et-Maine constitute some of the finest values in truly dry white wine.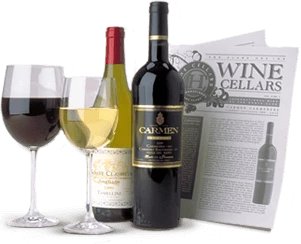 Enjoy Limited Production Estate
Bottled Wines
Discover limited production estate bottled wines such as Vergenoegd's internationally
acclaimed 2005 Cabernet Sauvignon, imported exclusively for our members.
DISCOVER OUR FOUR CLUBS