As aficionados of Bodegas Carchelo's wines have come to expect, the 2010 Carchelo provides yet another crowd pleasing experience. Carchelo's blend has evolved a bit over the years; the 2010 Carchelo (40 % Monastrell, 40% Syrah, and 20% Cabernet Sauvignon) contains a bit less Monastrell than many previous releases and more Syrah and Cabernet Sauvignon, which renders it better than ever in our mind. The big, brooding, mouth-filling 2010 Carchelo offers up copious quantities of black cherry and plum fruit, spice, and smoke on the nose as well as the palate. Deep in color and long on flavor, it is explosive in the mouth where cherry, cassis, and plum-like flavors satiate the grateful palate. The 2010 Carchelo supplies a wealth of flavor and intensity in addition to a healthy tannic backbone, which bodes well for the wine's further development. Although Mourvèdre has a reputation for being a shy-bearing grape that is difficult to grow, Carchelo serves as testimony to the virtues of this demanding varietal and Bodegas Carchelo's consummate skill. We suggest serving the 2010 Carchelo cool or even slightly chilled (58º-60º F or 20 minutes in the refrigerator) in warm weather. Enjoy!
Carchelo is made to please discerning palates and accompany the delights of the Mediterranean kitchen. The 2010 Carchelo provides a superb match to full flavored foods, including fresh pastas, savory stews, spicy vegetable dishes, and most cuts of meat. Flautas, fajitas, tacos, hamburgers, ribs, pork barbecue and paellas all supply enjoyable accompaniments to this wine. We especially enjoy it with lamb and are equally disposed to serving it with lasagna and other traditional southern Italian favorites, too. In our experience, Carchelo makes a bold statement that nearly always brings a smile to people's faces. It is a versatile wine. It can grace an elegant table, yet it won't fade when confronted with a bit of heat. It can flex its muscle or show its charm, depending upon what accompanies it. The curious part about Carchelo is not so much deciding what to serve with it, but deciding who to serve it to. It's no wall flower. It packs a sneaky punch, but that just adds to its charm. Consequently, you may want to keep a second or third bottle on hand. Enjoy the 2010 Carchelo with a few friends, or pour several extra glasses and make some new friends.
Bodegas Carchelo produces a fine array of Mediterranean style wines, of which their eponymously named Carchelo is the most popular – a wine that continues to delight critics and consumers alike. From vineyards located in high, remote mountain valleys in Spain's Murcia, Joachim Valdez, Joaquín Galvez Bauzá and founding partner Juan Sierva fashion compelling Rhône style wines from Monastrell (Mourvèdre), Syrah, Cabernet Sauvignon and Tempranillo. In vineyards located at over 2,200 feet in the desert-like climate of Murcia, the indigenous Monastrell variety thrives on its own rootstock. Moreover, a good portion of the estate's grapes are completely organically farmed and yields can average an impressively low 1.5 tons per acre, one of the lowest in Europe. In the last decade a completely new winery has been put in operation at Bodegas Carchelo, built expressly for Carchelo and this forward thinking bodega's fermentation by carbonic maceration (also known as whole berry fermentation). This fermentation technique is the same one used extensively in Châteauneuf-du-Pape and other French appellations. Likewise, Carchelo is conceived to feature the intense, fresh aromas and the velvety texture and extract of the low yielding Monastrell varietal. Hence, whole berry fermentation is used to retain the full aromatic profile of the easily oxidized Mourvèdre grape. A judicious amount of Syrah and Cabernet Sauvignon is now blended into Carchelo's cépage to add complexity and age-ability. Just a few short years ago, it was being said that Spain was the sleeping giant of European wine, but with Bodegas Carchelo and other outstanding Spanish producers coming into their own, there are few wine drinkers left unaware that the giant has indeed been awakened, even in remote Jumilla. Before the advent of Bodegas Carchelo in the early 1980s, Jumilla was virtually unknown in international wine circles. Thanks to Juan Sierva and his dedicated team, Bodegas Carchelo and their beloved Jumilla are fashioning some of Spain's most exciting and affordable wines.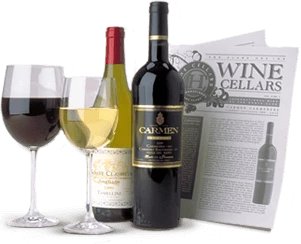 Enjoy Limited Production Estate
Bottled Wines
Discover limited production estate bottled wines such as Vergenoegd's internationally
acclaimed 2005 Cabernet Sauvignon, imported exclusively for our members.
DISCOVER OUR FOUR CLUBS