Berton's 2010 Black Shiraz is aptly named; it is as deeply colored as any wine on the planet. It presents itself as a brooding, foreboding potion, but appearances can be deceiving. This black Shiraz readily offers its olfactory and gustatory charms, beginning with an opulent aroma redolent with the savory scents of blackberry, plum, eucalyptus, and vanilla. On the palate the 2010 Black Shiraz continues its full flavored intense allure, but without a harsh tannic bite. Instead, ripe fleshy blackberry, chocolate, and mint flavors spread their pleasing warmth in the mouth. This Shiraz is a gracious, tasty, eminently drinkable wine that quickly comes to fore in the glass. Allow it 15 minutes of aeration and enjoy its friendly, uncomplicated flavors. For optimal enjoyment, we suggest serving the 2010 The Black Shiraz at cool room temperature (60° - 66° F).
Some lesser made Shiraz wines must beg for food to cover their flaws, but not Berton's 2010 The Black Shiraz. It can be enjoyed straight away. However, truly fine Shiraz, especially the likes of the 2010 The Black Shiraz, is a boon to full-flavored meals. This wine's rich but balanced profile easily complements red meat, pasta, and cheese. Marinated sirloin steak, served with garlic mashed potatoes and fresh sautéed green beans or roasted root vegetables provides an ideal complement. A well-made pot roast, served with homemade egg noodles and plenty of rich gravy makes another fine accompaniment to Berton Vineyard's Black Shiraz. Poultry and veal provide other outstanding companions. Risotto made with wild mushrooms and truffle cream offers another splendid companion. Enjoy!
Berton Vineyards is a relative newcomer to the burgeoning Australian wine scene. Established in 1996 by Bob and Cherie Berton in the high country of South Australia's idyllic Clare Valley, Berton Vineyards has quickly built a reputation for making smooth, flavorful, easy drinking wines. Shiraz is the Bertons' first love. First planted back in 1996, Shiraz remains a mainstay, with several Shiraz offerings including the winery's flagship wine. However, the Bertons from this blessed land Downunder have amassed an enviable portfolio of wines that also include Cabernet Sauvignon, Chardonnay, Moscato, Sauvignon Blanc, and Semillon. In doing so, the "Berton Boys" have easily achieved their stated goal of crafting excellent value, full flavored wines that are totally approachable in their youth. Bravo!
The Clare Valley is assuredly one of Australia's most highly regarded wine appellations, yet its name remains unfamiliar to many American wine lovers. What a shame! On second thought, the Clare's relative obscurity outside of Australia may be to the advantage of every savvy American wine drinker. For starters, the Clare bears little resemblance to the more famous names in Australian viticulture: Barossa, Hunter, and McLaren Vale to name a few. In the Clare, there is no glitz, no glamour, no smoke or mirrors, no tour buses and most of all no Disneyland like atmosphere, and perhaps that may be precisely what keeps the crowds away and allows the wine makers to do what they do best – make wine. The Clare Valley supports a host of expert winemakers and a treasure trove of fine wines at affordable prices. In short, the Clare Valley offers wine lovers fine wine at prices that the average person can happily afford to purchase more than once a month. In almost all respects the Clare Valley is one of the most Australian of the continent's viticultural areas. The landscape is sweeping and riveting, higher and even more captivating than the nearby Barossa. Moreover, there are still sheep and cattle ranches, undulating expanses of wheat and rye, towering Gum trees (Americans call them Eucalyptus) to stand sentry along the narrow roads and half-dry stream beds, and even some stands of uncut bush that seem to highlight the hilly, well-tended vineyards of the Clare and nearby Gilbert Valleys. In Australia, the Clare Valley has become synonymous with the continent's finest Riesling, producing racy, full-flavored wines with a distinctive lime twist that rarely appear too austere or too sweet, even when young. Yet, it is the Clare's splendid Shiraz and Cabernet Sauvignon wines that captivate international audiences. Within a year or two in the bottle, these magical wines reveal a haunting bouquet and an easy, full flavored charm. Most assuredly, Americans will one day "discover" the virtues of the Clare Valley's magical wares.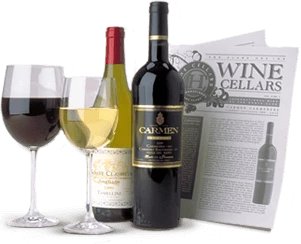 Enjoy Limited Production Estate
Bottled Wines
Discover limited production estate bottled wines such as Vergenoegd's internationally
acclaimed 2005 Cabernet Sauvignon, imported exclusively for our members.
DISCOVER OUR FOUR CLUBS