Viña Gormaz has quickly established itself as a consistent source of refreshing and exceedingly enjoyable Rueda. The 2009 Viña Gormaz Rueda (70% Verdejo/ 30% Viura) marries the aromatic allure and soft rich flavors of Verdejo to the spritely freshness of Viura (also known as Macabeo or Macabeu). In essence, this artful combination of grapes captures the beauty of modern Rueda. It offers a heady aroma reminiscent of spring flowers, ripe honeydew melon, and fresh squeezed lime as well as a wealth of refreshing flavors. Medium-bodied and immediately gratifying the 2009 Viña Gormaz Rueda could at first sip be dismissed as an eminently drinkable quaff, but the longer it remains in the glass (no easy task we'll grant you) the more intriguing it becomes. Subtle mineral tones and an array of interesting flavors emerge with each sip. We suggest serving the 2009 Viña Gormaz Rueda (and all fine Rueda wines for that matter) only moderately chilled (40º-50º F). We have found that excessive chilling robs Rueda of some of its subtlety and charm, even if only temporarily . . . but as you like it!
Rueda has emerged as one of Spain's most amiable white wines, and the 2009 Viña Gormaz Rueda goes a long way to support that claim. It is truly a wine to sip and savor, or simply guzzle. It pairs especially well with tapas, fish, and all kinds of appetizers. So, why not try it with toasted bread rounds, smeared with a delicate crab dip or lobster spread. Shrimp, scallops, and prawns, prepared Provencal style in a heady white wine, garlic, and tomato sauce, won't cause this Viña Gormaz offering to blush either. Baked cod or haddock with a Panko crust, Calamari Frito, Maryland-Style Crab Cakes, sushi and sashimi offer additional, mouthwatering pairings. Melon wrapped in prosciutto or better still thin slices of Spain's peerless Jamon Ibérico, a delicious acorn fed ham, offers a peerless partner to Viña Gormaz's Rueda. In addition, nearly all kinds of cow, sheep, and goat's milk cheese provide superb accompaniments, too. Empanadas and tasty chicken salads made with fruit, walnuts, and Mediterranean herbs offer other tasty pairings. Enjoy!
Bodegas Gormaz has been turning out exemplary Ribera del Duero from old, head-pruned Tempranillo vines since 1972. One of the original 16 bodegas of the D.O. Ribera del Duero, Bodegas Gormaz was originally founded as a cooperative consisting of some 360 growers in the Ribera del Duero province of Soria. Today, Bodegas Gormaz is privately owned and managed, and it is fashioning outstanding red and white wines from Ribera del Duero and Rueda respectively that simply must not be missed. Brought to fore by Classical Wines of Spain, Bodegas Gormaz now consists of more than 1,300 acres of vines in Soria for making quintessential Ribera del Duero and a 125 acre estate vineyard on the Adaja River in Rueda for fashioning the bodega's exceptional white wine. Many of the vineyards of Bodegas Gormaz are in excess of 50 years of age and have been propagated from vine to vine in pre-phylloxera fashion, which means they grow on un-grafted rootstock, a rarity in the 21st century. The estate's reds are pure, rich, unadulterated Ribera del Duero from 100% old vine Tempranillo. Moreover, the estate's Rueda is equally impressive. Bodegas Gormaz fashions its delicious Rueda exclusively from Verdejo and Viura, the region's finest traditional grape varieties.
Rueda lies to the northwest of Madrid in an historic part of ancient Castilla and León. Rueda, especially the town of Nava del Rey and the surrounding countryside, is known for its extraordinary architecture. Many opulent churches, monasteries, and mansions punctuate the region, highlighting Rueda's important role in the medieval Reconquest of Spain from the Moors. Wine production has been an integral part of Rueda since the 11th century, when King Alfonso IV offered freehold ownership of land to those prepared to resettle Rueda after the Reconquest. Monastic orders quickly took up the King's offer and built monasteries with vineyards to provide a steady wine supply. Soon the vineyards of Rueda had become the primary suppliers of wine to the itinerant medieval Castilian court. The viticultural glory and commercial success of Rueda and its noble Verdejo grape would last until phylloxera devastated the region between 1909 and 1922, destroying more than two-thirds of the region's vineyards. Subsequently, the vines chosen for replanting were unfortunately selected for yield rather than quality, which means the high yielding Palomino replaced Verdejo as the main grape in Rueda. Furthermore, the little Verdejo that was made had no chance to mature; it was sold locally in bulk. Fortunately, the sagging fortunes of Rueda took a turn for the better in the 1970s. Marqués de Riscal, a leading Rioja producer, came to Rueda and set up a bodega to make young, fresh white wines from native Verdejo grapes. Meanwhile, Angel Rodriquez was launching his quest at Martinsancho to revive Verdejo and restore the indigenous varietal to its former glory. As a result of these efforts Rueda won D.O. (Denominación de Origen) status in 1980, and it has never looked back. In order for a wine to bear the name Rueda, it must contain at least 50% Verdejo. Rueda is presently Spain's leading D.O. for still premium white wines.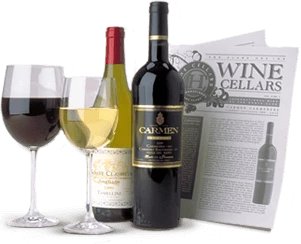 Enjoy Limited Production Estate
Bottled Wines
Discover limited production estate bottled wines such as Vergenoegd's internationally
acclaimed 2005 Cabernet Sauvignon, imported exclusively for our members.
DISCOVER OUR FOUR CLUBS