Imbued with a touch of the Castilian sun in its bright shiny robe and endowed with the ripe, sensuous scents of apple, pear, and tropical fruits, we found the Val de Vid's 2009 Condesa Eylo Rueda Verdejo hard to resist. Fleshy, yet at the same time elegant, racy, and well-structured, the 2009 Condesa Eylo offers satisfaction in every sip. Pure fruit flavors tempered with hints of fennel and herbaceous herbs captivate the palate and add complexity to Jose Antonio Merayo's delicious Rueda Verdejo. As a finale, Condesa Eylo exits with a long, lingering, refreshing finish, which made us all ache for more. We suggest chilling the 2009 Condesa Eylo before serving. We enjoyed this wine both icy cold (35º F) and at a much less frosty 50º F, as well as everywhere else in between, but as you like it!
With sumptuous flavors and impeccable balance, the 2009 Condesa Eylo provides superb companionship to a host of traditional Spanish tapas as well many international favorites. It partners especially well with seafood, pasta, risotto, and of course paella. Carnaroli Risotto served with wild morels, caramelized broccoli, and a healthy does of Parmesan Reggiano provides a splendid accompaniment. Grilled Sea Bass with steamed jasmine rice; Bacon Crusted Swordfish with grilled Portobello mushrooms; and Potato Encrusted Grouper, served with shitake mushrooms and an herb infused salsa, are a few additional favorites to pair with the 2009 Condesa Eylo Verdejo. Clams, scallops, lobster, and baby mussels, steamed in a light garlic and herb cream sauce make great pairings, too. Crusted cheeses such as Brie, Camembert, and Explorateur provide outstanding, easy to prepare accompaniments to Verdejo as well. Enjoy!
In 1996, Jose Antonio Merayo created the Bodegas Val de Vid in the heart of Rueda. He produces only fine white wine, made primarily from Verdejo - Spain's most illustrious white grape. With 20 hectares (44 acres) of vineyards devoted to Verdejo and an additional 6 acres of Viura and small amounts of Sauvignon Blanc, Merayo fashions several outstanding wines, including Condesa Eylo – a tantalizing blend of 97% Verdejo and 3% Sauvignon Blanc. Bodegas Val de Vid's vineyards enjoy a privileged terroir. Located on ancient alluvial soils from the Duero and its tributaries, Val de Vid's vineyards benefit from dry hot days and cool nights. Such ideal conditions yield Verdejo grapes of impeccable balance, exhibiting ideal levels of both sugar and acid. All of Val de Vid's wines are made in the bodegas' modern winery under the watchful eye of Jose Antonio Merayo.
Rueda lies to the northwest of Madrid in an historic part of ancient Castilla and León. Rueda, especially the town of Nava del Rey and the surrounding countryside, is known for its extraordinary architecture as well as its wine. Many opulent churches, monasteries, and mansions punctuate the region, highlighting Rueda's important role in the medieval Reconquest of Spain from the Moors. Wine production has been an integral part of Rueda since the 11th century, when King Alfonso IV offered freehold ownership of land to those prepared to resettle Rueda after Spain's Reconquest from the Moors. Monastic orders quickly took up the King's offer and built monasteries with vineyards to provide a steady wine supply. Soon the vineyards of Rueda had become the primary suppliers of wine to the itinerant medieval Castilian court. The viticultural glory and commercial success of Rueda and its noble Verdejo grape would last until phylloxera devastated the region between 1909 and 1922, destroying more than two-thirds of the region's vineyards. After the phylloxera scourge, the vines chosen for replanting were unfortunately selected for yield rather than quality, which means the high yielding Palomino replaced Verdejo as the main grape in Rueda. Furthermore, the little Verdejo that was made had no chance to mature; it was sold locally in bulk. The ensuing Spanish Civil War and World War II took their toll on fine wine production in Rueda as well, as they did throughout Spain. Fortunately, the sagging fortunes of Rueda took a turn for the better in the 1970s. Marqués de Riscal, a leading Rioja producer, came to Rueda and set up a bodega to make young, fresh white wines from native Verdejo grapes. Meanwhile, Angel Rodriquez was launching his quest at Martinsancho to revive Verdejo and restore the indigenous varietal to its former glory. As a result of these efforts Rueda won D.O. (Denominación de Origen) status in 1980, and it has never looked back. Presently, Rueda is Spain's leading D.O. for still premium white wines. In order for a wine to bear the name Rueda, it must contain at least 50% Verdejo. However, most premium Rueda wines such as Condesa Eylo contain a much higher percentage of the noble Verdejo variety.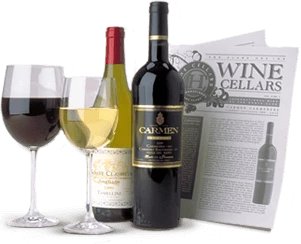 Enjoy Limited Production Estate
Bottled Wines
Discover limited production estate bottled wines such as Vergenoegd's internationally
acclaimed 2005 Cabernet Sauvignon, imported exclusively for our members.
DISCOVER OUR FOUR CLUBS