Pietra Santa's 2009 Cienega Valley Pinot Noir is the winery's first 100% Estate Grown Pinot Noir, and it's a beauty. Endowed with an aromatic bouquet that's redolent with the scents of ripe Bing cherry, wild strawberry, and lavender this youthful Pinot Noir brings its welcome long before the first sip. But the pleasure doesn't end with a pretty bouquet as Pietra Santa's first all Estate Grown Pinot Noir evolves beautifully in the glass. Yet, patience is in order: Pietra Santa affords its Pinot Noir extensive ageing in oak barrels, so this wine needs just 15-20 minutes to breathe and collect itself before it sings from the glass. And once the music begins, it keeps on playing. Polished fruit flavors, imbued with a touch of cinnamon, forest woodlands, and vanilla, caress the palate, and then exit with just enough brightness and zip to remind us that this wine is still reveling in its youthful ardor. For optimal enjoyment, we suggest decanting the 2009 Pieta Santa Estate Grown Pinot Noir ahead of time and serving it at cellar temperature (55°-60° F), especially in warm climates. Enjoy!
The Blackburn family and Alessio Carli enjoy cooking and pairing their favorite recipes with Pietra Santa's wines. For starters, homemade Caponata gets the family's nod as the appetizer or first course to pair with their delicious 2009 Estate Grown Cienega Valley Pinot Noir. Chicken, pork, and grilled salmon provide other tasty pairing to accompany this wine. Rack of Lamb, prepared with plenty of roasted garlic, olive oil, and fresh herbs, is another family favorite. But why stop there? Pastas served with cream or broth-based sauces provide pleasing alternatives to meat and fish and offer equally satisfying accompaniments to Pietra Santa's racy 2009 Pinot Noir. Roasted game birds served with onion foccacia and sautéed vegetables provide good company, too. And if by some chance you are not hungry (almost impossible to believe) when you open a bottle of Alessio Carli's 2009 Estate Grown Pinot Noir, a clean glass should be sufficient for an enjoyable evening.
Pietra Santa is a family run estate producing outstanding artisanal wines and olive oils. It is located 25 miles from Monterey Bay in the beautiful Cienega Valley. Founded in the early 1850's by Frenchman Theophile Vache, it is now owned by the Blackburn family. Pietra Santa fashions an array of delicious wines, thanks to the acumen of Italian winemaker Alessio Carli and the estate's unique terroir. The estate's proximity to the coast emits cooling maritime breezes that temper the summer sun, resulting in a long growing season and vibrant balanced wines. Moreover, the winery is located on the San Andreas Fault, which has created soils rich in granite and limestone that naturally lower vineyard yields and add distinctive flavors to the wines. The winery was named Pietra Santa, Italian for "Sacred Stone," in honor of these exceptional soils. Although Pietra Santa spans more than 400 acres spread across Cienega Valley, adjacent bench lands, and the nearby Gabilan Mountains, only 120 acres are devoted to wine grapes. Each of the winery's nine grape varieties benefits from the estate's varied terrain. Chardonnay and Pinot Grigio enjoy steep, terraced hillsides where they thrive under the bright morning sun as well as cool, afternoon shade. Meanwhile, Pinot Noir and Sangiovese are grown on the moderate bench land, while Zinfandel, Cabernet Sauvignon and Merlot are planted in the deepest parts of the valley to receive maximum sun exposure. Pietra Santa's oldest vineyards date to 1905. What is perhaps most impressive about Pietra Santa is how winemaker Alessio Carli brings out the best in each of Pietra Santa's varietals. Tuscan by birth, Alessio first learned to make Chianti with his father. He then went on to study agronomy at college and later earned a graduate degree in enology. In Tuscany, he spent two years at Fattoria Il Castagno where he supervised the fattoria's production of both wine and olive oil. He also served as Assistant Winemaker at Badia a Coltibuono, one of Chianti's most celebrated estates, before coming to California in 1990. He has worked exclusively with Pietra Santa since 1998. His expertise with Sangiovese, an indigenous Tuscan grape, is second to none. And Alessio's recently released Estate Grown Pinot Noir further highlights both his acumen and versatility as a winemaker. However, choosing one progeny over another at Pietra Santa has always struck us as being akin to "Sophie's Choice." In short, Pietra Santa is one of California's rising stars, and its wines are not to be missed.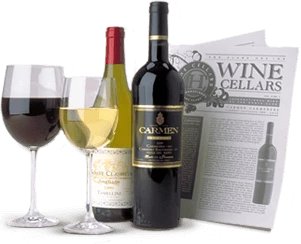 Enjoy Limited Production Estate
Bottled Wines
Discover limited production estate bottled wines such as Vergenoegd's internationally
acclaimed 2005 Cabernet Sauvignon, imported exclusively for our members.
DISCOVER OUR FOUR CLUBS