Syrah has been one of Jeff Runquist's most revered wines for nearly two decades. Every year he manages to fashion a wine from this robust varietal that invariably ends up as the life of the party. In the case of the 2009 "R" Paso Robles Syrah, he has turned out another superb effort and a bona fide crowd pleaser. Yes indeed, at the end of an evening of wine tasting, it was the 2009 "R" Paso Robles Syrah that the panel squabbled over. Grown people begging and cajoling in the hope of procuring just a bit more of a wine is ordinarily off putting, but in the case of the "R" Syrah I had to concede: I was one of "them." The 2009 "R" Syrah is truly beautiful to behold. It offers a super saturated, intensely purple robe that dazzles the eye and promises to deliver on all counts. No wimpy wine here, for sure! Yet, lest you think this young Syrah is long on brawn and short on charm and flavor, think again. Give it a little time in a glass or decanter and then take a good long sniff. It offers a beguiling bouquet of crushed blackberry, Asian spices, pepper, and fragrant wood smoke. Moreover, Jeff Runquist's lush, old vines style of Syrah offers up plenty of up-front flavors in a beautifully balanced format. Black fruits, chocolate, coffee, and forest woodlands all come to fore in perfect harmony in the 2009 "R" Syrah, and the wine is sure to improve in bottle for years to come. In short, the 2009 "R" Paso Robles Syrah is another tour de force in winemaking. Drink it now or lay it down. If you decide to consume this youthful Syrah in the near term, we suggest serving it at cool room temperature (62°-64° F), after thirty minutes of aeration.
Once again, the 2009 "R" Paso Robles Syrah belongs to an elite club: it is one of just a hand full of young premium Syrah wines from anywhere that truly needs little or no accompaniment to shine. Yet, it has the uncanny ability to elevate fine cuts of meat and well prepared country specialties to glorious new heights. Given this Syrah's superb balance and Runquist's Midas touch, we suggest that it accompany beef, lamb, and thick, rich, stick to your ribs kinds of meals. Consequently, we heartily endorse the combination of "R" Syrah with the likes of Filet Mignon au Poivre, accompanied by gorgonzola mashed potatoes and sautéed green beans. Tenderloin of New Zealand Lamb, stuffed with rosemary and garlic, and served over a white bean ragu makes for another memorable pairing. Beef or venison stew, served with plenty of vegetables and pearl onions, and Barbecued Baby Back Ribs provide superlative accompaniments, too, but these are just a few of the many options the formidable 2009 "R" has to offer. Several slices of hard cheese, some crusty French bread, and a spicy Provencal ratatouille provide an excellent vegetarian alternative, but as you like it.
"R" is Jeff Runquist's passion, pride, and joy. "R" is, also, the envy of the legion of California winemakers who stay up nights dreaming of making wine their own way and being critically and financially successful in the process. Jeff Runquist is unequivocally one of California's finest and most consistent producers of Syrah and Petite Sirah. He is the sole proprietor and winemaker for Jeff Runquist Wines and he is the driving force and successful suit behind a number of other premium California wineries, including the McManis Family Vineyards. "I just want to play the game my way," has always been Jeff Runquist's mantra. By this statement he means dedicating himself entirely to the art of winemaking, the way he wants to make wine. With his "R" line, Runquist specializes in ultra premium, single vineyard designated, 100% varietal red wines. Petite Sirah, Syrah, Zinfandel, and increasingly Barbera are Runquist's specialties and most renowned wines, but he also fashions small quantities of excellent Cabernet Sauvignon, Pinot Noir, Sangiovese, and Primitivo (the forerunner of Zinfandel). His most recent offering is "1448," an outstanding blend of Petite Sirah (58%), Barbera (16%), Petit Verdot (5%), Zinfandel (5%), Syrah (3%), Cabernet Franc, Carignane, Souzao, and Touriga (1% each) that won Double Gold and took Best of Class at the California State Fair. Runquist has been making wine for more than three decades and the legendary "R" wines since 1995. Since inception, "R" wines have consistently won gold medals in major wine competitions. Each has sold out promptly, leaving the cellar devoid of even a single bottle shortly after release. Critics complain they haven't even had a chance to taste Runquist's wines before they are sold out. In addition, Runquist spends little time selling wines and even less time marketing them, a rarity today. This scenario is certainly not the norm, but then again Jeff Runquist is not an ordinary winemaker. Neither Jeff Runquist Wines nor Runquist himself own even a single vine. He has no written contracts with any of the great growers and vineyards he sources year after year. Nonetheless, they always provide him with outstanding raw material with which to practice his art and work his magic. Moreover, Runquist refuses to significantly expand his annual production of "R" wines for fear of compromising their quality. In fact, his overriding objective is to produce all of his wines in tiny lots. This means producing only 100-2,000 cases at most of each of his main varietals (Petite Sirah, Syrah, and Zinfandel) and less than 4,700 cases of "1448." Routinely, this process involves declassifying a third or more of his production each vintage simply because Runquist declares: "If I am not happy with a wine, I don't bottle it … if I don't get as big an economic reward, that's okay. I am happy with the wines made under my label." Sadly, this is hardly the prevailing philosophy elsewhere in today's world of wine. However, far be it from us to complain: we are once again the delighted beneficiaries of such arcane practices. Moreover we are the chosen few who actually get to taste a bona fide "R" wine.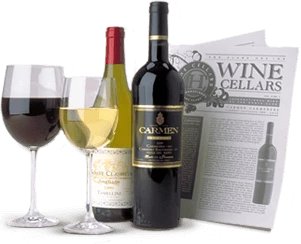 Enjoy Limited Production Estate
Bottled Wines
Discover limited production estate bottled wines such as Vergenoegd's internationally
acclaimed 2005 Cabernet Sauvignon, imported exclusively for our members.
DISCOVER OUR FOUR CLUBS