Frankly, all of the Black Pearl and Nash Family Vineyards wines we tasted blew us away. Each of Mary-Lou Nash's wines is pure and bursting with flavor and charm. Yet, one wine stood taller than the rest, the 2008 Nash Family Vineyards Shiraz, a stunning blend of 90% Shiraz and 10% Cabernet Sauvignon. Inky black in color we wondered at first what monster of a wine awaited, but after smelling this entrancing elixir and taking our first draught, we all just smiled. No one said a word for several minutes; we were astounded. Rich, polished flavors beckoned with each sip. Savory and succulent, one could almost imagine heaven. Blackberry, cassis, lavender, roses and exotic spices caressed the nose and satiated the palate. Haunting, full-bodied, and yet utterly sophisticated the 2008 Nash Family Vineyard Shiraz is a tour de force in Paarl winemaking and ample testimony to Mary-Lou Nash's talent and commitment. No wonder this wine was awarded 92 Points from Wine Enthusiast, though we thought that score a tad stingy. At the end of our tasting, one panel member summed up the 2008 Nash Family Vineyards Shiraz in one sentence: "I'm glimpsing heaven." Amen! Give this beauty a bit of aeration and enjoy it now and for years to come. Enjoy!
We enjoyed the suave, sophisticated 2008 Nash Family Vineyards Shiraz all by itself. Nevertheless, a wine of this pedigree deserves the comforts of a creative kitchen. In South Africa as well as Australia and the South of France where Shiraz (Syrah) thrives, lamb is often the favored accompaniment to good Shiraz, and we second that choice. A savory lamb and potato stew or a rack of lamb with a fancy stuffing warrants serious consideration. However, beef and ostrich offer equally fine pairings. Braised beef short ribs, slow cooked in a savory barbeque sauce; pan seared beef tenderloin, served with crispy eggplant and mixed organic greens with a queso sauce; and the Nash Family's Beef and Black Pearl Pie provide splendid accompaniments to Mary-Lou Nash's grandest wine. Gnocchi with vegetables and gorgonzola cheese provides another flavorful accompaniment as do red and yellow peppers stuffed with orzo, parmesan cheese, and herbs.
Editor's Note: One of my fondest memories on a recent trip to South Africa is a visit with Mary-Lou Nash and her father Lance Nash at Black Pearl and Nash Family Vineyards. An American ex-pat, Mary-Lou is one of South Africa's most accomplished winemakers. Her fifteen year "madcap" adventure on Africa's Western Cape is fully recounted in her own words on our website. The 2008 Nash Family Vineyards Shiraz was made by Black Pearl Winery, a gem of an estate nestled among the granite outcrops of South Africa's famous Paarl Mountain. Paarl Mountain is part of the Cape Floral Kingdom, a World Heritage Site and one of the most dramatic backdrops for a vineyard and winery anywhere on earth. This special bottling of Shiraz was handcrafted at Black Pearl Winery from estate fruit from low-yielding, dry farmed vines. We are pleased to be able to say that Black Pearl Winery is truly one of those madcap affairs where brilliant wine is made for the pure love of it. This month's feature is an extremely limited edition bottling of Shiraz from award winning winemaker Mary-Lou Nash of Black Pearl Vineyards. In 2011 Mary-Lou became the first American Cape Wine Master. She is also a finalist for Diner's Club Winemaker of the Year. Because production of the highly acclaimed 2008 Nash Family Vineyards Shiraz is small and highly allocated, it is available in the United States only to members of The International Wine of the Month Club. The Nash Family dedicates this wine to the rich biodiversity of South Africa. Part of the proceeds from the sale of this wine will go to the improvement and maintenance of the endangered pristine renosterveld (the natural bush and biome of South Africa's Western Cape) at Rhenosterkop Conservation Area. Enough from us! Mary-Lou Nash has just completed the fifteenth year of her "madcap adventure" on Africa's Western Cape. Below, she tells us a little about her life in Paarl and her commitment to producing world class wine: "Today I am the chief winemaker, viticulturist, tractor driver, marketer, and general 'Jill of all trades' at Black Pearl Vineyards and I make fifty five barrels of wine with the exact same equipment and in the same hands on manner as I did that first year. I have just moved from a cool room to a converted pig shed. I have now added the premium Nash Family Shiraz and a Shiraz/Cabernet blend to our line up giving us a mere 2000 cases of wine per vintage. Black Pearl Vineyards is un-irrigated and the high trellising system, severe pruning, and canopy management are all managed to ensure low-yielding, stress free, ripe fruit. On the adjoining land, a nature conservation area has been set up to preserve the last 4% of remaining renosterveld in the world. Being environmentally friendly is of utmost importance for us. Pest control is monitored rather than spraying chemicals, and our spray program for mildews uses chemicals with the least negative impact on the earth. I tend to the vineyard year round and make sure only premium, healthy, phenolically ripe grapes are delivered to the cellar door in March. The grapes are cooled before a gentle crushing, open fermented in half ton lots, basket pressed, and put straight into barrel where the wine matures for a year. The wine is further bottle matured for at least a year before release. I feel we have a unique site and the goal is to bottle what comes from the vineyard. Black Pearl Vineyard's aim is a limited edition, terroir driven wine that is drinkable now as well as able to mature further in the bottle."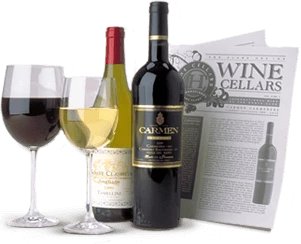 Enjoy Limited Production Estate
Bottled Wines
Discover limited production estate bottled wines such as Vergenoegd's internationally
acclaimed 2005 Cabernet Sauvignon, imported exclusively for our members.
DISCOVER OUR FOUR CLUBS