The 2008 Château Boutisse Saint-Emilion Grand Cru wears a beautiful, deep purple robe that exudes Saint-Emilion's hedonistic proclivity. A ripe, plush blend of 70% Merlot and 30% Cabernet Sauvignon, the 2008 Château Boutisse offers up a heavenly bouquet of blackberry, boysenberry, coffee, and finely ground spices. Warm and intense on the palate, the finely polished 2008 Château Boutisse caresses the tongue and satiates the senses. Moreover, the 2008 Château Boutisse is classic Saint-Emilion; it is impeccably balanced and oozes with warmth, plush fruit, spice and finely grained tannins. And as an added bonus, it is ready to drink with an hour of aeration and will gladly stand and deliver like few young red Bordeaux wines can. Enjoy this lush, elegantly wrought Saint-Emilion now and for the next decade.
Plush, sexy wines, like the 2008 Château Boutisse Saint-Emilion Grand Cru, provide exemplary accompaniments to simple, well prepared dishes as well as haute cuisine. With the finest of Saint-Emilion Grand Cru our preference runs towards simple elegance. Roast duck, plump rotisserie roasted chicken, or game hens provide some of the most satisfying accompaniments to Château Boutisse's elegant, full-flavored Saint-Emilion. Roast beef, especially Prime Rib, served au jus, affords another opportunity to showcase this wonderful Saint-Emilion. We suggest serving the Prime Rib with mashed potatoes, fresh green beans, and braised onions – a simple, but tasty classic that will highlight all that the 2008 Château Boutisse has to offer. For those who prefer to simply sit and sip, a selection of French cheeses that include Cantal and Port Salut offers a simple but rewarding accompaniment to Saint-Emilion's finest. Salut!
Château Boutisse is the Milhade family's most prestigious estate. It is a large property by Saint-Emilion standards (50 acres), and as one would expect from a Saint Emilion Grand Cru it is planted primarily with Merlot and Cabernet Sauvignon. The Milhades purchased this historic property in 1996 and have made huge investments in the estate's vineyards, with several parcels of vines being completely replanted. The vineyards enjoy an excellent southern exposure. Moreover, the soil is ideal – a mixture of limestone and chalky clay. The Milhade family is well known in Bordeaux for their meticulous restoration of historic Bordeaux wine properties and an uncompromising devotion to the production of high quality, opulent, full-flavored Bordeaux wines. At Château Boutisse, the Milhades have invested heavily in the cellar with modern equipment and new oak barrels. In addition, they have adopted quality practices and techniques that are found only at the highest echelon of Classified Bordeaux Châteaux. Moreover, the Milhades are not afraid to exclude or declassify much of their crop in order to make top-notch wine. Since its acquisition by the Milhades, Châteaux Boutisse has been orientated entirely towards quality. What appears imminent for Châteaux Boutisse is elevation from Saint Emilion Grand Cru status to Grand Cru Classé, a classification reserved for the greatest wines of Saint-Emilion. As one would expect, the grapes are sorted by hand and then gravity fed to small, temperature controlled stainless steel vats. Natural yeasts are used to assure a prolonged fermentation, which is followed by three weeks of maceration for extraction of color, fruit and tannin. Malolactic fermentation takes place in new oak barrels in the château's cellars and is followed by 18 months aging in cask.
Saint-Emilion is Bordeaux's most important wine town and the region's hottest attraction. This walled, medieval village, perched atop a series of hills and surrounded by vines, is unquestionably the most beautiful wine village in all Bordeaux. Indeed, it is arguably the most beautiful wine village in all France. Nearly everything about Saint-Emilion is centered on wine; even the church in Saint-Emilion is a cellar. And lest you think that Saint-Emilion has just recently succumbed to contemporary commercialism or sold itself to the modern mania for all that is Bacchanalian, rest assured that very little has changed in principle in this village since antiquity: Saint-Emilion was founded by the Romans, who used it as a viticultural bastion in the then burgeoning area know as Burdigala. Saint-Emilion is situated about twenty-five miles due east of the city of Bordeaux on a high escarpment above the winding Dordogne River. From the village of Saint-Emilion, one has a commanding view of the entire Saint-Emilion appellation, where vines descend the slopes to the river and then occupy the nearby plateau that flows seamlessly into neighboring Pomerol. It is from this great appellation that many of Bordeaux's finest wines flow, including the world's very best Merlot based wines. It is in Saint-Emilion that Merlot reaches its apogee. Here, Merlot is king, supported by varying amounts of Cabernet Sauvignon and Cabernet Franc as noble vassals. The only notable exception to the dominance of Merlot in Saint-Emilion is the venerable wine of Cheval Blanc, which is largely comprised of Cabernet Franc. Otherwise, the result is the fleshiest, juiciest, roundest, and most popular wines of all Bordeaux – testament to just how great Merlot can be. Interestingly, there are two distinct districts of Saint-Emilion, each possessing its own special terroir. Both produce compelling wines, but of a different sort. Typically, the côtes or hills upon the escarpment yield the fullest, slowest to mature wines of Saint-Emilion. Here the soil is nearly all limestone and the resulting wine is more apt to act like a great Cabernet based wine of the Medoc. The other distinct district of Saint-Emilion lies on the plateau adjoining Pomerol, where the soil is comprised of sand and gravel. It is in this well-drained soil that the fleshiest wines of the appellation are born. Each style is authentic St. Emilion, which allows for double the pleasure.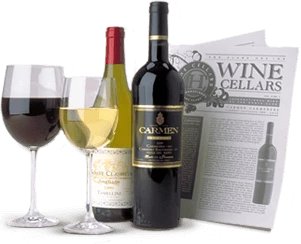 Enjoy Limited Production Estate
Bottled Wines
Discover limited production estate bottled wines such as Vergenoegd's internationally
acclaimed 2005 Cabernet Sauvignon, imported exclusively for our members.
DISCOVER OUR FOUR CLUBS