Who would have thought that Burgundy would turn in such a fine effort in 2008? Our faith has been renewed in this illustrious wine region, which produces some of the world's greatest red wines and an equal share of expensive, underwhelming efforts as well. In short, we were completely blown away by the delicacy, finesse, layered flavors and supreme texture of the 2008 Bouchard Beaune du Château Premier Cru – one of the most enjoyable red wines we have tasted from Burgundy's fabled Côte de Beaune in a long, long time. Exhibiting the essence of Côte de Beaune Burgundy, this Premier Cru offering from Bouchard over-delivers in every sense. Eye catching with a sparkling, translucent, ruby red color, this Burgundy offers up more than eye appeal: Its fragrant aroma haunts the senses. A bouquet resplendent with the perfume of ripe red fruits, peat, graphite, deft touches of hickory nut, wood smoke and Asian spices tantalizes the olfactory. Layered, penetrating flavors add depth to this harmonious Pinot Noir, as silky, textured flavors work their magic in the mouth. And on the finish, the wine's pleasantly smooth, spicy exit, replete with just the right touch of oak, made us all beg for more of this delightful Premier Cru from Bouchard. Although Bouchard's Beaune de Château is immediately ingratiating upon the cork exiting the bottle, we highly suggest opening this delicate but complex Burgundy at least an hour ahead of consumption; you will be amazed by what emerges.
A glass of Bouchard Père et Fils 2008 Beaune du Château Premier Cru with almost any simple, well-prepared meal will for many add immeasurably to life's goodness. The dish that may be the quintessential companion to this silky, complex wine is Coq au Vin, one of Burgundy's traditional country favorites. Roast loin of pork offers another simple gastronomic delight to accompany this wine. However, one need not be trained in the art of French country cooking to field a meal fit for this Burgundy. The 2008 Bouchard Beaune du Château will shine equally well in the company of a roast chicken or turkey, especially one that has been dressed with a savory bread, onion, and sage stuffing. A simple veal stew, quiche, onion and leek tart, or even just a loaf of good French bread with a creamy, un-crusted cheese will fill the bill with this magical Beaune Premier Cru. And although we heartily endorse doubling the pleasure of food and wine by thoughtful pairings, quite a few of our panel members enjoyed this wine au naturel. Frankly, they were so taken by this wine they couldn't wait for the food to be served. Bon appétit!
Bouchard Père et Fils is one of Burgundy's oldest and most illustrious wine estates. Since 1731 Bouchard Père et Fils have devoted themselves to creating wines that are authentic expressions of Burgundy's many special terroirs. Situated in the heart of Beaune in the 15th century Château de Beaune, a Monument Historique, the Bouchard Père et Fils estate grows, produces, and bottles an outstanding array of Village, Premier Cru and Grand Cru white and red Burgundies from the finest Côte de Beaune and Côte de Nuits vineyards. The estate's Beaune du Château is a Premier Cru red Burgundy from Bouchard's historic château and traditional family home. Beneath this grand domicile lay Bouchard's underground cellars where the domaine's most illustrious wines are stored behind walls 7 meters (22 feet) thick, sequestered from noise, vibration, and temperature variation. Since 1995, Bouchard Père et Fils has been owned and managed by Henriot, one of the last great family-owned Champagne houses. Henriot has added select Meursault and Côte de Nuits vineyards to Bouchard's superlative Beaune holdings and made considerable improvements in agricultural practices and vinification to the betterment of all of the estate's wines. In 2005 Henriot opened a new state of the art winery at Bouchard, which has further enhanced the quality of the domaine's wines. In response to Bouchard's ongoing efforts to push the envelope on quality and develop sustainable viticultural practices at all of the domaine's 130 hectares (286 acres) of vines, they have been awarded the "Attestation of Qualification in Balanced Approach Viticulture," an award given by the TERRAE organization. Recent reviews by all of the world's foremost critics echo the commensurate quality that one can expect from Bouchard Père et Fils and the Henriot family.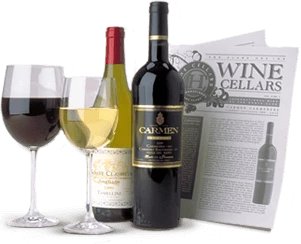 Enjoy Limited Production Estate
Bottled Wines
Discover limited production estate bottled wines such as Vergenoegd's internationally
acclaimed 2005 Cabernet Sauvignon, imported exclusively for our members.
DISCOVER OUR FOUR CLUBS