To say that the 2008 Black Pearl Shiraz blew us away would be an understatement. After tasting this wine, several of us looked at each other and nodded and then unanimously agreed that this was indeed the Shiraz we had all been searching for. Moreover, we were determined to procure enough of this wonderful wine for our members – no easy task considering that the Black Pearl Vineyard encompasses only 4.5 hectares (or just over 11 acres) and the 2008 Shiraz is just one of several wines Mary-Lou made in that vintage from her tiny property. Deep in color and scented with the heavenly fragrance of ripe blueberries, cassis, lavender, and roses, the bouquet alone on this Shiraz is truly worth the price of admission, but just wait. Soft, succulent flavors that mimic the wine's haunting aroma fill the mouth, revealing a polished, sophisticated style of wine with feminine charm, good structure, and a smooth silky finish that lingers as long as you can wait to take another sip. To make sure we weren't dreaming, we asked to try another bottle and that, too, worked its magic. After that, we had no doubt why John Platter (South Africa's rendition of wine critic Robert Parker, Jr.) rated the 2008 Black Pearl Shiraz four stars. Enjoy this beauty now and for the next several years. A bit of aeration will enhance the experience, but Mary-Lou Nash's 2008 Black Pearl Shiraz sings from the moment it is poured, so what are you waiting for? Enjoy!
Frankly, the 2008 Black Pearl Shiraz doesn't require an accompaniment to woo the thirsty taster. We enjoyed this suave, sophisticated Shiraz all by itself as well as with food. However, some tasty morsels to consider serving with this wine run the gamut from the simple to the sublime. In South Africa as well as Australia and the South of France where Shiraz (Syrah) thrives, lamb is more often than not the favored accompaniment to good Shiraz, and we can't argue with that. So whether it is a perfectly cooked lamb burger, served with fresh avocado and melted Boursin cheese, a thick lamb and potato stew, or a rack of lamb with a fancy stuffing, the 2008 Black Pearl Shiraz will stand and deliver. For lighter, but no less satisfying pairings, we suggest pasta, poultry, or the Nash Family's tasty Tomato Basil Pie.
Editor's Note: One of my fondest memories on a recent trip to South Africa is a visit with Mary-Lou Nash and her father Lance Nash at Black Pearl Vineyards. An American ex-pat, Mary-Lou is one of South Africa's most accomplished winemakers. Mary-Lou's story appears below in her own words. My name is Mary-Lou Nash and I started Black Pearl Wines in 2001. I graduated from University of New Hampshire in 1989 with a bachelor of arts, magna cum laude Anthropology, and headed straight to Japan for two years to teach English. On completion of the two years, my sister and I hopped on a slow boat to China and backpacked around Asia for another two years. While I was in Asia in 1994, my father came to visit an old friend who owned Rhenosterkop Farm in Agter Paarl in the Western Cape. My father enjoyed his visit so much that in 1995 he became the new owner of this very run down farm on the western slopes of Paarl Mountain. Still in travel mode, I headed down the same year to check out the farm in Africa. My only wine experience up until this point was drinking $8 magnums of Chilean Cabernet whilst sailing off the coast of Maine. After further travels through Africa, I returned to the farm in the middle of January 1996 to meet Dad and his wife. The farm was planted with 20 hectares of Chenin Blanc which was delivered to Windmeul Co-operative. On walking through the vines and tasting the grapes, we questioned whether they should be picked. Maila, the Finnish manager, agreed they were ready to be picked but said she could not find anyone to pick them so she was just going to leave it. This sprung us into action and with the two farm workers that lived on the farm, we hooked up trailers with bins and bought some secateurs and we were off and running. With the workers Christopher and George and their wives and us "tourists", we picked three tons of grapes which filled one bin that I drove off to the co-op that afternoon on the tractor. Agter Paarl did not know what hit them, with a bikini clad tractor driver with not a word of Afrikaans showing up on the ramp to weigh in and dump a load of grapes! Dad's holiday had turned out to be more of a working holiday. He had bought the farm to eventually retire to and sit on the stoop sipping gin and tonics and watching the sun set over Table Mountain. But I had other plans. I offered my services and said if he paid for my food and wine I would stay and manage the farm for him for one year until he could retire and tie everything up at home. That was fifteen years ago! The first few years I was here we continued delivering the Chenin Blanc to Windmeul, but the years of neglect made it unviable. In 1997, with expert advice from a viticulturist, we planted our own vineyard. We dug profile holes all over the farm and got the soil analyzed. In the report we saw that the farm was predominantly Oakleaf soil. This soil has a high degree of porosity and crumbles nicely with deep ploughing. It does not re-compact quickly and effective depth is easily achieved. Drainage and water holding capacity is also favourable, making the soil suitable for the planting of late ripening red grape varietals. In 1997 I planted 10,000 Shiraz vines and in 1998 I planted 6000 Cabernet Sauvignon vines. Today there are many more choices of clones and various rootstocks to match, as well as a better chance of getting virus free planting material. In 2001 I had my first harvest of Shiraz after spending the previous year training the vines onto a trellising system, and made eight barrels of wine in a cool room on the farm myself. I am a self taught winemaker, learning through other winemakers and reading the UC Davis course books. In 2011 I became the first American Cape Wine Master!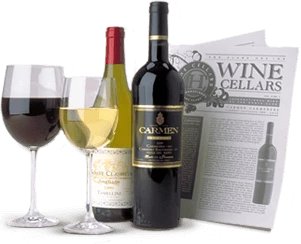 Enjoy Limited Production Estate
Bottled Wines
Discover limited production estate bottled wines such as Vergenoegd's internationally
acclaimed 2005 Cabernet Sauvignon, imported exclusively for our members.
DISCOVER OUR FOUR CLUBS