A plump, juicy blend of Shiraz (87%), Malbec (7%), and Cabernet Sauvignon (6%), the deeply colored, ever ingratiating 2008 Water Wheel Memsie Homestead may just be Australia's best red blend, and we're not the only ones who think so. The 2008 Memsie Homestead Red was awarded Gold Medal and Trophy at the Victorian Wines Show where it was deemed best of show. It has also been voted Champion Red Blend (affirming its status as the finest red blend in Australia) by Winewise Magazine, Australia's equivalent of Wine Spectator. Deep crimson and violet in appearance, redolent with the scents and savors of blackberry, currant, wood smoke, bacon, pepper, and spice, Water Wheel's Memsie Homestead packs plenty of pleasure into its voluptuous frame. Fresh, medium to full-bodied, and ohhh so easy to drink, it's not hard to see why this wine has become a veritable crowd pleaser. Drink this delicious Shiraz blend at cool room temperature, and as often as you can.
With Water Wheel's 2008 Memsie Homestead Red, it's not hard to find an expert pairing. Just fire up the grill or light the stove and bring on the burgers, barbecue, beef and pork spare ribs, pasta, and just about anything else you can imagine. The Memsie Red is easy to like and just as easy to pair with food. Some of our favorite are the simplest. In addition to almost anything you can pull from the grill, full-flavored meatloaf also offers superb companionship to Memsie, as does a brick oven three cheese pizza, and almost any pasta or vegetable dish with tomato sauce. Mountain apples, handcrafted cheeses, and a clean glass also make the 2008 Memsie Red shine. For the Love of CheeseCheese, whether from sheep or cow's milk provides true companionship to Water Wheel's 2008 Memsie Homestead Red. Chesire, Emmentaler, Gouda, Gruyere, and Iberico all ingratiate themselves to Water Wheels' award winning Memsie.
Neither Water Wheel nor Peter Cumming, Water Wheel's steadfast proprietor, is new to the Bendigo area of Central Victoria. Peter's family had been growing tomatoes and cherries in the area for more than a century, when Peter realized the limestone rich soil he was farming was better suited to grapes. He planted his first vines in Bendigo nearly forty years ago, and he has never looked back. Today, Water Wheel is one of Australia's most celebrated wineries. And this well deserved status is due in large part to Peter's unwavering philosophy to capture as much flavor on the palate of his wines as he possibly can, which is precisely the edge Water Wheel has over its competition. It keeps its yields low. Moreover, Peter steadfastly refuses to make a reserve offering of any of his wines, lest he rob them of his best barrels. At Water Wheel, there is no thought to cutting corners, yet the best can still be had at an affordable price. Shiraz is the dominant varietal at Water Wheel, but Cabernet Sauvignon, Malbec, and a host of white grape varieties abound as well. Memsie Homestead Red, a unique blend of Shiraz, Cabernet Sauvignon, and Malbec, is the winery's best known wine. It has won nearly every award and trophy it could garner. Opulence, richness, and incredible value have spread its fame far and wide. Memsie also holds the distinction of being one of the first Australian wines to be bottled under screw cap. Thanks to Peter Cumming and Water Wheel's chief winemaker Bill Trevaskis, Memsie and Water Wheel's bevy of delicious wines are some of the finest wine values on the market today.
Not so long ago, a screw cap on a wine bottle was looked upon with disdain. A mere decade ago, the perception was that only cheap, poorly made wines would be sealed with a metal cap, but today nothing could be further from the truth. In Australia and New Zealand where the screw cap revolution began, the vast majority of wines from those nations now come with a metal enclosure, even bottles costing upwards of $100.00. Other wine producing nations are quickly following suit. Winemakers love the metal cap because their handiwork consistently arrives safe and sound in consumers' mouths, without the fear of TCA or the taint that cork can sometimes impart to a wine. Furthermore, wines bottled with screw caps age more slowly and gracefully than those with corks, and without the threat of sudden oxidation. And to the surprise of many, the public has embraced the screw cap. Why? Screw caps work. Not only does wine taste as good or better when bottled with a cap, there's no more fumbling for a corkscrew, nor does one have to attempt any longer the removal of tiny and not so tiny pieces of cork from the surface of a wine when the extraction has gone awry. And to the delight of all, vanished is the nearly 10% failure rate of cork. Consequently, the screw cap is here to stay, for richer and for poorer, and until death do we part. And like it or not, we are the beneficiaries.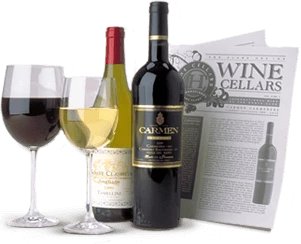 Enjoy Limited Production Estate
Bottled Wines
Discover limited production estate bottled wines such as Vergenoegd's internationally
acclaimed 2005 Cabernet Sauvignon, imported exclusively for our members.
DISCOVER OUR FOUR CLUBS