Since 2003 Montecastro has fashioned a string of formidable Ribera del Duero wines, each with its own charm and personality. However, the plush 2006 Montecastro Ribera del Duero may well be the most charming and sophisticated of these offerings to drink now and for the next several years. Saturated purple in color and typically opaque, the 2006 offers an immediately gratifying nose of Asian spices, black raspberry and currant fruits, chocolate, minerals, and vanilla to satiate the senses. It follows through in the mouth with an array of polished flavors that invoke the wine's spellbinding bouquet. Balance, depth of flavor, and overt charm make the youthful 2006 Montecastro Ribera del Duero a true thoroughbred. Moreover, it is already irresistible to drink, even in its tender youth. Drink this outstanding offering now or tuck it away for several more years to gain further depth and complexity. As with all upstanding Ribera del Duero wines, we suggest decanting this exceptional offering at least an hour before serving at cool room temperature (62º-66º F). Anticipated maturity: 2011-2018.
From its inception, Montecastro has fashioned in its Ribera del Duero the quintessential dinner party wine, and this estate's 2006 is no exception. Consequently, we suggest planning an elegant dinner party around the 2006 Montecastro Ribera del Duero. Although quite versatile, we have found that the more savory the fare, the greater the reward with this wine. Rack of Lamb, served with a savory stuffing; Filets of Beef Tenderloin, covered with an herb infused medley of mushroom and accompanied by pearl onions; Venison Stew; Spit Roasted Quail, prepared with a wild rice risotto; and Crown Roast of Pork, served with onion and sage stuffing are just a few of the more tempting dishes we have enjoyed in the company of Montecastro's Ribera del Duero. Chicken, veal, and ham provide additional accompaniments with which to enjoy the ebullient 2006 Montecastro Ribera del Duero.
Bodegas Y Viñedos Montecastro was founded in 2001 by a group of Madrid professionals led by the prominent publishers of El Economista, Alfonso de Salas, the Marqués de Montecastro y Llanahermosa, and Juan Gonzalez. Since its inception, Montecastro has fashioned outstanding Ribera del Duero from established vineyards. This impeccably run property has built a modern bodega and modeled itself after the finest estates in Ribera del Duero. From the beginning, Montecastro has made wine at the very highest level. They have focused on Tempranillo, the Ribera del Duero's most important varietal. Moreover, they have retained Jean-Francois Hébrard (of the famous Château Cheval Blanc) as technical director. Hébrard has overseen the acquisition of the property as well as all of the subsequent planting. He has also helped the estate select a small group of growers with old vines, who can appropriately augment the estate's 55 acres. Presently, Montecastro's vines range in age from 11 to more than 100 years of age; and all are subject to highly restricted yields and are situated at various altitudes and soils in order to add complexity to the ensuing wine. Montecastro is dedicated to sustainable methods of agriculture. Even the modern bodega emulates the region's traditional medieval subterranean chimney (zarcera), which serves a dual purpose: it provides natural ventilation and daylight illumination without resorting to the use of additional fossil fuels. Natural fermentation is the order of the day at Montecastro, too. Only new and second year barrels are used, and the results are remarkable. Come and taste the magic of Montecastro!
Located in the heart of Spain in the ancient realm of Castile and León, Ribera del Duero has been a center of wine production for thousands of years. Today, Ribera del Duero remains one of the most important wine regions in Spain, as it is the spiritual home of Tempranillo, Spain's most venerable red grape variety. Here the iconic Tempranillo, also known locally as Tinto Fino and Tinta del País, reaches its pinnacle and demonstrates to the world its inherent virtue. Ribera del Duero stretches out along the Duero River, Spain's most beloved waterway, and occupies the hills and high meseta to the northeast of the city of Valladolid. Not surprisingly, the region draws its name from the venerable Duero that plays an important role in the region's terroir. It seems that the soil of Ribera del Duero bears more than a passing resemblance to that of France's Burgundy, with a wide range of chalk, clay, marl and gravel, combined together in varying degrees of prominence. However, whereas Burgundy's soil complexity results from plate tectonics, the soil in Ribera del Duero results from the Duero's erosion through the sedimentary layers of the Castilian meseta. The Duero River may likely play a role as well in moderating the rather harsh continental climate of the region, an area known for its dry, hot summers and cold winters. Add altitude (2,500-3,300 feet) and the intense luminosity of the Spanish meseta to the region's exemplary terroir, and it becomes apparent that Ribera del Duero possesses all the features it needs to showcase the many attributes of Spain's quintessential grape variety. Given Ribera del Duero's terroir and climate as well as the extreme variation that exists between day and night time temperatures at high altitudes, the grapes of this favored appellation develop strong, concentrated phenolic structures, which happily for the consumer translate into deep, rich flavors. Furthermore, the climate and high altitude also lend themselves to providing the wines of Ribera del Duero with a balanced, natural acidity on which to gain complexity and stake a long and illustrious life. Although Tempranillo provides heart and soul to nearly all the wines of Ribera del Duero, the Denominacion de Origen (DO) does permit small quantities of other grape varieties to appear in the appellation's red wines, most notably Cabernet Sauvignon, Merlot, Malbec, and Grenache. There is, however, no requirement that Ribera del Duero contain any grape other than Tempranillo, and in the case of Montecastro's Ribera del Duero, 100 % Tempranillo is relied on to work the magic.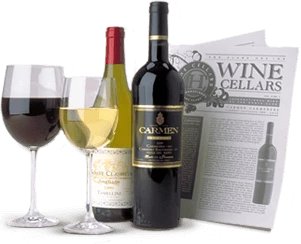 Enjoy Limited Production Estate
Bottled Wines
Discover limited production estate bottled wines such as Vergenoegd's internationally
acclaimed 2005 Cabernet Sauvignon, imported exclusively for our members.
DISCOVER OUR FOUR CLUBS