The 2005 Vergenoegd Cabernet Sauvignon is both packed and polished. And as rich and rewarding as many of Vergenoegd's Cabernets have been in the past decade, the estate's 2005 Cabernet Sauvignon eclipses those efforts with additional purity and panache, as those comely attributes play counterpoint to the wine's extroverted flavors. In typical Vergenoegd fashion, the 2005 Cabernet comes across in the glass as deep, brooding, and impenetrable. However, it rapidly expands with a bit of aeration into a smooth, stunning Cabernet that delivers charm and deep-down flavors, all wrapped in healthy tannins. The 2005 Vergenoegd Estate Cabernet Sauvignon wells up from the glass to reveal a seductive bouquet of black currants, dark chocolate, and roasted coffee to which a dash of loamy richness has been added to assure us that this child was indeed born on Africa's Western Cape. The ensuing flavors reveal a textured, flavorful Cabernet that combines the finesse of classified Bordeaux with the deep-down fruit and polished tannins that one comes to expect from the best New World Cabernet Sauvignons. Nevertheless, the 2005 Vergenoegd is still youthful and quite capable of further improvement in bottle for years to come. For present drinking, we suggest allowing this splendid offering an hour or more in decanter before consumption. Moreover, we suggest serving the 2005 Vergenoegd Estate Cabernet Sauvignon at no more than 65º F.
Fine wine deserves fine food. This adage holds especially true for the highest order of Stellenbosch Cabernets, of which the 2005 Vergenoegd Estate Cabernet Sauvignon rightly belongs. Given the depth and breadth of Vergenoegd's Cabernet, it provides the ideal wine upon which to build a special meal. In South Africa, the finest meats constitute the food of choice to accompany all such Cabernets. Kudu is a South African specialty that pairs especially well with this wine but, unfortunately, it is not readily available in most markets here. Therefore, braised or slow roasted loin of lamb, served with fava beans and a Roquefort cheese and potato au gratin, and filet mignon, prepared with a blackberry, cassis, or mulberry reduction sauce, get our nod. Stews, grouse, ostrich, and venison offer other superb complements to Vergenoegd's rich Cabernet. Yet, one need not be an artist in the kitchen to enjoy this wine. A selection of international cheeses offers a simple but gratifying way to consume a bottle of this wine, so no need to worry. Just enjoy!
Vergenoegd (which literally means 'satisfied' in Dutch) is a family owned winery, beautifully situated at the gateway to the Stellenbosch Wine Route in the Cape of South Africa. Vergenoegd is one of the oldest wine estates in South Africa; the property's founding dates to 1696. For the last 6 generations the Faure family has been farming the estate and making exceptional wines. Producing traditional, full-bodied, age worthy wines of depth and power has been Vergenoegd's calling card from generation to generation. Appropriately, Vergenoegd has consistently received the highest praise for its wines, both in South Africa and internationally, and the estate now ranks as one of the top producers of wine on the African continent. Although modern wine making equipment is employed and sustainable vineyard management techniques are practiced throughout the estate's vineyards, minimal intervention in the wine making process is the overriding philosophy at Vergenoegd. The result is a bevy of Old World style red wines that aptly reflect the unique terroir of the False Bay area of Stellenbosch. Moreover, the estate's red wines age beautifully for up to 10 years or more. Each receives 16-20 months in small oak barrels before bottling and then at least one additional year in bottle before release. All of the major Bordeaux varietals, Syrah, and two Portuguese grapes, Tinta Barocca and Touriga Nacional, are grown at Vergenoegd, though Cabernet Sauvignon remains the winery's single most decorated varietal. Recently, Vergenoegd created two new wines, a red and a white blend, under the Runner Duck label. These wines are named for the flock of Indian Runner Ducks that forage for snails and other aquatic life around the estate's beautifully maintained pond. While the estate's Cabernet, Shiraz, and Merlot are bred for the long haul, Runner Duck is meant to be consumed in the first five years of life. Wine has been Vergenoegd's claim to fame since the 18th century, but the estate possesses several other noteworthy attributes. After Johannes Gysbertus Faure purchased the estate in 1820, he and his brother, Sir Peter Faure, bred racehorses at Vergenoegd. In addition, the Faure's 18th century homestead, constructed in 1745 and remodeled in 1773 with its "holbol" gable, is one of the finest examples of what has come to be known as "Cape" architecture. The plasterwork on the Manor House and original bell tower are well preserved examples of European building traditions becoming uniquely "Cape" in the hands of early tradesmen. Consequently, Vergenoegd is truly a historic site as well as a paragon of great wine.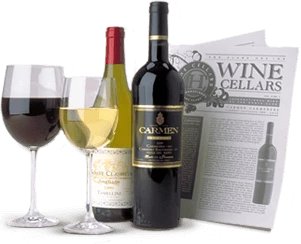 Enjoy Limited Production Estate
Bottled Wines
Discover limited production estate bottled wines such as Vergenoegd's internationally
acclaimed 2005 Cabernet Sauvignon, imported exclusively for our members.
DISCOVER OUR FOUR CLUBS