Wine Gift Ideas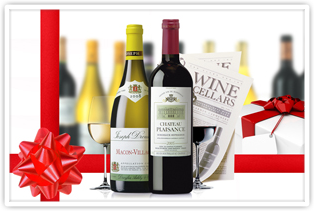 Finding the perfect wine gift idea for a special occasion can be a real challenge, and sometimes even intimidating. You can easily spend hours combing through wine racks, catalogues and specialty stores hoping to find just the right thing that's truly memorable. We invite you to let us do the legwork for you and give what any serious wine lover would appreciate the most…extraordinary estate bottled wines from The International Wine of the Month Club, the best online wine subscription box service.
Since 1994, The International Wine of the Month Club has been delivering exceptional, limited production wines, expertly chosen by a two-tier tasting panel led by nationally recognized wine industry consultant, Don Lahey. Our dedication to customer satisfaction and offering quality wines at outstanding values is why 98% of our customers highly recommend us and why we've earned A+ rating from the Better Business Bureau.
Giving the Gift of a Wine Club Membership is Easy, Affordable and Customizable
Select from 3 distinct wine club membership options to suit all palates and meet your budget.Save up to $25 with our promo codes.
Choose from 2-12 months and ship monthly, every other month, quarterly or even on specific months and your generosity will be remembered for months to come.
Combine our three wine clubs into a single customized membership or even combine a wine club membership with any of our other monthly clubs using our Design Your Own Club™ program.
Print or email a customized gift announcement immediately or on a specified date.
No wrapping or waiting in line at the post office to ship your gift.
Order easily online or toll free in minutes. Set up an account to manage your address book, review past orders, edit gift announcements and more.
Rest easy knowing we've got you covered on the hardest part, consistently selecting outstanding wines throughout the duration of your gift.