Mother's Day Wine Gift Ideas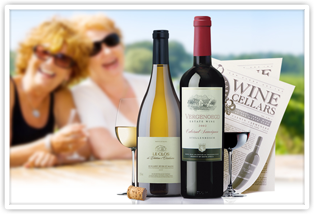 Whether you're buying a Mother's Day wine gift for your mother, your wife, your mother-in-law, extended family members or close friends, finding an unforgettable monthly wine club that she'll truly appreciate can be a challenging task.
Since 1994, The International Wine of the Month Club has proudly been a part of helping celebrate Mother's Day in a way that shows Mom just how much she's loved, admired and appreciated not just once a year, but throughout the entire year. When you stop to consider all she's done for you over the years…she's earned it!
Wine has been associated with celebrating, acknowledging and toasting those we admire for centuries. We invite you to let us do the legwork for you by delivering what any Mom that appreciates good wine would be thrilled to receive…exceptional, hard to find, estate bottled wines. Nationally recognized wine industry consultant, Don Lahey, heads up our two-tier wine tasting panel, ensuring that our featured wines are extraordinary and rare.
A Wine Club Gift Membership is Flexible, Memorable, Affordable and Easy
Choose From Three Distinct Clubs to Suit Mom's Tastes — Select from 3 wine club membership options to suit Mom's palate, ship two whites, two reds, or one of each. You can even save up to $25 using our wine of the month club promo codes!
Combine Clubs to Create a Custom Membership — Combine our wine clubs into a single membership or get creative and mix and match a wine club membership with our cheese club or any of our other monthly clubs using our Design Your Own Club™ program.
A Wine Club Mother's Day Gift Membership Keeps you Connected — Many of our members sign up themselves and compare tasting notes on our featured wines with Mom each month. Those that are lucky enough to live nearby, use it as an excuse to get together at least once a month.
Celebrate Mom Throughout the Year on Any Budget — Send from 2-12 months and ship every month, every other month, quarterly or even on specific months.
In a Hurry? We can Help — Easily print or email a personalized gift announcement immediately or on a specified date. Order online or toll free in minutes.