Father's Day Wine Gift Ideas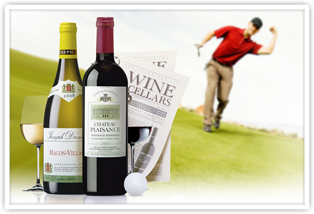 Whether you're buying a Father's Day wine gift for your father, your husband, your father in-law, an extended family member, or close friend, finding a meaningful, memorable gift that he'll really enjoy can often be a challenging task.
We've been helping our customers celebrate the special dads in their lives each Father's Day since 1994, offering a gift that shows Dad just how much he's admired, loved and appreciated throughout the year, not just in June.
Wine has been used to toast and acknowledge those we respect and admire for centuries. We invite you embrace that tradition and to let us do the hard work for you by consistently delivering outstanding, estate bottled wines to Dad each month. Our two-tiered wine tasting panel, headed by nationally recognized wine consultant, Don Lahey, ensures our featured wines are both extraordinary and hard to find.
A Wine Club Gift Membership is Flexible, Memorable, Affordable and Easy
Choose From Three Membership Levels to Suit Dad's Palate — Select from 3 distinct wine club options to match Dad's tastes, ship two reds, two whites, or one of each. You can even save up to $25 by using our wine of the month club promo codes!
Combine Our Six Monthly Clubs and Create a Custom Membership — You can combine a wine club membership with our beer, cigar, cheese, chocolate or flower of the month clubs with our Design Your Own Club™ program.
A Wine Club Father's Day Gift Membership Keeps you in Touch — Over the years, many of our members have shared that our monthly shipments have given them an excuse to stay connected with their fathers, either by phone or in person as they discover new wines together.
Celebrate Dad More than Just Once a Year on Any Budget — Memberships are available from 2-12 months. You may ship every month, every other month, quarterly or even on specific months.
Last Minute Shopping? We can Help — You can quickly print a personalized gift announcement now or email it on a specified date. Order online or toll free in minutes.