Christmas Wine Gift Ideas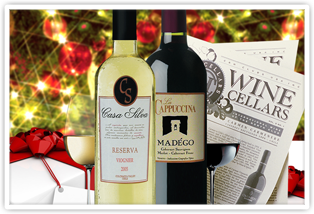 Throughout the Christmas and holiday season, people come together as family, whether by blood or friendship. Our thoughts turn to making each day special with the ones we love the most, and we greatly enjoy the meals, celebrations and festivities we look forward to all year long. As with any cherished holiday or family event, glasses are raised and toasts are made to the fortunes of others. These good tidings and well wishes aren't complete without an exceptional glass of wine from a quality bottle prepared by true masters.
Since 1994, The International Wine of the Month Club has helped ensure these moments are perfected with great wines by delivering exceptional, estate-bottled wines expertly selected by a two-tier tasting panel headed by Don Lahey, our internationally recognized wine industry consultant. This Christmas, we invite you to let us do the hard work so you can give the wine lover in your life a gift they'll appreciate the most this holiday season: a membership to The International Wine of the Month
Club.

A Wine Club membership is Easy, Affordable, and Memorable

Fast, Easy Ordering – Order a personal or gift membership online or through our toll-free number in minutes. Save up to $25 with our promo codes!
Personalize Your Membership – Choose your club, membership duration, and shipment frequency.
Custom Gift Announcement – Email or print a personalized message for the recipient.
Avoid the Stores – Let us pick the perfect bottles for your unique tastes with the best wine subscription box service online!
Combine Your Membership – Pair your wine membership with our other monthly clubs through our Design Your Own Club™ Program!

Hear What Our Customers Have to Say:

"The International Wine of the Month Club is fantastic - it started as a gift and we still receive it from my brother/sister in law... every year - it is by far the best gift ever - The wines are all terrific! OMG... We look forward to the package - we have never received a wine that we did not like...ever... and that is amazing. We love sharing the wine with friends - just cannot say enough about it... and recommend either becoming a member or giving it as a gift every chance we get."

Jim & Lynne Caramello, MA

Read More Testimonials

Learn More About The International Wine of the Month Club
Visit The International Wine of the Month Club process page to discover how we bring the world's best wines directly to your door.